Hanwha Qcells Aims to Tackle Europe Energy Crisis with Solar-powered Heat Pumps and Q.OMMAND Smart Energy Platform
Hanwha Qcells joins hands with Samsung Electronics to develop an integrated heating system that combines solar energy, ESS and heat pumps.
Heat pumps operated with eco-friendly solar energy are expected to help reduce carbon emissions.
Hanwha Qcells' technology will counteract record-high heating costs expected to hit European households this winter due to fuel price spikes and supply shortages.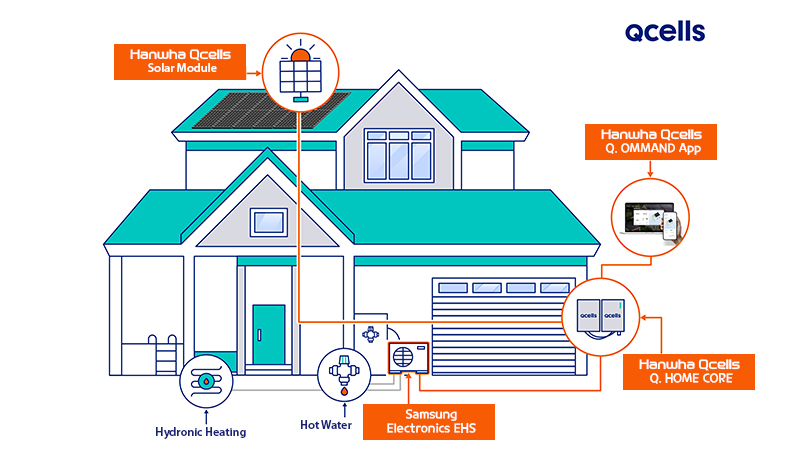 Hanwha Qcells has introduced a comprehensive energy management solution that can help reduce electricity and heating bills for European households.
Connecting Hanwha Qcells' solar modules (PV) and energy storage systems (ESS) to Samsung Electronics' heat pumps (Eco Heating System, EHS), the Q. OMMAND mobile app enable customers to optimize their power consumption by controlling alternative heating systems run by affordable, clean electricity.
Consumers can install Hanwha Qcells solar modules to generate clean PV electricity and store it with smart battery system Q. HOME CORE. The electricity produced with this Qcells PV+ESS solution is then used to power heat pumps while Q. OMMAND provides the best way to consume electricity with real-time monitoring and year-to-year analysis.
Householders can further reduce their electricity bills with Samsung's Smart Things Energy IoT platform. Using its "Net Zero Home" solutions, households can automatically switch home appliances to energy-saving mode at night or on cloudy days. The solar-powered heat pumps and energy management platform were unveiled at Internationale Funkausstellung 2022 (IFA 2022), the world's largest trade show for home appliances in Berlin, Germany in early September.
Amid soaring gas prices in Europe, solar-powered heat pumps are fast emerging as an alternative to fossil fuel-based heating systems. Incorporating this technology into Hanwha Qcells' smart energy management system can offer households a viable solution to tackling energy security at a time of global challenges.
The worsening energy crisis in Europe is accelerating the demand for renewable-based heat pumps to reduce reliance on fossil gas for heating homes. According to the REPower EU Plan, the European Commission aims to install 20 million heat pumps by 2026 and nearly 60 million by 2030.
"Heating bills are poised to soar for this winter, and powering heat pumps with solar energy can help to reduce the burden on households," said a Hanwha Qcells spokesperson. "With our innovative PV and ESS technology, we will continue to work with our partners to provide comprehensive clean energy solutions."
Hanwha Qcells
Hanwha Qcells is one of the world's leading clean energy companies, recognized for its established reputation as a manufacturer of high-performance, high-quality solar cells and modules, portfolio of intelligent storage systems, and growing international pipeline of large-scale renewable energy projects. Hanwha Qcells also provides renewable electricity retail services and packages to end customers the world over. The company is headquartered in Seoul, South Korea (Global Executive HQ), Thalheim, Germany (Technology & Innovation HQ) and San Francisco, USA (Energy Storage/Inverter & Software HQ) with its diverse international manufacturing facilities in the U.S., Malaysia, China, and South Korea. Hanwha Qcells strives to offer completely clean energy through the full spectrum of photovoltaic products, storage solutions, renewable electricity contracting and large-scale solar power plants. Through its growing global business network spanning Europe, North America, Asia, South America, Africa and the Middle East, Hanwha Qcells provides excellent services and long-term partnerships to its customers in the utility, commercial, governmental and residential markets.

For more information, visit: www.qcells.com/us/
Hanwha Solutions
Hanwha Solutions aims to deliver sustainable solutions for the planet through smart energy solutions and customer-focused materials. The Company operates its business through five divisions: Qcells, Chemical, Advanced Materials, Galleria and City Development. The Qcells Division offers total energy solutions from photovoltaic module manufacturing, power plant operation to electricity retailing service. The Chemical Division, the first in Korea to produce polyvinyl chloride (PVC), manufactures various chemical products and eco-friendly plasticizers. The Advanced Materials Division produces high-tech materials for automotive, photovoltaic and electronic devices. The Galleria Division, an operator of premium department store chain, provides premium fashion and food services. The City Development Division is a leading real estate developer specializing in industrial complexes. With its innovative technologies for sustainable growth, Hanwha Solutions strives to become a global leader in bringing a better future for humanity.

For more information, visit: www.hanwhasolutions.com/en/
Contact Us
Thank you for your interest in Hanwha.
Please contact us for your inquiries.
Email Us
Information Message
Please enter your email address.
Information Message
Please enter a correct email address.
Success
Keep an eye on your inbox for the latest stories from Hanwha.
Information Message
Your subscription request has already been processed. Thank you.