Hanwha Qcells Invests in Energy Platform LYNQTECH
Hanwha Qcells GmbH acquires 66 percent of Hanover-based LYNQTECH GmbH, a subsidiary of enercity AG, to further its focus as a full-service provider of clean energy solutions for residential and commercial end users.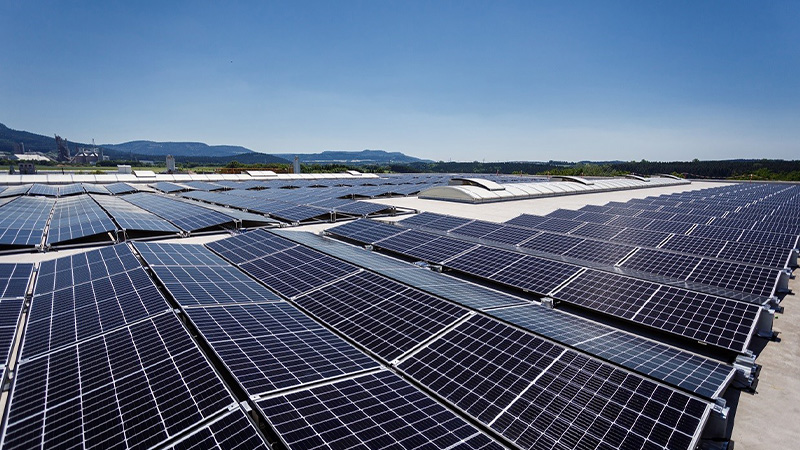 On July 14, 2022, Hanwha Qcells GmbH acquired 66 percent of Hanover-based LYNQTECH GmbH. Hanwha Qcells thus becomes the main shareholder of the digital cloud platform company founded in 2020 as a subsidiary of enercity AG (Stadtwerke Hannover). The parties have agreed not to disclose the purchase price. The transaction is subject to approval by the antitrust authorities.
This strategic investment will result in synergies for both partners, particularly in energy solutions relating to solar energy, electromobility and smart technologies. While LYNQTECH benefits from the financial strength of the Hanwha Group and Hanwha Qcells' international footprint, Hanwha Qcells strengthens its competencies in software and IT-based energy solutions with this investment and thus its role as a full-service provider of clean energy solutions beyond the manufacturing of solar cells and modules.
LYNQTECH has been supporting the energy industry in its digital evolution since 2020. With a modular cloud platform, LYNQTECH offers energy providers digital solutions to optimize their sales. Sales-relevant processes of energy companies are digitized and networked from start to finish, from signing the contract to customer care and billing for all services purchased by the end customer. At the same time, acquisition, service and operating costs are reduced.
As one of the world's leading solar companies, Hanwha Qcells offers the full spectrum of solar products and applications, retail energy sales and self-sufficient energy solutions. Residential and commercial customers receive all components needed for an independent sustainable energy supply from a single source. In the future, Hanwha Qcells will manage its energy trading business via LYNQTECH and drive the linking of digital processes for its existing customer business. The platform's scalable flexibility, fully digital processes and 360° customer view enable efficient customer service and the realization of new business models.
"We deliberately chose a partner with roots outside the traditional municipal utility environment," said enercity CEO Dr. Susanna Zapreva. "enercity, with its entrepreneurial roots in Hanover and its main radius of action in Germany, and Hanwha Qcells, with its international positioning, complement each other ideally,"
"Our portfolios complement each other strategically in an optimal way," explains Moon Cha, CEO of Hanwha Qcells GmbH. "With LYNQTECH as our technical platform, we can prospectively open up further markets in European countries and worldwide. Given the increasing importance of smart energy platforms worldwide, the qualitative and quantitative growth of our company through this investment will be an important impetus for Hanwha Qcells' growth as a global clean energy solutions company."
Hanwha Qcells
Hanwha Qcells (Hanwha Solutions Qcells division) is one of the world's leading clean energy companies, recognized for its established reputation as a manufacturer of high-performance, high-quality solar cells, and modules, a portfolio of intelligent storage systems, and a growing international pipeline of large-scale renewable energy projects. Hanwha Qcells also provides renewable electricity retail services and packages to end customers the world over. The company is headquartered in Seoul, South Korea (Global Executive HQ) and Thalheim, Germany (Technology & Innovation HQ) with its diverse international manufacturing facilities in the U.S., Malaysia, China, and South Korea. Hanwha Qcells strives to offer Completely Clean Energy through the full spectrum of photovoltaic products, storage solutions, renewable electricity contracting, and large-scale solar power plants. Through its growing global business network spanning Europe, North America, Asia, South America, Africa, and the Middle East, Hanwha Qcells provides excellent services and long-term partnerships to its customers in the utility, commercial, governmental, and residential markets.

For more information, visit: www.qcells.com/us/
Hanwha Solutions
Hanwha Solutions aims to deliver sustainable solutions for the planet through smart energy solutions and customer-focused materials. The Company operates its business through five divisions: Qcells, Chemical, Advanced Materials, Galleria and City Development. The Qcells Division offers total energy solutions from photovoltaic module manufacturing, power plant operation to electricity retailing service. The Chemical Division, the first in Korea to produce polyvinyl chloride (PVC), manufactures various chemical products and eco-friendly plasticizers. The Advanced Materials Division produces high-tech materials for automotive, photovoltaic and electronic devices. The Galleria Division, an operator of premium department store chain, provides premium fashion and food services. The City Development Division is a leading real estate developer specializing in industrial complexes. With its innovative technologies for sustainable growth, Hanwha Solutions strives to become a global leader in bringing a better future for humanity.

For more information, visit: www.hanwhasolutions.com/en/
Contact Us
Thank you for your interest in Hanwha.
Please contact us for your inquiries.
Email Us
Information Message
Please enter your email address.
Information Message
Please enter a correct email address.
Success
Keep an eye on your inbox for the latest stories from Hanwha.
Information Message
Your subscription request has already been processed. Thank you.