Hanwha Qcells Joins R&D Project in Europe Aimed at Mass Production of Tandem Solar Cells
Hanwha Qcells and a group of European research institutes will join together to advance tandem technology via the PEPPERONI consortium, a four-year R&D project with 14.5 million EUR in EU funding.
The project will establish a pilot line at the Hanwha Qcells European headquarters in Thalheim, Germany aimed at commercializing tandem cells and modules using Hanwha Qcells' proprietary Q.ANTUM cell manufacturing technology.
Based on results from the project's dual-track R&D strategy, Hanwha Qcells plans to start its internal tandem cell mass production of after June 2026.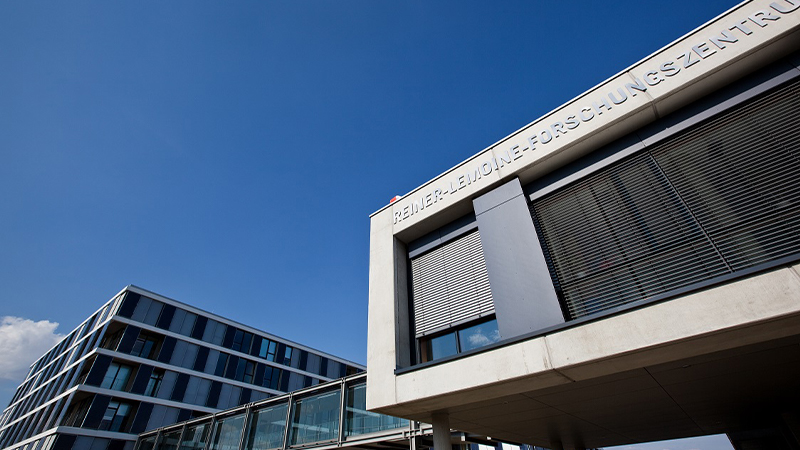 Hanwha Solutions Qcells Division, known as Hanwha Qcells, will participate in an EU-funded R&D project to mass-produce next-generation solar cells. The EU has invested 14.5 million EUR (15.1 million USD) in the test production project named PEPPERONI, which is expected to help Europe reach its climate neutrality target by 2050. The project aims to establish a pilot line for perovskite-silicon tandem cells, known as tandem cells, at the Hanwha Qcells Global R&D Center in Thalheim, Germany. The consortium for the project consists of 17 solar companies from 12 countries including Hanwha Qcells and research organizations in the European region.
Tandem cells are made by stacking a layer of perovskite, an adaptable photovoltaic material, on top of a silicon layer, resulting in cells that have the potential for higher power conversion efficiency (PCE)*. The crystal structure of perovskite can be adapted to absorb the parts of the light spectrum that cannot be taken in by monocrystalline cells, making it an ideal material for tandem cell development.
*Power conversion efficiency (PCE): A measure of the performance of a solar cell which could be determined by the maximum output power of the device as the ratio of power output to power input (Source: IGI Global)
Currently, the most established solar cell technologies are made with silicon and account for more than 90% of the global solar market. Tandem cells exceed the limits of these single-material cells by adding a complementary top perovskite cell to the existing bottom silicon cell, allowing the two materials to work in tandem to boost efficiency.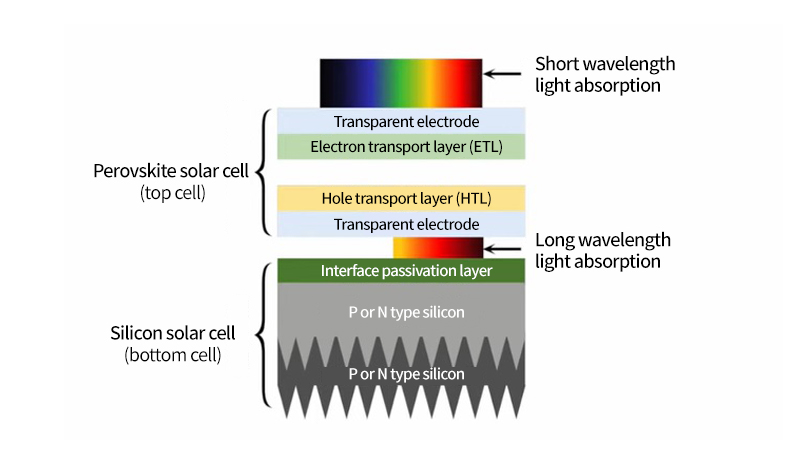 In March, Hanwha Qcells developed a tandem cell with up to 28.7% efficiency in cooperation with Helmholtz-Zentrum Berlin, a research institute exploring carbon-neutral solutions, achieving its own highest efficiency record. The theoretical efficiency limit of tandem cells estimated by academia is 44%, about 1.5 times higher than single silicon cells' 29.1%.
The goal of the project is to achieve the EU's renewable energy transition goals through the commercialization of high-efficiency tandem cells. In June, the EU announced REPowerEU, a plan to increase the share of renewable energy from 32% in 2022 to 45% in 2030 to strengthen energy security and respond to climate change. By 2030, renewable energy in Europe will increase to a total of 1,236 gigawatts, including 600 gigawatts of solar energy.
During the four-year project period, which will span from November 2022 to 2026, PEPPERONI aims to identify and address barriers to speed up technology's mass manufacturing of high-performance PV modules. A pilot line will be established at the Hanwha Qcells European headquarters in Thalheim, Germany for the development of industrial-type tandem cells and modules. This line will utilize silicon bottom cells using Hanwha Qcells' proprietary Q.ANTUM cell manufacturing technology along with innovative mass-production equipment, processes, technology and materials to produce high-efficiency tandem cells while minimizing scaling loss. Hanwha Qcells plans to mass produce tandem cells after June 2026 based on the project's research results.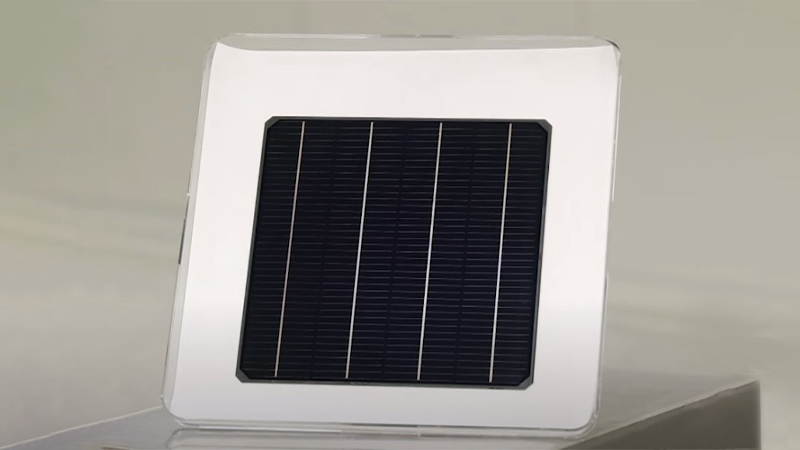 The company is also continuing its tandem cell research and development with domestic industry and academia in Korea. Hanwha Qcells has also been tapped for many Korean national projects, including a project for tandem cells in 2020 and tandem cell-based module processes in 2021. Together with small and medium-sized enterprises (SMEs) and research institutes, Hanwha Qcells is creating a steppingstone for the commercialization of tandem cells.
"Hanwha Qcells is working with leading institutions, both domestic and abroad, to accelerate the commercialization of perovskite-silicon tandem cells," said CEO of Hanwha Qcells, Justin Lee. "We will continue to lead technological innovation in the next-generation solar power market with a dual-track R&D strategy based in Europe and Korea."

Hanwha Qcells
Hanwha Qcells (Hanwha Solutions Qcells division) is one of the world's leading clean energy companies, recognized for its established reputation as a manufacturer of high-performance, high-quality solar cells, and modules, a portfolio of intelligent storage systems, and a growing international pipeline of large-scale renewable energy projects. Hanwha Qcells also provides renewable electricity retail services and packages to end customers the world over. The company is headquartered in Seoul, South Korea (Global Executive HQ) and Thalheim, Germany (Technology & Innovation HQ) with its diverse international manufacturing facilities in the U.S., Malaysia, China, and South Korea. Hanwha Qcells strives to offer Completely Clean Energy through the full spectrum of photovoltaic products, storage solutions, renewable electricity contracting, and large-scale solar power plants. Through its growing global business network spanning Europe, North America, Asia, South America, Africa, and the Middle East, Hanwha Qcells provides excellent services and long-term partnerships to its customers in the utility, commercial, governmental, and residential markets.

For more information, visit: www.qcells.com/us/
Hanwha Solutions
Hanwha Solutions aims to deliver sustainable solutions for the planet through smart energy solutions and customer-focused materials. The Company operates its business through five divisions: Qcells, Chemical, Advanced Materials, Galleria and City Development. The Qcells Division offers total energy solutions from photovoltaic module manufacturing, power plant operation to electricity retailing service. The Chemical Division, the first in Korea to produce polyvinyl chloride (PVC), manufactures various chemical products and eco-friendly plasticizers. The Advanced Materials Division produces high-tech materials for automotive, photovoltaic and electronic devices. The Galleria Division, an operator of premium department store chain, provides premium fashion and food services. The City Development Division is a leading real estate developer specializing in industrial complexes. With its innovative technologies for sustainable growth, Hanwha Solutions strives to become a global leader in bringing a better future for humanity.

For more information, visit: www.hanwhasolutions.com/en/
Contact Us
Thank you for your interest in Hanwha.
Please contact us for your inquiries.
Email Us
Information Message
Please enter your email address.
Information Message
Please enter a correct email address.
Success
Keep an eye on your inbox for the latest stories from Hanwha.
Information Message
Your subscription request has already been processed. Thank you.