Hanwha Shares Its Unique Leadership Development Program at ATD 2019 ICE
Hanwha presented its unique Hanwha Leader Development Program – a program designed to foster inspirational leaders at ATD 2019
Hanwha was the only Korean company selected among many others and asked to share its leadership program and best practices at the Association for Talent Development's International Conference and Exposition 2019 (ATD 2019 ICE)
Retired General Bernard Champoux, vice president of Hanwha Defense and former commander of the Eighth United States Army in Korea, delivered the opening speech to the development program session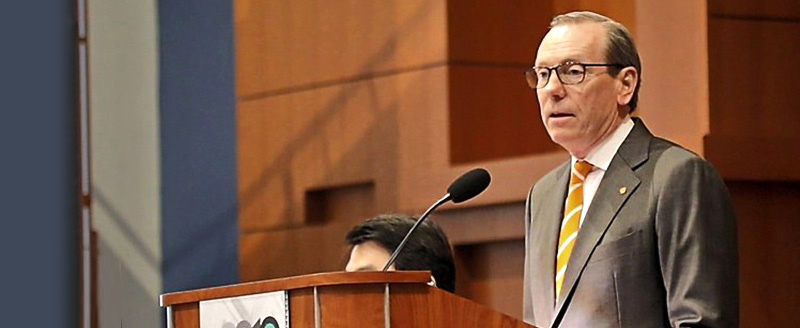 On May 22, Hanwha showcased the Hanwha Leader Development Program – its unique and effective leadership program at the Association for Talent Development's International Conference and Exposition (ATD 2019 ICE) in Washington DC. Hanwha's program is unique because it is an assessment-based program that previously due to the amount of time required were cost-prohibitive and could not be scaled for large companies.
The ATD ICE is an annual world-renowned talent development conference. More than 10,000 talent development professionals from 80 countries attend the conference every year. Around 300 training sessions covering 14 different topics were held at this year's conference. The keynote address was given by Oprah Winfrey. Attendees not only learned about the latest trends and methodologies of talent development, but also had the opportunity to interact with experts from around the world.
Hanwha attends the ATD ICE every year to develop as well as share its human resource expertise and best practices. This year, Hanwha took the opportunity to present its highly effective leadership development program, developed in-house and used very successfully for many years.
Hanwha began the training session by discussing the difficulties around discovering and developing inspirational leaders. It was a challenge that was all too common among the audience made up of hundreds of talent development professionals from around the world. Hanwha systematically addressed the problem and walked through its leadership development much to satisfaction of everyone attending the session.
The session was led by vice president of Hanwha Defense Bernard Champoux, the former general and commander of the Eighth United States Army in Korea. During the Q&A session, the international group of talent development professionals in the audience asked many in-depth questions, indicating a high level of interest in the Hanwha Leader Development Program.
Like most companies, Korean firms make decisions to promote employees based on three criteria: past performance, current level of competency, and amount of time spent in current role. Hanwha's Leader Development Program takes a more objective approach to assess an employee by gauging leadership abilities, management knowledge, and other attitude. When identified, the employee is trained for middle management. Hanwha's system involves an Assessment Center that allows multiple evaluators to comprehensively assess an individual's skills and competencies across multiple tasks.
During his keynote speech, Vice President Champoux emphasized that developing the right leaders can determine the success or failure of companies, just as inspirational leadership of General Douglas MacArthur changed the course of the Korean War.
"We are a vibrant, growing Global Fortune 500 company whose decades of success in numerous competitive markets has clearly demonstrated to us the critical value of identifying and growing strong leaders." said Vice President Champoux, giving a positive endorsement of the Hanwha Leader Development Program, adding: "Based on my experience of leading 20,000 US troops, I can say that the excellence of Hanwha's leadership program comes from how it measures an individual's competence and how it provides opportunities for self-evaluation and development."
Mr. Champoux went on to say that Hanwha is investing heavily in employee leadership development on a level that would match other global companies.
The presentation focused on the critical success factors used in the Hanwha Leader Development Program. Case studies were reviewed to show that in addition to determining whether a candidate deserves a promotion, an evaluation is also used to decide the candidate's role, management level and business unit within Hanwha.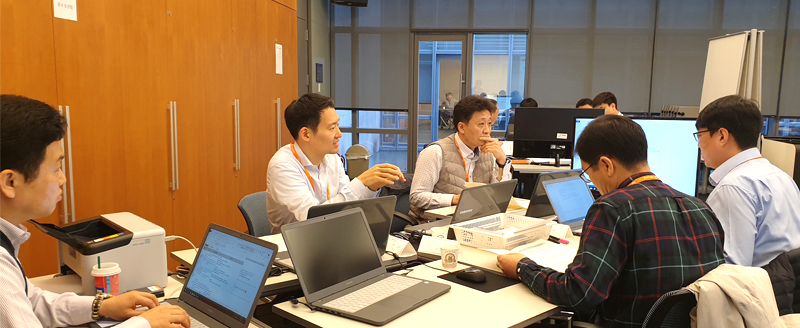 At the end of the session, one HR development specialist remarked: "It was impressive to see how something like an Assessment Center that would typically require a lot of money and manpower, was modified to meet the program's purpose and characteristics to maximize educational effectiveness while reducing costs."
Hanwha Group
Founded in 1952, Hanwha has grown quickly by anticipating and responding to changing business environments with a balanced business portfolio that includes energy & materials, aerospace, finance and retail & services. Our expertise and synergy in key areas have catapulted us into the seventh-largest business in South Korea and a Fortune Global 500 company. Hanwha continues to grow rapidly as we strive to pursue global leadership in all of our businesses. We are building a robust foundation for sustainable development and a brighter future for everyone.

For more information, visit: www.hanwha.com
Contact Us
Thank you for your interest in Hanwha.
Please contact us for your inquiries.
Email Us
Information Message
Please enter your email address.
Information Message
Please enter a correct email address.
Success
Keep an eye on your inbox for the latest stories from Hanwha.
Information Message
Your subscription request has already been processed. Thank you.