Hanwha Solutions Expands Investment in Korean Solar Energy Amidst Growing Global Solar Industry
Hanwha Solutions will invest a total of $545.6 million into South Korea's solar energy industry as a preemptive response to the growing global solar market.
Hanwha Solutions and GS Energy Corp. have announced the launch of H&G Chemical, a joint venture for EVA production.
Hanwha Qcells will increase high-efficiency and high power output products by expanding production for TOPCon cells and larger M10 wafers.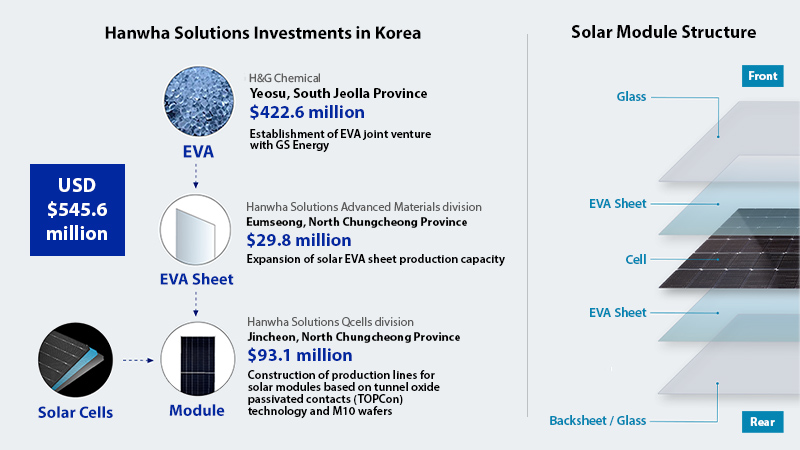 As a preemptive response to the growing global green energy market, Hanwha Solutions has announced plans to strengthen its solar material business and secure a production base for key components of high-efficiency solar power cells in South Korea.
The demand for solar energy is accelerating faster than ever worldwide, driven by the efforts of major countries — like the U.S., China, India and countries across Europe — to implement stronger policies and achieve climate goals. In line with this growth, Hanwha Solutions will expand its business through a joint venture with GS Energy to become the world's largest EVA producer by 2025 and expand its production of high-efficiency TOPCon cells. Investing in manufacturing in South Korea is one of the first steps Hanwha Solutions will take to prepare for the increasing global demand for solar, which is expected to reach around USD 292.32 billion by 2030.
With Hanwha Solutions strengthening research and development (R&D) efforts and establishing state-of-the-art manufacturing facilities, the company aims to transform Korea into a "global solar hub" through its capacity and technology.
Hanwha Launches H&G Chemical, a Joint Venture with GS Energy to Produce EVA
On September 7, Hanwha Solutions' Chemical Division and GS Energy announced the establishment of a joint venture, H&G Chemical, to produce ethylene-vinyl acetate (EVA). This key encapsulation material is used for the adhesion of solar modules and for cell protection, all of which require long-term durability — more than 25 years. The company, which was established through a co-investment totaling $422.6 million (590 billion KRW), will be located in the Yeosu Industrial Complex, South Jeolla province.
The manufacturing facility will have an annual capacity of up to 300,000 tons and will begin production in September 2025. H&G Chemical will supply the EVA for Hanwha Solutions' Advanced Materials Division, as well as other global solar parts manufacturers that produce EVA sheets. With a planned investment of $29.8 million (41.7 billion KRW), the Advanced Materials Division will also expand its EVA sheets production line in Eumseong, North Chungcheong Province.
H&G Chemical aims to quickly grow into a global top-tier EVA manufacturer by combining Hanwha Solutions' accumulated production capabilities over the past 50 years with cost-effective raw materials of GS Caltex, a subsidiary of GS Energy.
The global EVA market, with an annual volume of 4.4 million tons (as of 2021), is expected to grow at a 5.6% CAGR from 2020 to 2031. Once H&G Chemical begins production in 2025, Hanwha Group, including Hanwha Solutions, will become the world's largest EVA producer, producing 920,000 tons annually — exceeding U.S. energy giant Exxon Mobil's 790,000 tons.
Hanwha Expands Production of High-efficiency TOPCon Cells at Jincheon Plant
Hanwha Solutions' Qcells division plans to invest $93.1 million (130 billion KRW) to expand the manufacturing capacity of high-efficiency products. Hanwha will install production lines for Qcells' next-generation photovoltaic cells, which are made using high-efficiency tunnel oxide passivated contact technology (TOPCon), and larger wafers (M10). Current production lines for M6 wafers (16.6㎝ x 16.6㎝) will be upgraded to produce larger M10 wafers (18.2㎝ x 18.2㎝). These larger wafers help each module deliver up to about 6% more power.
TOPCon cells are high-efficiency products that use thin tunnel oxide film to improve power generation efficiency by 1%P (point) compared to existing models. Hanwha Solutions continues to increase production in TOPCon cells and invest in the research and mass production of tandem cells, or cells made from two different types of photovoltaic material layered on top of each other, based on perovskite, a next-generation material. This tandem structure places perovskite solar cells on top of silicon cells. As each material absorbs light at different wavelengths, the solar panel can achieve higher electrical efficiency.
"We will stabilize our supply of photovoltaic materials based on petrochemical technology and, in line with the growth of the global renewable market, secure future energy technologies by continuously investing in domestic R&D," said a spokesperson from Hanwha Solutions.
Hanwha Solutions' Korea Investment
Hanwha Solutions' Korea Investment
Category
Details
Volume
Region
EVA

• Establishment of EVA joint venture with GS Energy

$422.6 million
(590 billion KRW)
Yeosu,
South Jeolla Province
EVA Sheet

• Expansion of solar EVA sheet production capacity

$29.8 million
(41.7 billion KRW)
Eumseong,
North Chungcheong Province
Cells/Modules

• Construction of production lines for solar modules based on tunnel oxide passivated contacts (TOPCon) technology and M10 wafers
• Update of manufacturing lines from M6 to M10 wafers for high-efficiency module production

$93.1 million
(130 billion KRW)
Jincheon,
North Chungcheong Province
Total
$545.6 million
(761.7 billion KRW)
Hanwha Qcells
Hanwha Qcells (Hanwha Solutions Qcells division) is one of the world's leading clean energy companies, recognized for its established reputation as a manufacturer of high-performance, high-quality solar cells, and modules, a portfolio of intelligent storage systems, and a growing international pipeline of large-scale renewable energy projects. Hanwha Qcells also provides renewable electricity retail services and packages to end customers the world over. The company is headquartered in Seoul, South Korea (Global Executive HQ) and Thalheim, Germany (Technology & Innovation HQ) with its diverse international manufacturing facilities in the U.S., Malaysia, China, and South Korea. Hanwha Qcells strives to offer Completely Clean Energy through the full spectrum of photovoltaic products, storage solutions, renewable electricity contracting, and large-scale solar power plants. Through its growing global business network spanning Europe, North America, Asia, South America, Africa, and the Middle East, Hanwha Qcells provides excellent services and long-term partnerships to its customers in the utility, commercial, governmental, and residential markets.

For more information, visit: www.qcells.com/us/
Hanwha Solutions
Hanwha Solutions aims to deliver sustainable solutions for the planet through smart energy solutions and customer-focused materials. The Company operates its business through five divisions: Qcells, Chemical, Advanced Materials, Galleria and City Development. The Qcells Division offers total energy solutions from photovoltaic module manufacturing, power plant operation to electricity retailing service. The Chemical Division, the first in Korea to produce polyvinyl chloride (PVC), manufactures various chemical products and eco-friendly plasticizers. The Advanced Materials Division produces high-tech materials for automotive, photovoltaic and electronic devices. The Galleria Division, an operator of premium department store chain, provides premium fashion and food services. The City Development Division is a leading real estate developer specializing in industrial complexes. With its innovative technologies for sustainable growth, Hanwha Solutions strives to become a global leader in bringing a better future for humanity.

For more information, visit: www.hanwhasolutions.com/en/
Contact Us
Thank you for your interest in Hanwha.
Please contact us for your inquiries.
Email Us
Information Message
Please enter your email address.
Information Message
Please enter a correct email address.
Success
Keep an eye on your inbox for the latest stories from Hanwha.
Information Message
Your subscription request has already been processed. Thank you.