Hanwha Solutions Holds Vision-Sharing Event and Announces "Each Employee Must Be Part of the Solution"
Hanwha Solutions kicks off the new year with its first company meeting attended by business CEOs Hee Cheul Kim, Koo Yung Lee, and Doo-Hyung Ryu
Hanwha Solutions is expecting to increase efficiency by consolidating resource, focusing its R&D capabilities on 3 industries, and improving its financial stability
"Each of us is here to contribute to a sustainable future
by providing solutions to the issues faced by our customers, society, the environment, and climate. At Hanwha Solutions, everyone is a problem solver."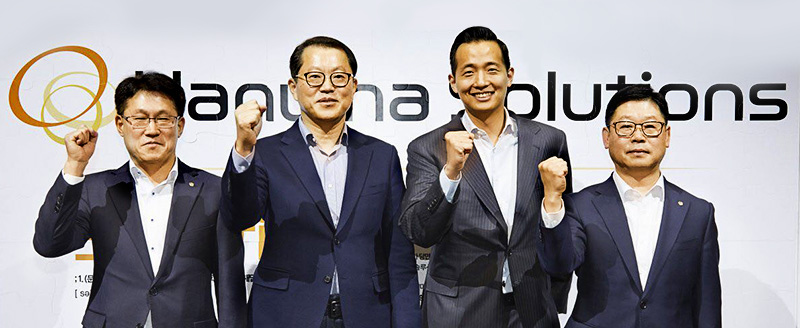 [January 23,2020] On January 6, employees gathered for Hanwha Solutions' first company meeting in the Hanwha Building auditorium in Seoul, Korea. The event kicked off the new year and the next decade of new possibilities. Chief Executive Officers Hee Cheul Kim of Q CELLS, Koo Yung Lee of Hanwha Chemical, and Doo-Hyung Ryu of Hanwha Advanced Materials were on hand along with Dong-Kwan Kim, President of Hanwha Solutions/Strategy Division who presented the Hanwha Solution's vision and direction.
This was the first official employee-only event for the newly formed Hanwha Solutions, a new company established by merging Hanwha Chemical, Hanwha Q CELLS, and Hanwha Advanced Materials. With its slogan "Technology for Sustainability," Hanwha Solutions will be a key problem solver across diverse industries that increasingly face global uncertainties.
Back in 2018, Hanwha Q CELLS and Hanwha Advanced Materials merged, then on January 2nd this year at the Hanwha general shareholders' meeting, the formation of Hanwha Solutions was officially announced, representing the merger between Hanwha Chemical, Hanwha Q CELLS and Advanced Materials. The newly consolidated company is now the joint responsibility of its three business CEOs: Hee Cheul Kim (Q CELLS), Koo Yung Lee (Chemical), and Doo-Hyung Ryu (Advanced Materials).
By uniting the three businesses, Hanwha Solutions will be able to increase its business synergy. This synergy will help the new company achieve long-term, sustainable growth as it successfully implements advanced strategies that will improve management efficiency, expand R&D capabilities, and secure financial stability.
Strong intra-company synergy will be fostered through the consolidation and better distribution/leveraging of resources. Hanwha Solutions will operate more efficiently by reducing costs and finding better ways to manage its finances. In turn, Hanwha Solutions will be able to consolidate R&D capabilities that can accelerate product development to lead the market and set new industry standards.
During the vision-sharing event, CEO Kim of the Q CELLS business said, "Together, let's turn Hanwha Solutions into a global leader in which each employee is a key to providing solutions."
"Our three businesses merged to secure sustainable growth," said CEO Lee of the Chemical business. "By combining our capabilities, we'll create a foothold from which Hanwha Solutions will leap onto the global stage."
CEO Ryu of the Advanced Materials business said, "Let's make Hanwha Solutions the global leader in the future mobility market."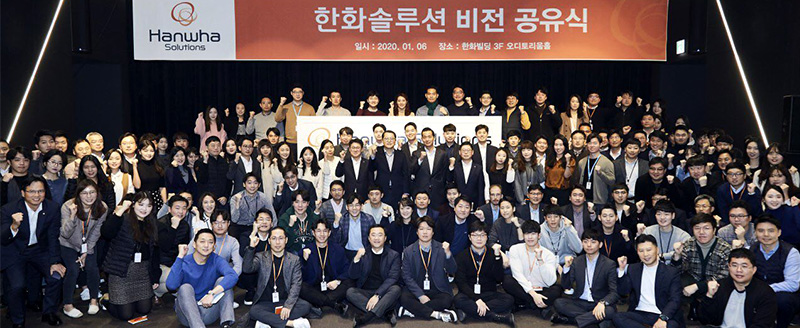 Employees were asked to write their own vision statements and new year's resolutions on puzzle pieces. These pieces were then placed on a large board in the auditorium to symbolize that the employees' goals and Hanwha Solutions' goals are one and the same.
President Kim of Hanwha Solutions/Strategy Division explained, "The future business strategies we shared today are important, but Hanwha Solutions' vision can only be fulfilled if everyone gathered here today is able to realize his or her own individual vision."
Hanwha Solutions
Hanwha Solutions (KRX: 009830) was formed in 2020 by the merger of Hanwha Chemical, Hanwha Q CELLS and Hanwha Advanced Materials. The company aims to create new synergies and sustainable growth by resolving environmental and climate issues faced by customers and society. It is headquartered in Seoul, South Korea, and has more than 70 locations worldwide.

Hanwha Solutions' chemical business was the first in Korea to produce polyvinyl chloride (PVC); it also produces polyolefin (PO), toluene diisocyanate (TDI), and chlor-alkali (CA). The company's Q CELLS business offers a full range of solar energy solutions from residential solar modules and energy systems to large-scale solar power plants. Its advanced materials business produces lightweight composite materials that are helping to usher in the future of mobility.

For more information, visit: hanwhasolutions.com/en
Contact Us
Thank you for your interest in Hanwha.
Please contact us for your inquiries.
Email Us
Information Message
Please enter your email address.
Information Message
Please enter a correct email address.
Information Message
Thank you for your newsletter subscription.
Your email account has been successfully registered.