Hanwha Solutions Joins $21 Million Investment in U.S. Plastic Upcycling Startup Novoloop
Hanwha Solutions co-led the joint investment in Novoloop, a plastic upcycling startup, raising the startup's Series A extension round to $21 million.
Novoloop's novel product Oistre™ put the company on the 2022 list of World Economic Forum (WEF)'s 100 most promising Technology Pioneers.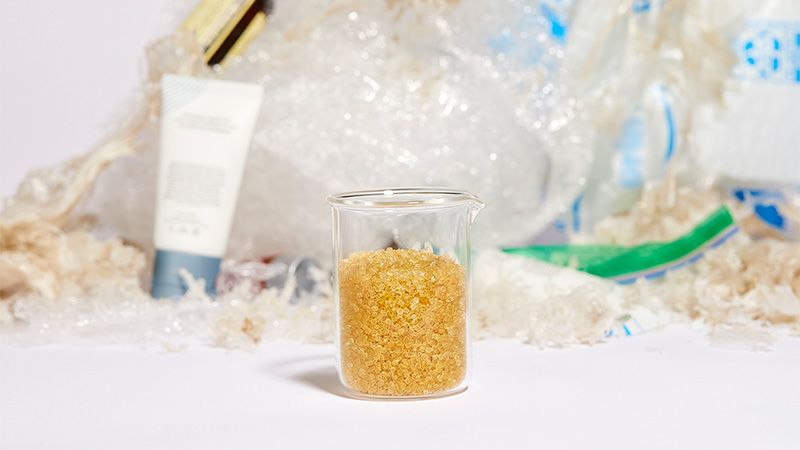 During June, Hanwha Solutions announced its joint investment in Novoloop, a plastic upcycling startup based in California. This investment is a part of Hanwha Solutions' mission to help fight climate change. It is also part of the company's execution of its business model to build sustainable solutions and to support companies whose climate technology can upcycle plastic waste and reduce carbon emissions.
This joint investment, co-led by Hanwha Solutions and Mistletoe Singapore, brought the startup's total Series A investment to $21 million. The funding round was also joined by impact venture capital firm Envisioning Partners and Valo Ventures, a thesis-driven venture capital firm.

Novoloop was cofounded in 2015 by Miranda Wang and Jeanny Yao. The company's patented Accelerated Thermal Oxidative Decomposition (ATOD™) technology breaks down the molecular structure of polyethylene (PE), a material commonly used to produce plastic bags. It then transforms the recycled plastic waste into raw materials such as eco-friendly thermoplastic polyurethane (TPU). This upcycled material is used to manufacture high-value products such as shoes and automobile parts.
Novoloop plans to use its funding to commercialize its upcycled TPU product Oistre™ and market it to global apparel and shoe manufacturers. Oistre™ contributes to the fight against climate change with a carbon footprint up to 46% smaller than conventional TPUs. This sustainable technology has given Novoloop recognition, placing it to be amongst the World Economic Forum (WEF)'s 100 most promising Technology Pioneers of 2022, a list of industry-leading tech companies that innovate cutting-edge technologies.
"The importance of resolving the plastic waste problem has grown. Through this investment in Novoloop, Hanwha Solutions will continue to expand its portfolio of green technologies and build a circular economy for plastics through upcycling," said an official from Hanwha Solutions.
Hanwha Solutions
Hanwha Solutions aims to deliver sustainable solutions for the planet through smart energy solutions and customer-focused materials. The Company operates its business through five divisions: Qcells, Chemical, Advanced Materials, Galleria and City Development. The Qcells Division offers total energy solutions from photovoltaic module manufacturing, power plant operation to electricity retailing service. The Chemical Division, the first in Korea to produce polyvinyl chloride (PVC), manufactures various chemical products and eco-friendly plasticizers. The Advanced Materials Division produces high-tech materials for automotive, photovoltaic and electronic devices. The Galleria Division, an operator of premium department store chain, provides premium fashion and food services. The City Development Division is a leading real estate developer specializing in industrial complexes. With its innovative technologies for sustainable growth, Hanwha Solutions strives to become a global leader in bringing a better future for humanity.

For more information, visit: www.hanwhasolutions.com/en/
Contact Us
Thank you for your interest in Hanwha.
Please contact us for your inquiries.
Email Us
Information Message
Please enter your email address.
Information Message
Please enter a correct email address.
Success
Keep an eye on your inbox for the latest stories from Hanwha.
Information Message
Your subscription request has already been processed. Thank you.