Hanwha Solutions Supplies Shell with Hydrogen Tanks
Type IV high-pressure Neptune tanks are to be delivered by Hanwha Solution's hydrogen tank manufacturing subsidiary Hanwha Cimarron.
Hanwha Cimarron will work with Shell to build extensive hydrogen refueling infrastructure in California.
With its Alabama factory expected to come online late this year, Hanwha Cimarron will churn out 4,000 high-pressure tanks annually.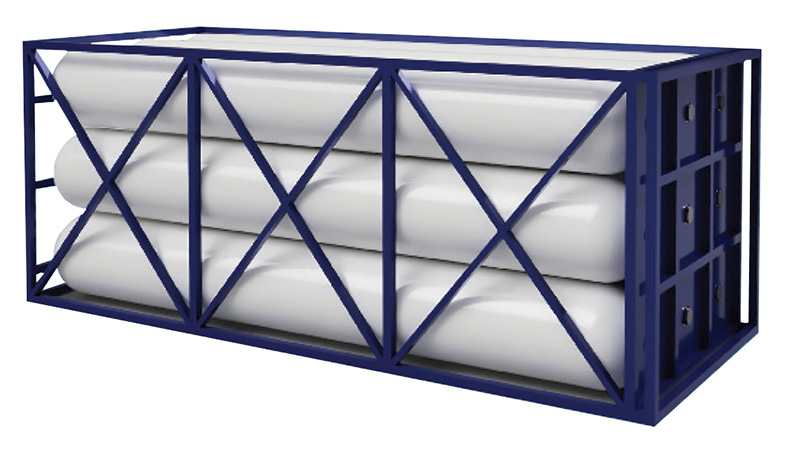 Hanwha Solutions announced on June 21 that it joined Shell's efforts to build extensive hydrogen refueling infrastructure in California. By supplying Shell with high-pressure hydrogen tanks for transport within its network of stations, Hanwha will help accelerate California's energy transition and decarbonizing efforts.
Hanwha Solutions' hydrogen tank manufacturing subsidiary, Hanwha Cimarron, said it finalized a purchase order with Shell to provide its Neptune tanks, which are Type IV high-pressure hydrogen tanks. The carbon fiber-reinforced, 2,000 litre capacity vessels can store hydrogen at a pressure of 517 bar — the highest pressure level among Type IV tanks.
Another strength of the Neptune tanks is their anti-buckling technology, which allows the hydrogen inside to be fully extracted without any internal damage to the tank. Typically, Type IV high-pressure tanks must reserve 10 percent of their total contents to prevent tank shrinking during storage, which reduces their transport efficiency. However, Neptune tanks have proven their stability, receiving certificates from the U.S. Department of Transportation (DOT) for transportation efficiency and the American Society of Mechanical Engineers (ASME) for storage usage.
Hanwha Cimarron's supply of hydrogen tanks will support Shell's efforts to extend its hydrogen refueling network across California. The state is emerging as a key hydrogen hub in the U.S., operating 52 of the country's total 66 refueling stations. According to research firm MarketsandMarkets, the global hydrogen energy storage market is projected to reach $119.2 billion by 2027 and North America will constitute about 13 percent of the global market volume.
"This supply contract is a great foundation for our collaboration with Shell and our efforts to expand our presence in the U.S. hydrogen market," said Du-hyoung Ryoo, head of Hanwha Solutions' Advanced Materials Division. "We are also expanding the company's hydrogen tank business in Europe, including Germany, to attract more clients globally."
Acquired by Hanwha Solutions in December 2020, Hanwha Cimarron, formerly known as Cimarron Composites founded by NASA scientist Tom Delay, is seeking to scale up its business. Its $51 million investment plan to build a high-pressure tank manufacturing facility in Opelika, Alabama in the U.S. is well underway. When construction is completed later this year, the Opelika factory will be able to produce up to 4,000 high-pressure tanks annually.
In 2021, Hanwha Cimmaron signed a deal with Texas-based energy company Sunbridge Energy Services to provide storage tanks for compressed natural gas (CNG). The $260 million deal aims to deliver tube trailers containing dozens of vessels that can store CNG and other pressurized gases such as hydrogen.
Hanwha Solutions
Hanwha Solutions aims to deliver sustainable solutions for the planet through smart energy solutions and customer-focused materials. The Company operates its business through five divisions: Qcells, Chemical, Advanced Materials, Galleria and City Development. The Qcells Division offers total energy solutions from photovoltaic module manufacturing, power plant operation to electricity retailing service. The Chemical Division, the first in Korea to produce polyvinyl chloride (PVC), manufactures various chemical products and eco-friendly plasticizers. The Advanced Materials Division produces high-tech materials for automotive, photovoltaic and electronic devices. The Galleria Division, an operator of premium department store chain, provides premium fashion and food services. The City Development Division is a leading real estate developer specializing in industrial complexes. With its innovative technologies for sustainable growth, Hanwha Solutions strives to become a global leader in bringing a better future for humanity.

For more information, visit: www.hanwhasolutions.com/en/
Contact Us
Thank you for your interest in Hanwha.
Please contact us for your inquiries.
Email Us
Information Message
Please enter your email address.
Information Message
Please enter a correct email address.
Success
Keep an eye on your inbox for the latest stories from Hanwha.
Information Message
Your subscription request has already been processed. Thank you.