Hanwha Seeks Measures to Enhance Its Global Competitiveness at Summer Davos
Hanwha Q CELLS CCO Dong Kwan Kim served in a discussion panel on renewable energy
Hanwha executives met with high-ranking officials from multinationals in chemical, finance, and leisure service
Hanwha Group participated in the Annual Meeting of the New Champions 2017 (AMNC 2017), also known as the Summer Davos, held in Dalian, China to strengthen business ties with global experts and to find ways to enhance the competitiveness of its core businesses in solar, petrochemical, life insurance, and leisure services.
Over the three-day forum from June 27th to the 29th, about 1,500 experts in the political, economic, and cultural sphere from over 90 countries around the globe took part in various sessions and discussions under the theme, "Achieving Inclusive Growth in the Fourth Industrial Revolution."
Attendees from Hanwha Group included Hanwha Total Petrochemical CEO Hee Cheul Kim, Hanwha Hotels & Resorts CEO Seok Moon, Hanwha Q CELLS CCO Dong Kwan Kim, and Sino-Korea Life CEO Donwan Koo.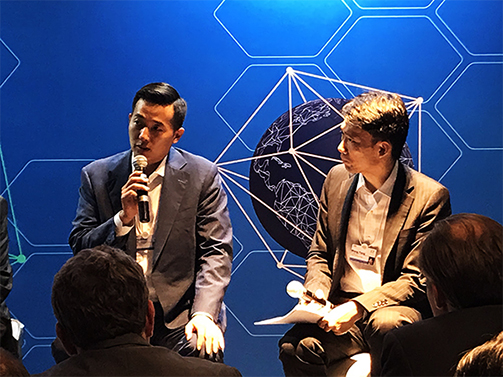 Dong Kwan Kim, CCO of Hanwha Q CELLS was one of the three panelists at the Dalian International Conference Center. The other two were Lin Boqiang, the Director of China Center for Energy Economics Research (CCEER) and Jim Pass, Managing Director at Guggenheim Partners. Mr. Kim spoke on clean energy and its prospects in Asia and the value of investing in renewable energy.
"The solar energy business will maintain stable growth in China, India, the United States, and Australia. The drop in the price of solar panels and energy storage systems will further improve price competitiveness, suggesting a bright prospect for the solar energy market," said Mr. Kim at the session entitled, "Tomorrow's Clean Energy Giants."
He also shared his view on the growth of Chinese PV module makers, commenting, "They do pose serious competition but it also works in a positive way in that it drives down the price and revitalizes the solar ecosystem." On Hanwha's future strategy to remain competitive in the global solar market, he said, "We are eyeing the Turkey and the Middle East market with interest. Cooperation with solar energy startups is also a viable option."
Lin Boqiang said, "The global solar industry, including China, will continue to grow but we need to be aware of the recent protectionism trends and how they will affect the world market."
Dong Kwan Kim agreed with Lin's view, saying, "Hanwha is also watching closely the global trend – the rise in protectionism and the potential impact it can have on Hanwha Q CELLS and other clean energy firms. We have been preparing measures to effectively respond to this trend, not least by sharpening our own competitiveness."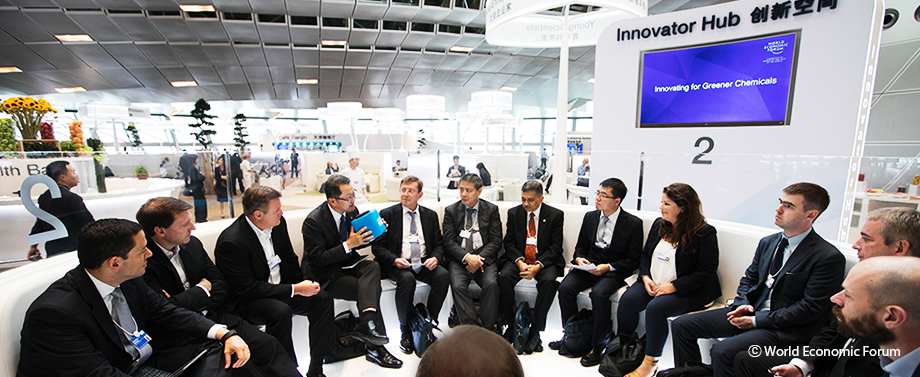 Meanwhile, Hanwha Total Petrochemical CEO Hee Cheul Kim took part in a climate change and clean energy session and held business meetings with global chemical companies, including DSM of Netherland, SASOL of South Africa and Reliance, one of the biggest companies in India.
Hanwha Hotels & Resorts CEO Seok Moon and Sino-Korea Life CEO Donwan Koo also took part in many sessions of interest and industries. They exchanged information with experts and high-ranking officials from global leisure and financial service providers such as the JTB Group, the global hotel franchise Marriott, Switzerland's Zurich Insurance Group, and Japan's Nomura Securities.
Hanwha Group
Founded in 1952, Hanwha has grown quickly by anticipating and responding to changing business environments with a balanced business portfolio that includes energy & materials, aerospace, finance and retail & services. Our expertise and synergy in key areas have catapulted us into the seventh-largest business in South Korea and a Fortune Global 500 company. Hanwha continues to grow rapidly as we strive to pursue global leadership in all of our businesses. We are building a robust foundation for sustainable development and a brighter future for everyone.

For more information, visit: www.hanwha.com
Contact Us
Thank you for your interest in Hanwha.
Please contact us for your inquiries.
Email Us
Information Message
Please enter your email address.
Information Message
Please enter a correct email address.
Success
Keep an eye on your inbox for the latest stories from Hanwha.
Information Message
Your subscription request has already been processed. Thank you.