Hanwha TotalEnergies Petrochemical Completes Construction of High Value-added POE Pilot Plant
Hanwha TotalEnergies Petrochemical cooperated with Hanwha Solutions and TotalEnergies to develop a polyolefin elastomer (POE) pilot plant — the first joint project of the three companies.
Through the plant, Hanwha TotalEnergies Petrochemical has made a significant step in the expansion of the high value-added material business and will secure its market competitiveness.
Process data secured through POE pilot tests is expected to lay the foundation for construction of a commercial plant in the future.
Hanwha TotalEnergies Petrochemical completed the construction of a polyolefin elastomer (POE) pilot plant, a significant step in the expansion of the high value-added material business. This is the company's first joint project with Hanwha Solutions, a Hanwha affiliate, and TotalEnergies, its shareholder. The 200 tons of POE produced per year and major processes tests undertaken at the new plant will lay the foundation for the construction of a commercial plant capable of producing 100,000 tons of POE annually in the future.
POEs are relatively new types of thermoplastic elastomers. The material is known for its low density and high elasticity, making it ideal for use in various sectors including automotive and consumer goods. POE has recently garnered attention within the solar industry, as it can increase the durability and efficiency of solar modules when used as a film encapsulant. As a result, the global POE market is expected to grow by 6.9 percent annually to reach a valuation of $6.3 billion by 2030.*
The demand for chemical materials that possess high-functionality, long-lasting performance, and are eco-friendly has continued to grow. The completion of the POE pilot plant will contribute to efforts within the chemical industry to develop materials that are competitive in the growing market for future eco-friendly technologies.
"The POE pilot project is meaningful as it is the first time Hanwha TotalEnergies Petrochemical and the two stockholders worked together synergistically," said Laurentius Na , CEO of Hanwha TotalEnergies Petrochemical. "We plan to focus on expanding our high value-added product manufacturing capabilities to secure sustainable competitiveness."
The construction of the plant began at Hanwha TotalEnergies Petrochemical's Daesan plant in August 2021. Upon the completion of the construction, an opening ceremony for the plant took place on June 29. The POE pilot project was successfully carried out due to the combined cooperation of the three organizations, demonstrating their collaborative synergy. Hanwha TotalEnergies Petrochemical led the construction and will oversee the operation of the pilot plant. Hanwha Solutions offered its expertise in POE production process technology, and TotalEnergies provided catalyst technology necessary for product production.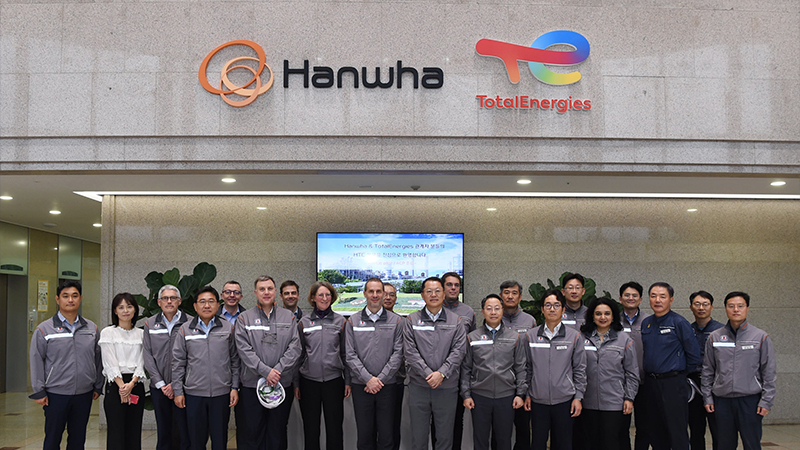 The POE pilot tests will secure process data for designing optimized products and commercial processes. These efforts will aid in establishing the basic design of the commercial plant within one year and will promote full-scale investment.
*Based on data reported by Nexant, a global energy and chemicals advisory company, in 2020.
Hanwha TotalEnergies Petrochemical
Hanwha TotalEnergies Petrochemical is a comprehensive material and energy company that produces high value–added chemical and energy products. Since it was founded in 1988, the company has led the growth of the petrochemical business in South Korea through technological innovations and by successfully executing a market expansion strategy. In 2003, the company began building the foundation to become a global multi-material and energy company. In pursuit of this aim, the company formed a joint venture with the TotalEnergies Group, a major French company in the energy and chemical industry. Since then, Hanwha TotalEnergies Petrochemical has continued to lead South Korea's petrochemical market and grow as the nation's leading company through product innovations, strategic diversified investments, and economies of scale.

For more information, visit: www.htpchem.com
Hanwha Solutions
Hanwha Solutions aims to deliver sustainable solutions for the planet through smart energy solutions and customer-focused materials. The Company operates its business through three divisions: Qcells, Chemical, and Insight. The Qcells Division offers total energy solutions from photovoltaic module manufacturing, power plant operation to electricity retailing service. Long recognized as a prominent leader in the chemicals industry, the Chemical Division is growing into a global green energy materials company with its cutting-edge solutions for eco-friendly materials. The Insight Division is providing differentiated solutions through comprehensive development and financing for projects such as cities, smart green industrial complexes, renewable energy, premium real estate and premium content. With its innovative technologies for sustainable growth, Hanwha Solutions strives to become a global leader in bringing a better future for humanity.

For more information, visit: www.hanwhasolutions.com/en/
Contact Us
Thank you for your interest in Hanwha.
Please contact us for your inquiries.
Email Us
Information Message
Please enter your email address.
Information Message
Please enter a correct email address.
Success
Keep an eye on your inbox for the latest stories from Hanwha.
Information Message
Your subscription request has already been processed. Thank you.