Hanwha Vision's Vietnam Factory Reaches Cumulative Production of 10 Million Units
Achieved cumulative production of 10 million units in the company's Vietnam-based manufacturing facility within five years of operation
Demonstrates Hanwha Vision's continued growth in the global market, particularly in the United States
Aims to leverage Hanwha Vision's Vietnam manufacturing subsidiary to strengthen the company's global competitiveness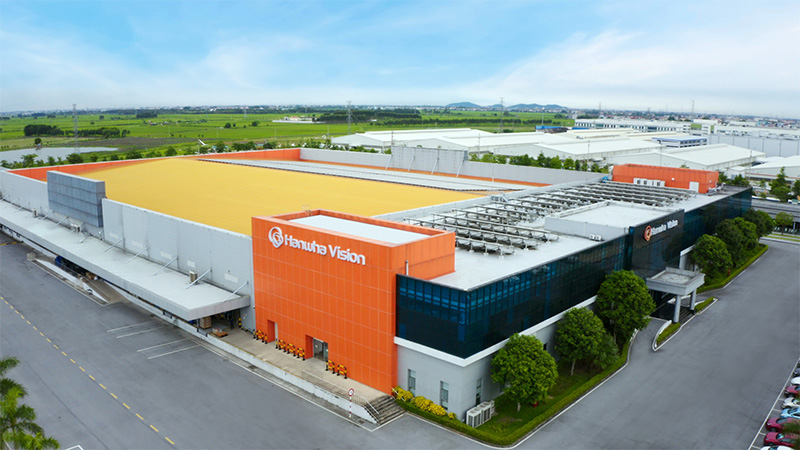 Hanwha Vision, a leading provider of innovative security and video surveillance solutions, reached a cumulative production of 10 million units in its Vietnam-based manufacturing facility just five years since beginning operations.
This accomplishment demonstrates the company's growth in the global market, notably in the United States. The company aims to leverage this momentum to further strengthen its leading edge in the international arena, while maintaining a focus on the U.S. market.
On October 30, Hanwha Vision Vietnam held a ceremony to commemorate the landmark production output at its plant located inside the Que Vo Industrial Park of Bac Ninh Province.
"We are striving to convey the highest level of trust in our products and company to our customers through our Vietnam-based manufacturing subsidiary, which attributes its competitiveness to precision, efficiency, and innovation," said Soonhong Ahn, President and CEO of Hanwha Vision. "We will continue to work hard to ensure that our video surveillance solutions guarantee customer safety and maximize business efficiency around the globe, especially in the U.S., Europe, and Asia."
The Hanwha Vision Vietnam facility was established in 2017 to strategically expand the company's global manufacturing bases. The site currently manufactures approximately 500 product models, including cameras, storage devices, and lenses. When the facility launched its mass-production operations in 2018, the company introduced its own root certificate authority (CA), inserting device authentication into each product in the manufacturing stage to protect the entire system from security vulnerabilities. Following its opening, Hanwha Vision Vietnam recorded a cumulative production of 2 million units in 2019 and 5 million units in 2021.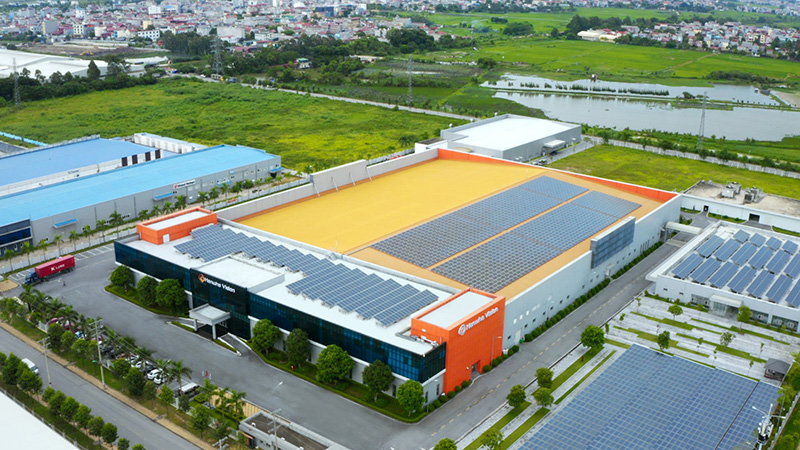 The 60,066 square meter manufacturing facility in Vietnam is an eco-friendly smart factory that operates using power generated by using solar panels installed on the roof of the building. The site manages all products, equipment, and manufacturing environments in an integrated manner.
The manufacturing subsidiary contributes to Hanwha Vision's international business competitiveness. When the global supply chain experienced challenges due to the COVID-19 pandemic in 2021, Hanwha Vision was able to produce 50% more products than the previous year thanks to its Vietnamese subsidiary's global manufacturing and supply chain management system, which spans ordering, manufacturing, production, and logistics.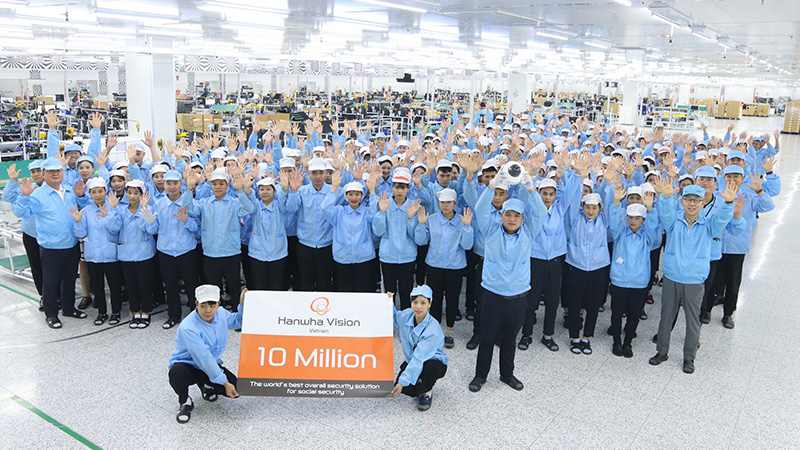 The 10 millionth product produced at the facility was Hanwha Vision's SolidEDGE camera, showcasing its ability to deliver innovative, high-quality surveillance solutions at scale. SolidEDGE is the first real solid-state drive (SSD)-based camera with an embedded server available on the market. This embedded server provides a cost-effective and practical security solution for businesses and organizations while maintaining the ability to deliver high-quality, reliable video surveillance.
In March, Hanwha Vision announced its aim to extend its technological capabilities beyond video surveillance solutions to business operation insights.
Hanwha Vision
Established in 1990, Hanwha Vision (formerly Hanwha Techwin)'s advanced video and analysis technology has made the company a global leader in video surveillance. By applying its experience and subject matter expertise to product development, Hanwha Vision has created a complete line of security solutions that provide safety and comfort to its customers, from cameras and recorders to storage devices, integrated management software, and accessories. Hanwha Vision's products are designed to suit a variety of environments, including residential, urban, and commercial facilities.

For more information, visit: HanwhaVision.com/
Contact Us
Thank you for your interest in Hanwha.
Please contact us for your inquiries.
Email Us
Information Message
Please enter your email address.
Information Message
Please enter a correct email address.
Success
Keep an eye on your inbox for the latest stories from Hanwha.
Information Message
Your subscription request has already been processed. Thank you.