Hanwha Asset Management to Establish Joint Venture in China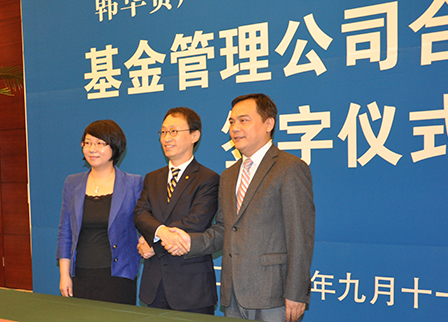 [Tianjin, China, 12 September, 2014] Hanwha Asset Management struck a joint venture agreement with China's state enterprises Tianjin Hi-Tech Holding Group Co., Ltd. and Northern International Holdings Co., Ltd. in order to establish a joint venture asset management company(韩华海泰基金管理有限公司) in Tianjin on September 11.
The joint venture asset management company(韩华海泰基金管理有限公司) will possess a starting capital of 300 million yuan or around 480 million USD. The company will start to get a foothold in the domestic market through selling financial products to local people in 2015.
For the first time in its history, China will witness an asset management company whose largest shareholder is a foreign investor since Hanwha Asset Management holds a majority shareholder position with 45.5% shares of the joint venture asset management company(韩华海泰基金管理有限公司), as a result of the agreement.
Myung-jun Shim, Division Head of Management Support Division at Hanwha Asset Management, emphasized the business potential of the joint venture by saying, "Recently, China sees its asset management sector emerging as the core part of its financial service industry. At this juncture, the joint venture prospects between Korea's general asset manager, known for its reliable capacities for developing new products, and the managing assets of China's state enterprises along with a firm local customer base should create a variety of synergy and set a new example of Korea-China financial cooperation."
* Tianjin Hi-Tech Holding Group Co., Ltd. is mainly focused on financial, high technology, real estate, construction and service industry sectors.
* Northern International Holdings Co., Ltd. is focused on trade, food, distribution, and overseas construction industry projects and is one of China's 500 service companies, representing Tianjin.
Hanwha Asset Management
Founded in 1988, Hanwha Asset Management has grown into a comprehensive asset management company offering a full range of financial instruments, including stocks, bonds, MMFs, fund of funds, social overhead capital, derivatives, real estate, ETFs, and PEFs in both domestic and overseas capital markets. At the end of 2017, we were among South Korea's top three asset management companies with USD 82.17 billion in assets under management (AUM). We have top-tier expertise and well-organized systems in all areas, including product development, research, compliance, and risk management. All our products and services cater to the needs of our customers because we apply our principles and management philosophy to placing our customers first before anything else.

For more information, please visit: http://eng.hanwhafund.co.kr

Hanwha Group
Hanwha Group, founded in 1952, is one of the Top-Ten business enterprises in South Korea and a "FORTUNE Global 500" company. Hanwha Group has more than 85 domestic affiliates and over 380 global networks in three major sectors: manufacturing and construction, finance, and services and leisure. With more than 65 years track record of industrial leadership, Hanwha's manufacturing and construction businesses encompass a broad range of fields from chemicals & materials, aerospace & mechatronics, total solar energy solutions, and global construction. The finance network, covering insurance, asset management and securities, is the second largest non-bank financial group in South Korea. The services and leisure sector offers premium lifestyle services with retail and resort businesses.

For more information, visit: www.hanwha.com
Contact Us
Thank you for your interest in Hanwha.
Please contact us for your inquiries.
Email Us
Information Message
Please enter your email address.
Information Message
Please enter a correct email address.
Success
Keep an eye on your inbox for the latest stories from Hanwha.
Information Message
Your subscription request has already been processed. Thank you.