Hanwha Group Acquires German Automotive Component Manufacturer
Hanwha Advanced Materials acquires an automotive component supplier to BMW, Audi, and other well-known brands
Hanwha Advanced Materials secures global edges in high-tech materials, complementing the company's world-leading competitive capabilities in defense, chemical, and solar energy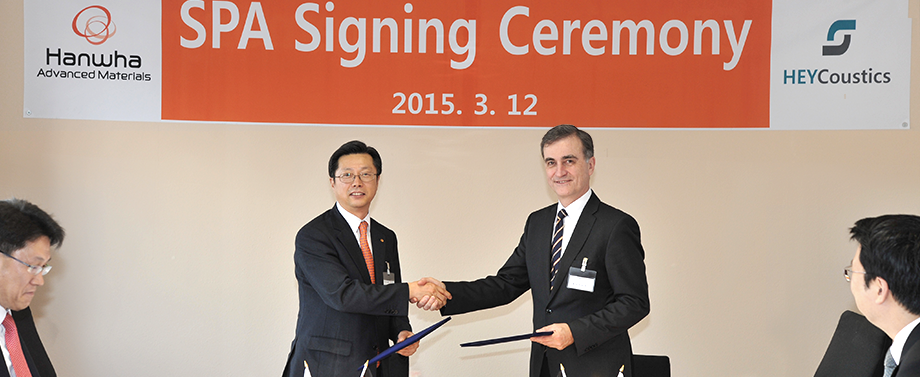 Hanwha Advanced Materials, a global high-tech materials specialist of Hanwha Group, acquires the German automotive component manufacturer, Heycoustics.
CEO & President of Hanwha Advanced Materials, Sun Suk Lee signed the agreement for the acquisition on March 12th at the headquarters of Heycoustics located in Dietfurt, Bavaria in Germany.
Heycoustics, founded in 1992, supplies lightweight components to leading German automakers including BMW and Audi with high-tech capabilities, advanced quality control system and geographical advantage. Its major products are lightweight components for automobiles such as superior noise-absorbing wheel arch liners and aerodynamic underbody shields that improve fuel efficiency, the demand of which is increasing.
The acquisition is significant as it allows Hanwha Advanced Materials to establish a production base for automotive components in the heart of the car industry, Germany. Also, it is expected that Hanwha Advanced Materials further boosts its revenues in the European market by securing a strong bridgehead for sales and distribution of its products.
CEO & President Sun Suk Lee of Hanwha Advanced Materials said that the company 'will expand the number of overseas subsidiaries from current five to ten by 2020 through a series of M&As,' adding that "the acquisition of Heycoustics will allow Hanwha Advanced Materials to take a significant step towards achieving its vision of becoming the global leader in lightweight composite materials and components for automobiles.'
Hanwha Advanced Materials first entered the automotive components and materials market in 1986. It holds key technological capabilities in high strength, ultra lightweight materials and components, and currently maintains the world's largest market share in GMT (Glass Fiber Mat Thermoplastics) and LWRT (Low Weight Reinforced Thermoplastics) as well as a strong presence in a variety of lightweight composite materials including EPP (Expanded Polypropylene), SMC (Sheet Molding Compounds) and LFT (Long Fiber Reinforced Thermoplastics).
In addition to its facilities in Korea, Hanwha Advanced Materials has established overseas subsidiaries in the United States, China, and the Czech Republic in order to build local production bases, and currently supplies lightweight materials and components to Hyundai and Kia as well as global automakers including GM, Ford, Volkswagen and Toyota.
Last July, Hanwha Advanced Materials spun off its construction material business arm, Hanwha L&C, refocusing itself into a company specialized in materials. Thanks to these and other efforts, sales for the company's automobile material business increased from $500 million in 2011 to $803 million in 2014.
In 2007, through the acquisition of the American automotive components materials company, Azdel, the world's leader in LWRT, Hanwha Advanced Materials created foundations of a global network for supplying automotive components and materials to automakers around the world.
According to Visiongain and other market research companies, the global market for lightweight composite materials for automobiles amounts to approximately $11 billion this year and tends to grow rapidly.
Heycoustics
· Year of establishment: 1992
· Location: Bavaria, southeast part of Germany (a region known for its automobile industry)
· Total land/plant area: 20,167㎡/ 9,252㎡
· Sales and number of employees: $27 million (2014) / approximately 150
· Major facilities: Wheel Arch Liner Production Line, Press, Post-molding facilities, etc.
· Major clients: Audi, BMW, Volkswagen, etc.
· Major products: Wheel Arch Liner, Under Body
Hanwha Advanced Materials
Founded in 1965, Hanwha Advanced Materials' vision is "A high-tech materials company that protects the values of humanity and the environment." To achieve this vision, we're developing an innovative line of products and technologies that are more environmentally conscious while catering to the needs of our customers around the world. We produce lightweight composite materials and thermoformable components for automobiles, highly efficient advanced film for solar energy, and high-performance coating films for mobile phones and display. We have also developed local production plants and R&D centers in South Korea, the US, Europe, and China. Our global sales continue to rise.

For more information, please visit: www.hwam.co.kr/en

Hanwha Group
Founded in 1952, Hanwha has grown quickly by anticipating and responding to changing business environments with a balanced business portfolio that includes energy & materials, aerospace, finance and retail & services. Our expertise and synergy in key areas have catapulted us into the seventh-largest business in South Korea and a Fortune Global 500 company. Hanwha continues to grow rapidly as we strive to pursue global leadership in all of our businesses. We are building a robust foundation for sustainable development and a brighter future for everyone.

For more information, visit: www.hanwha.com
Contact Us
Thank you for your interest in Hanwha.
Please contact us for your inquiries.
Email Us
Information Message
Please enter your email address.
Information Message
Please enter a correct email address.
Success
Keep an eye on your inbox for the latest stories from Hanwha.
Information Message
Your subscription request has already been processed. Thank you.