Microsoft and Hanwha Qcells Announce Strategic Alliance to Curb Carbon Emissions and Power Clean Energy Economy
Hanwha Qcells will supply more than 2.5 gigawatts of solar panels and EPC services to solar project developers in partnership with Microsoft.
The first-of-its-kind collaboration is rooted in the companies' collective commitments to diversify the global energy supply chain and reduce carbon emissions.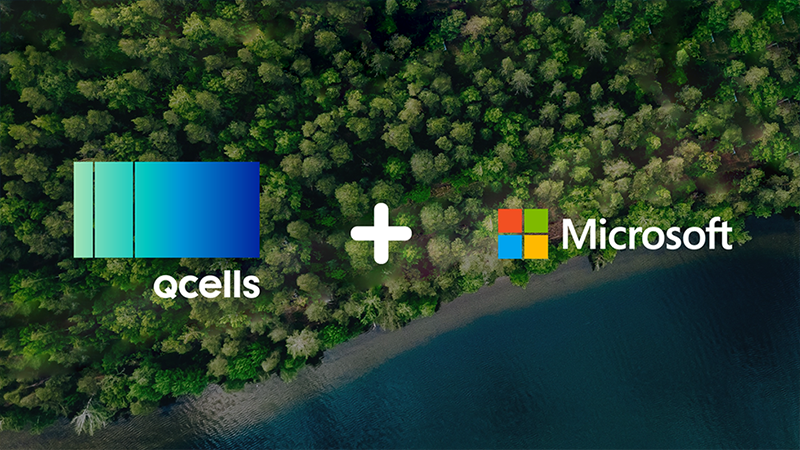 Hanwha Solutions Qcells Division (Hanwha Qcells), a global solar leader investing in building a U.S. solar supply chain, and Microsoft Corp., a global technology company with a commitment to be carbon negative by 2030, are partnering to enable a strong supply chain for new renewable electricity capacity projected to require at least 2.5 gigawatts of solar panels and related services – equivalent to powering over 400,000 homes.
Hanwha Qcells, owned by Hanwha Solutions headquartered in Seoul, will work with Microsoft to develop solar projects as well as provide panels and engineering, procurement, and construction (EPC) services to selected solar projects Microsoft has contracted for through Power Purchase Agreements (PPAs).
Microsoft has committed to purchasing renewable energy with a goal of achieving 100% coverage of electricity consumption with renewable energy by 2025. Microsoft is extending its sustainability activities to support domestic production of green energy equipment in the regions it operates globally. Microsoft is supporting Hanwha Qcells' solar products, including those manufactured domestically, to bring more renewable energy to the grid. Hanwha Qcells is the only company in the U.S. that will have a complete solar supply chain and provides one-stop clean energy solutions.
Addressing the growing need for a sustainable solar value chain
This alliance is the first time a company that procures energy is working directly with a solar supplier to adopt clean energy on a big scale. The new collaboration is rooted in the two companies' collective commitments to diversify the global energy supply chain, proactively lead the development of more reliable energy supply chains in the U.S. and abroad, and reduce carbon emissions.
"Building a resilient solar energy supply chain is essential to advancing the global green energy economy. Microsoft's partnership with Hanwha Qcells will help make this vision a reality by bringing innovation and investment to rural Georgia," said Brad Smith, Vice Chair and President, Microsoft. "As one of the world's largest purchasers of renewable energy, this work will help bring more solar energy to the grid, faster."
"We're striving to build and deliver turnkey clean energy solutions, including those made in America, and this partnership with Microsoft will help accomplish this vision," said Justin Lee, CEO of Hanwha Qcells. "Similarly, Qcells is proud to play a role with Microsoft to bring more renewable energy online in the years to come. This first step is only the beginning of a great partnership that not only supports our two companies but helps deliver a clean energy future for customers and communities."
Growing need for American-made solar products is expected to accelerate Hanwha Qcells' transition into a one-stop shop for clean energy solutions. Being the only company in the U.S. with a complete solar supply chain, Hanwha Qcells intends to become a leading developer for solar and other clean energy solutions such as energy storage systems. Combining its growing EPC expertise with smart energy management systems, Hanwha Qcells will continue to provide completely clean energy solutions and lead the global fight against climate change.
Microsoft (Nasdaq "MSFT" @microsoft) enables digital transformation for the era of an intelligent cloud and an intelligent edge. Its mission is to empower every person and every organization on the planet to achieve more.
Hanwha Qcells
Hanwha Qcells is one of the world's leading clean energy companies, recognized for its established reputation as a manufacturer of high-performance, high-quality solar cells and modules, portfolio of intelligent storage systems, and growing international pipeline of large-scale renewable energy projects. Hanwha Qcells also provides renewable electricity retail services and packages to end customers the world over. The company is headquartered in Seoul, South Korea (Global Executive HQ), Thalheim, Germany (Technology & Innovation HQ) and San Francisco, USA (Energy Storage/Inverter & Software HQ) with its diverse international manufacturing facilities in the U.S., Malaysia, China, and South Korea. Hanwha Qcells strives to offer completely clean energy through the full spectrum of photovoltaic products, storage solutions, renewable electricity contracting and large-scale solar power plants. Through its growing global business network spanning Europe, North America, Asia, South America, Africa and the Middle East, Hanwha Qcells provides excellent services and long-term partnerships to its customers in the utility, commercial, governmental and residential markets.

For more information, visit: www.qcells.com/us/
Hanwha Solutions
Hanwha Solutions aims to deliver sustainable solutions for the planet through smart energy solutions and customer-focused materials. The Company operates its business through five divisions: Qcells, Chemical, Advanced Materials, Galleria and City Development. The Qcells Division offers total energy solutions from photovoltaic module manufacturing, power plant operation to electricity retailing service. The Chemical Division, the first in Korea to produce polyvinyl chloride (PVC), manufactures various chemical products and eco-friendly plasticizers. The Advanced Materials Division produces high-tech materials for automotive, photovoltaic and electronic devices. The Galleria Division, an operator of premium department store chain, provides premium fashion and food services. The City Development Division is a leading real estate developer specializing in industrial complexes. With its innovative technologies for sustainable growth, Hanwha Solutions strives to become a global leader in bringing a better future for humanity.

For more information, visit: www.hanwhasolutions.com/en/
Contact Us
Thank you for your interest in Hanwha.
Please contact us for your inquiries.
Email Us
Information Message
Please enter your email address.
Information Message
Please enter a correct email address.
Success
Keep an eye on your inbox for the latest stories from Hanwha.
Information Message
Your subscription request has already been processed. Thank you.