The Grand Opening of Galleria Duty Free 63
The new duty-free store featuring exclusive luxury brands
Marketing the new aquarium, in partnership with the Wanda Group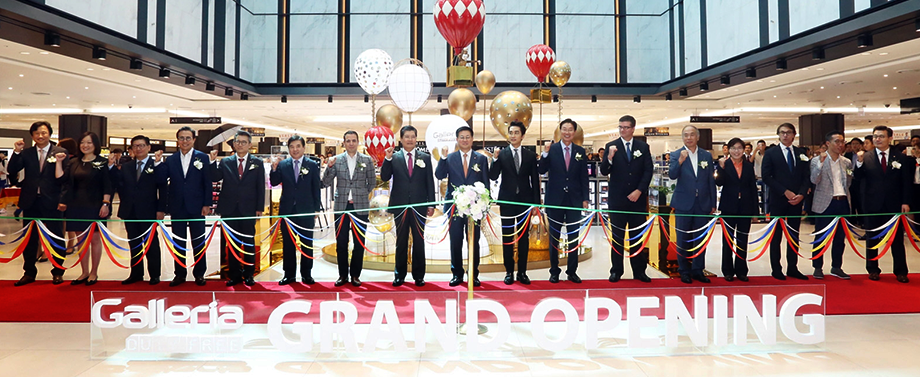 On July 15th, Hanwha's Galleria Duty Free 63 has officially come alive as the newest destination to provide a sightseeing and shopping experience that people have come to expect from the Galleria name. You'll find the Galleria's new duty-free store in the 63 Building in Yeouido of Seoul, nicknamed the "Gold Bar," a fitting location for the high-end store.
Galleria Duty Free 63 features a wide range of products with 540 brands and together with Aqua Planet 63 and 63 Art (63 Building's observation deck), they will create a powerful draw as a one-stop tour and shopping experience for visitors.
Since its pre-opening on December 28th of last year, Galleria Duty Free 63 has also been strengthening its core content for both tourism and merchandising.
To boost 63 Building's tourism to "63 Sea World," this preeminent aquarium in Korea underwent an extensive seven-month renovation and became "Aqua Planet 63." And beginning July of this year, Galleria Duty Free 63 has been offering a one-stop tour of the 63 Building, featuring the exclusive Aqua Planet 63 with shopping at its luxury Galleria Duty Free 63 store, combining a revitalized tourist space with a shopper's delight.

To further strengthen its marketing reach, Galleria Duty Free 63 has signed a marketing partnership agreement with the Wanda Group, China's leading retail company. Galleria Duty Free 63 will launch promotions and market to the Wanda Group's 120 million members in China to tour in Korea.
There will be no shortage of luxury brands at Galleria Duty Free 63. In fact, four luxury brands will be added; they are currently not available in any other duty-free stores in all of Korea: Golden Goose, Stefano Ricci, Launder London and Corneliani. The addition of these brands will help to solidify the store's reputation as the finest duty-free store in Korea.
The Hanwha Galleria CEO Hwang Yong-deuk remarked, "Galleria Duty Free 63 will be a duty-free shopping experience integrated into a visual tourist experience – combined, they are the product of our strong drive to turn Yeouido into a new 'Hallyu' Korean-wave tourist destination in Asia."
Hanwha Group
Founded in 1952, Hanwha has grown quickly by anticipating and responding to changing business environments with a balanced business portfolio that includes energy & materials, aerospace, finance and retail & services. Our expertise and synergy in key areas have catapulted us into the seventh-largest business in South Korea and a Fortune Global 500 company. Hanwha continues to grow rapidly as we strive to pursue global leadership in all of our businesses. We are building a robust foundation for sustainable development and a brighter future for everyone.

For more information, visit: www.hanwha.com
Contact Us
Thank you for your interest in Hanwha.
Please contact us for your inquiries.
Email Us
Information Message
Please enter your email address.
Information Message
Please enter a correct email address.
Success
Keep an eye on your inbox for the latest stories from Hanwha.
Information Message
Your subscription request has already been processed. Thank you.