The Seoul International Fireworks Festival 2016 with Hanwha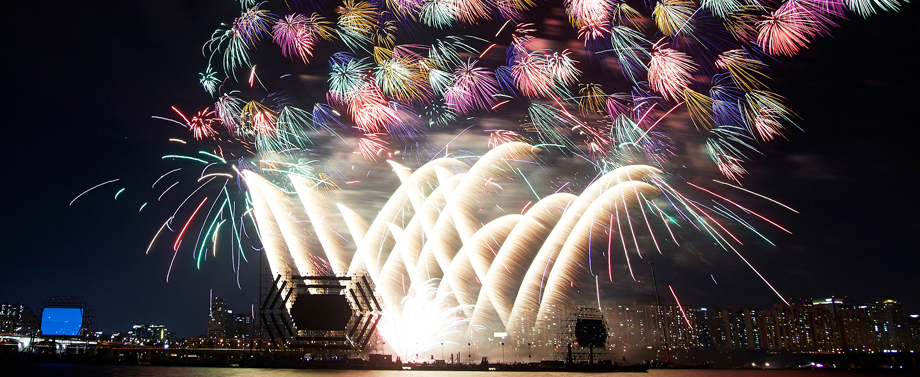 The Seoul International Fireworks Festival 2016 with Hanwha, South Korea's largest fireworks event since country began its fireworks tradition 14 years ago, was held this year on Saturday, October 8, with over 100,000 fireworks lighting up the sky over the Yeouido Han River Park.
The Seoul International Fireworks Festival is one of Hanwha's key corporate social responsibility activities that began in 2000. This is a jointly organized event by the Hanwha Group and Seoul Broadcasting System (SBS) and sponsored by the city of Seoul and the Korea Creative Content Agency. The show has wowed over a million spectators every year, providing an unforgettable autumn evening of memories for families, couples and friends.
This year's fireworks festival featured three teams from Japan, Spain and Korea who splashed the sky with an embroidery of colors by launching over 100,000 rockets and fireworks.
The show opened with a performance titled "Turn Your Magic On" by Tamaya Kitahara Fireworks of Japan, presenting a sweet yet powerful fireworks musical filled with a flurry of colors and gradations, characteristic of Japanese fireworks performances. Tamaya is one of the world's leading fireworks companies that has impressed audiences around the world since the Shanghai International Music Fireworks Festival in 2000. It has won awards for its shows around the world in Europe, Asia, the Middle East and the United States.
Pirotecnia Igual of Spain, performed in South Korea for the first time with "Magic Light Dreams" a pyrotechnics show of pulsating waves of rhythmic fireworks set to music. Bright colors infused with hues of gold that together painted a rich color palette in the dark night's sky provided a show reminiscent of a blazing Spanish sun.
The festival's finale was delivered by Hanwha's "Magical Fireworks", a fairy tale about a magical village narrated against a backdrop of visually stunning images, fireworks and carefully choreographed sound effects. Hanwha's pyrotechnics team featured the first-ever use of "fire writing," volcano effects, the "two-step UFO", the "tower of fire" and more – all together, put on a splendid visual extravaganza.
A wide variety of events preceded the main show. The "Magic Fireworks Village" featured performances, large hands-on activities, parades, food and shopping experiences in five distinct zones: Fireworks Playground, Fireworks Road, Fireworks Plaza, Fireworks Market and Fireworks Theater.
Hanwha has introduced an entirely new for fireworks called the "multimedia fireworks show" – the first of its kind in the world. Hanwha is one of the world's premier fireworks company with deep experience producing major events including the opening and closing ceremonies for the 1986 Asian Games, the 1988 Seoul Olympic Games, and the 2002 World Cup.
Hanwha Group
Founded in 1952, Hanwha has grown quickly by anticipating and responding to changing business environments with a balanced business portfolio that includes energy & materials, aerospace, finance and retail & services. Our expertise and synergy in key areas have catapulted us into the seventh-largest business in South Korea and a Fortune Global 500 company. Hanwha continues to grow rapidly as we strive to pursue global leadership in all of our businesses. We are building a robust foundation for sustainable development and a brighter future for everyone.

For more information, visit: www.hanwha.com
Contact Us
Thank you for your interest in Hanwha.
Please contact us for your inquiries.
Email Us
Information Message
Please enter your email address.
Information Message
Please enter a correct email address.
Success
Keep an eye on your inbox for the latest stories from Hanwha.
Information Message
Your subscription request has already been processed. Thank you.