Hanwha Cobots Reach Out to Shake Up Robotics

Hanwha Precision Machinery's HCR series of collaborative robots, or Cobots, only entered the market in 2017 but they quickly earned numerous plaudits and gained market share in a record amount of time. Their elegantly graceful design and versatility has attracted the attention of distributors and customers all around the world.
Hear from Hanwha Precision Machinery Executive Vice President Woo Sok Chang, who leads the company's robotics division, about the work he and his division is doing.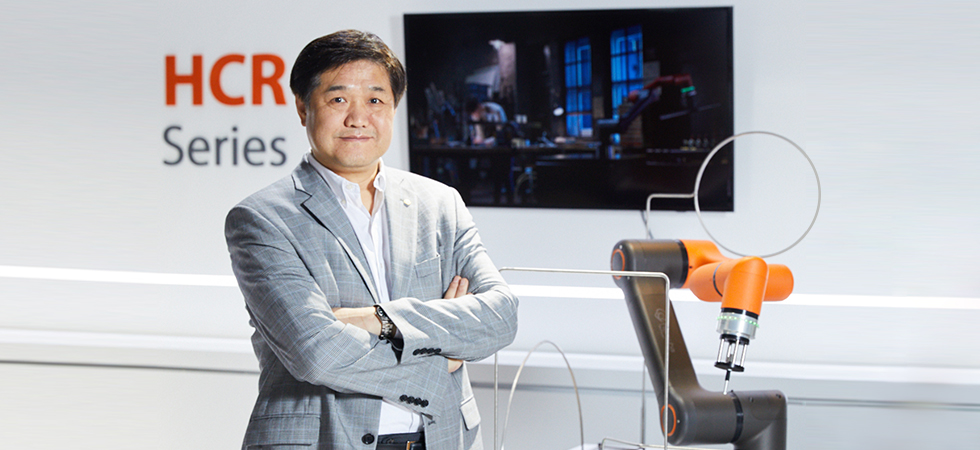 Could you please briefly elaborate on the concept of collaborative robots?

Cobots are designed to give people a helping hand in industrial settings. They're meant to handle repetitive tasks that also require precision and consistency. What this does is free up people so that they can handle jobs that require more human intuition and flexibility.
At Hanwha Precision Machinery, we currently have three types of HCR Cobots that can handle three, five, and 12 kilograms of weight, respectively. They're compact, easy to move, and able to handle a wide variety of tasks, making them ideal for small- to medium-sized manufacturers who need a versatile resource in their workplace.
How did Hanwha enter the robotics market?

Hanwha Group began pursuing robotics when the company was discussing how to best address the Fourth Industrial Revolution. We decided to put particular focus on collaborative robots and released the HCR series last year as the first ever Cobots made in Korea.
Hanwha Group has a diverse collection of business interests that includes the energy, industrial equipment, and CCTV camera sectors. As a market leader in these fields, Hanwha already had extensive expertise in areas such as precision machinery, motion control technology, image recognition software, and autonomous navigation.
This is all central to robotics.
We brought together this unique collection of knowledge, experience, and technology to develop our robotics division and bring products like the HCR series to market. We found success quickly because we were able to draw upon people with incredible expertise in robotics and software development to drive Cobot R&D.
What are the advantages of having Cobots in the manufacturing industry?

A traditional industrial robot is very limited in what it can do. Do you want it to move an object? You'll have to write a computer program so it can do that one task. Do you want it to do something else, like screw in a bolt? You'll have to write another program so the robot can do that. Do you want to move it somewhere else? You'll need to shut down the assembly line and bring in heavy equipment.
This all takes a lot of time and money.
HCR series collaborative robots take away almost all of this hassle. It will take less than a day for someone to master operating HCR Cobots due to friendly user interface to do a wide variety of tasks. Setting up or changing its workflow is as simple as clicking icons into the order you need.
What do your customers say?

Our customers are overwhelmingly positive about the HCR series. What really sets our HCR series apart from other Cobots on the market is that you can run two HCR Cobots off of a single control unit. They can save up to 10% in operating costs compared to using two Cobots from a competitor. This, combined with how easy it is to use the HCR series, allows our customers to increase their productivity.
Our customers also love how the HCR Cobots look - they are ergonomically designed and beautiful to see. Industrial machines usually have parts that stick out that can snag or bump into other things. The HCR series takes away that danger. We designed the HCR to have smooth lines and curves.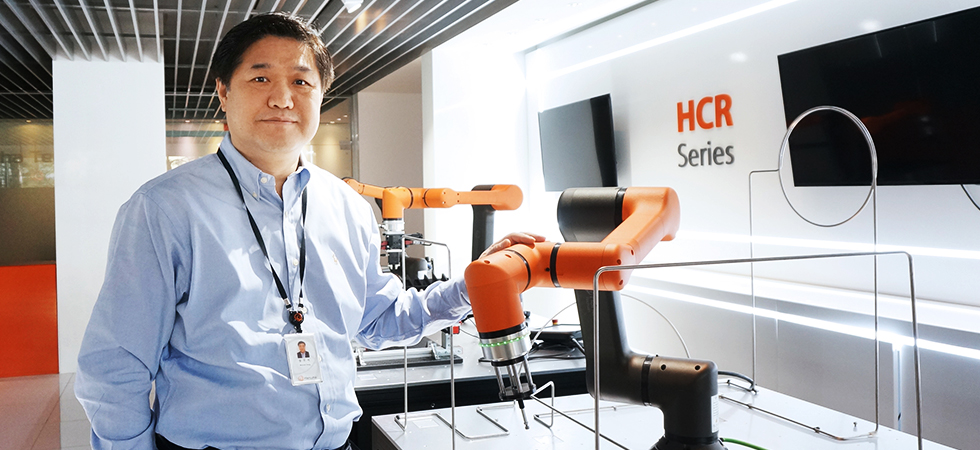 Industrial design isn't just about physical safety. People have to also feel comfortable to work next to Cobots, so our HCR Cobots are designed to look friendly and non-threatening. When people look at one, they feel safe.
And they are right to feel safe. HCR Cobots' automated collision detection function will immediately freeze them in place if they detect a bump. This is especially important for the majority of our customers, who are small to medium-sized manufacturing operators with relatively small facilities.
How does the future look for Cobots?

We're working on finding ways to integrate AI, Big Data, and IoT into our products, and how these updated products can then be used in the real world. One amazing thing about being part of Hanwha Group is that we have sister companies that specialize in a wide variety of fields.
We're talking to all of them to learn about how Cobots can be applied to their work and making a list of all their feedback and needs. Our Cobots can be used in Hanwha's machine tool factories and chemical plants, allowing them to adopt distributed manufacturing techniques or even continuous manufacturing. They will provide real-world case studies and show just what the HCR series is capable of and attract more customers.
How will the technology develop?

The ultimate goal is to develop AI to the point where machines can become almost fully autonomous. We are working to make Cobots as easy as possible to operate in any setting and situation.
Industrial robots have existed for more than 60 years, but their application was very limited because of the reasons I stated earlier. It was only in the past two and a half years that AI and deep learning technology could be integrated into the robots' operating systems.
Because of this, we are going to be seeing some fundamental changes in the robotics industry very soon. I used to think in five-year or ten-year cycles, but that's really too slow now. Developments that were previously thought to be several years down the road are happening right now.
How is the market demand for Cobots at the moment?

We're going to see a major paradigm shift in robotics in the next few years. Think of it like the shift from feature phones to smartphones. We're going from devices that are meant to do a few things to devices that will do almost everything.
Cobots are still in a very early stage, and the market is very niche, but there is potential for huge opportunities in the future. Right now, we're seeing lots of interest and growth opportunities in Europe and Southeast Asia.
In the short term, our robotics division aims to double its market share every year. In the middle term, our goal is to become the world leader in Cobot development. With the Fourth Industrial Revolution, we're going to see technological trends leading to more automation and smart factories.
Hanwha plans on going from leading the Korean market to leading the global market for robotics.
Contact Us
Thank you for your interest in Hanwha.
Please contact us for your inquiries.
Email Us
Information Message
Please enter your email address.
Information Message
Please enter a correct email address.
Success
Keep an eye on your inbox for the latest stories from Hanwha.
Information Message
Your subscription request has already been processed. Thank you.