Hanwha Group Explores Solutions for Future Growth Engines and Accelerates Drive to Enhance Global Core Business Competitiveness at Davos Forum

Hanwha Group (Chairman Seung Youn Kim) participated in the Davos Forum in Switzerland to step up the company's efforts in strengthening competitive capabilities for future global key businesses. Held over four days from January 20th to 23rd 2016, Davos Forum was attended by CEO of Hanwha Life Nam-gyu Cha, CEO of Hanwha Chemical Chang-bum Kim, CEO of Hanwha Q CELLS Seong Woo Nam, Chief Commercial Officer (CCO) of Hanwha Q CELLS Dong Kwan Kim, Head of FinTech and Head of Innovation Center of Hanwha Life Dong Won Kim and other company executives who met with over two hundred global leaders to actively exchange ideas and insight.
A variety of issues were discussed during the latest Davos Forum under the theme of "Mastering the Fourth Industrial Revolution," including climate change, market turmoil, and the rise of the robots.
Growth Prospects for Solar Energy Business Remains Bright
Hanwha Group strove to discover new strategies for growth-oriented businesses during the Forum.
At the core of these efforts were the solar energy business and the global financial business, exemplified by the rise of FinTech.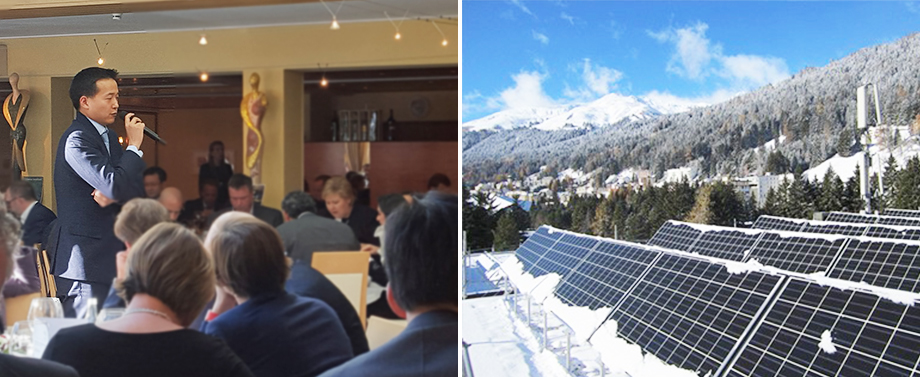 CCO of Hanwha Q CELLS Dong Kwan Kim, whose visit to the event marks his seventh consecutive year of attendance since 2010, made a strong case for the importance of the solar energy business and its growth potential as befitting the Forum's theme of "Mastering the Fourth Industrial Revolution." CCO Kim stated, "China, the United States and India account for over 50% of total global carbon emissions," adding that "the future of new and renewable energy and eco-friendly solar energy is bright." On the 21st, CCO Kim participated as an official panelist during the "Decarbonizing Economies" session hosted by former Vice-president of the United States Al Gore, and spoke about "expanding low-carbon strategies through technological innovation" with fellow panelists CEO of Solvay Jean-Pierre Clamadieu and Minister of Environment and Climate Change of Canada Catherine McKenna.
Plans for Cooperation Discussed with Tianjin Vice-Mayor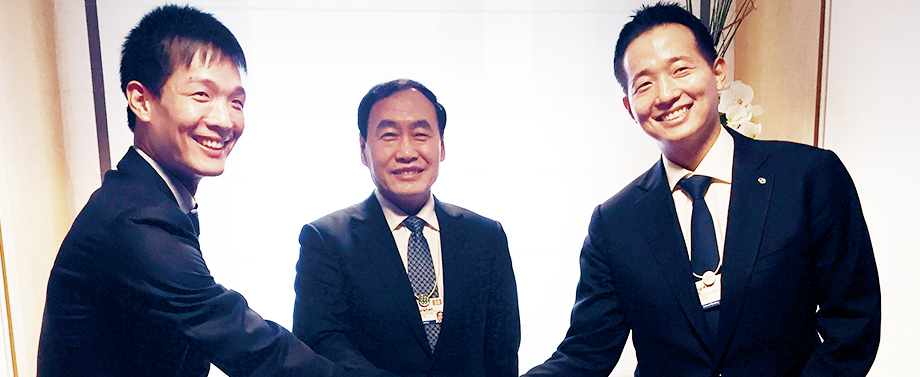 During the Forum, Dong Kwan Kim and Head of FinTech and Head of Innovation Center of Hanwha Life, Kim Dong Won, joined a meeting with Vice-Mayor of Tianjin, Zhao Haishan, to discuss the latest trends in investing in the Chinese city as well as development plans for the year 2016. The participants had an opportunity to share global strategies for the Chinese market in step with the era of the "New Normal," and discussed business initiatives for aircraft and aircraft components. Hanwha has maintained a close relationship with the city: Officials from Tianjin have met with Hanwha Group Chairman Seung Youn Kim in 2010 to discuss solar energy projects, and Hanwha Asset Management established a joint venture for the company's local operations in the city in 2015.
Hanwha Life Explores Fostering Korean and Overseas Startups and Developing Global Financial Business Opportunities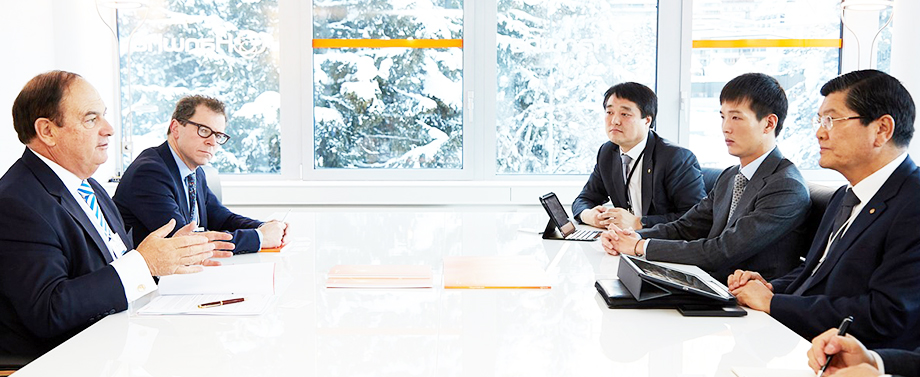 Attending the Davos Forum for the fourth straight year, CEO of Hanwha Life Nam-gyu Cha focused his efforts on discovering new strategies for the company's global financial services business. Joined by Head of FinTech and Head of Innovation Center Dong Won Kim, CEO Cha met with Chairman of Prudential plc of the United Kingdom Paul Manduca and his staff to discuss global economic growth prospects and future strategies for the Asian insurance market. Mr. Cha highlighted the rise of FinTech, which has been shaking up the financial industry, and engaged in in-depth discussions about the status of new financial businesses and the changes expected from the upcoming adoption of phase II of the International Financial Reporting Standards for insurance contracts (IFRS4).
Hanwha Life delegation also met with head of Asian operations of Allianz SE Maximilian Zimmerer and CFO Dieter Wemmer to hear their insight on new businesses such as FinTech and big data, M&A strategies for Asian insurance firms as a response to the changing global economic environment, and future prospects for the Korean life insurance market.
Head of FinTech and Head of Innovation Center Dong Won Kim outlined the goals of his company by stating, "Hanwha Group's startup nurturing program will be taken to the next level, serving as the global ambassador linking Korea's startup scene with the global market." He also met with Brian Forde, former White House senior advisor for mobile and data innovation and currently a director of the MIT Media Lab, to discuss the latest trends in FinTech such as Bitcoin (virtual currency). Mr. Kim also met with Director of the Lippo Group John Riady, representing Indonesia's third-largest corporation, to learn about the nation's e-commerce industry and venture capital.
On the 22nd the team met with CEO Oliver Samwer of Rocket Internet of Germany, Europe's largest internet company, to hear about the company's know-how in having played a central role in the German startup ecosystem and exchange insights on the challenges of expanding into new markets.
Hanwha Q CELLS Shifts Global Management into High Gear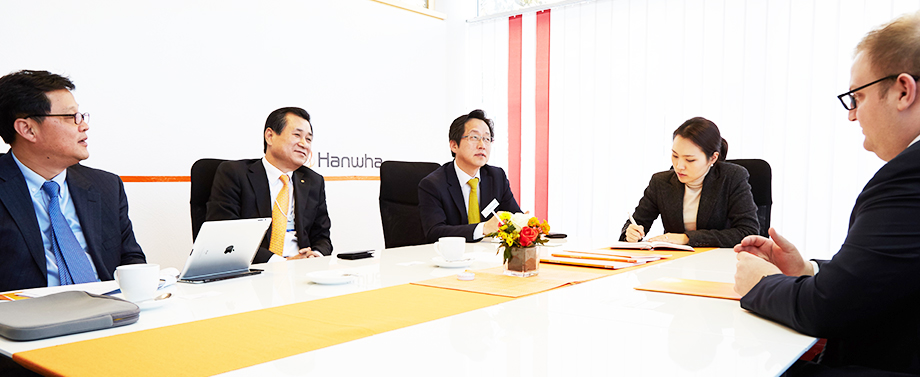 CEO of Hanwha Q CELLS Seong Woo Nam also engaged himself in global management activities in Davos. On the 21st, he met with the governor of the state of Andhra Pradesh of India to share plans on solar energy projects and the construction of a manufacturing plant as part of wide-ranging efforts to develop Hanwha's solar business. Hanwha Q CELLS previously signed an MOU for the construction of a cell and module manufacturing plant in Andhra Pradesh with the Essel Group, an Indian developer, and JA Solar, in August 2015. India has recently become a key center for the global solar energy market since the Paris climate change accord. Mr. Nam also participated in the sessions and meetings, sitting down with numerous CEOs of global energy companies including CEO of Umoe Solar Jens Ulltveit-Moe, an Norwegian polysilicon firm, and Vice-president of Saudi Aramco Mutassim Al-Mashouq.
Together with the Global Green Growth Institute (GGGI), the UN-registered organization dedicated to supporting and promoting strong, inclusive and sustainable economic growth in developing countries and emerging economies, Hanwha Q CELLS hosted the GGGI Forum at the Ameron Hotel in Davos on the 22nd. Keynote addresses were delivered by Director-General Yvo de Boer and Bain & Company Partner Julian Critchlow, and a panel featuring CCO of Hanwha Q CELLS Dong Kwan Kim, Professor Kim Sang-hyup of KAIST, and energy policy officials from Germany, Indonesia and Korea discussed the future direction of new and renewable energy.
During the event, CCO Kim spoke of the future of the solar energy industry and emphasized the need for private-sector investment. "It would be excellent if everyone could agree that the private sector can invest in, and draw profit from, the solar industry. It would be exceedingly difficult to extract such large-scale investment from the government. However, it must be noted that liquidity is improving all across the world. Countries in Europe, the United States, Japan and others are beginning to let go of their cash. Our challenge would be to funnel these funds into the right direction, and if the government can create the appropriate framework, I believe that the private sector is ready to meet this challenge."
Hanwha Chemical Sets Sights on Becoming a Global Petrochemical Company
Following his attendance last year, CEO Chang-bum Kim of Hanwha Chemical visited Davos this year as part of an effort to continue his active global business pursuits. He met with Executive Vice-president of the Sabic Group Ernesto Occhiello on the 20th to share insights on the future of the petrochemical market in the Middle East and oil price forecast as well as to explore ways to build a cooperative partnership. On the 21st, he met with CEO of Mitsubishi Chemical Yoshimitsu Kobayashi to hear his views on the prospects of the Asian petrochemical industry and his company's strategies and discuss technology partnerships. Meeting with Vice-president of Saudi Aramco Mutassim Al-Mashouq, Mr. Kim discussed ways to cooperate on Saudi Arabia's solar energy market as well as on discovering new projects. Mr. Kim further expanded his global network and explored new business opportunities by taking part in the sessions and meetings.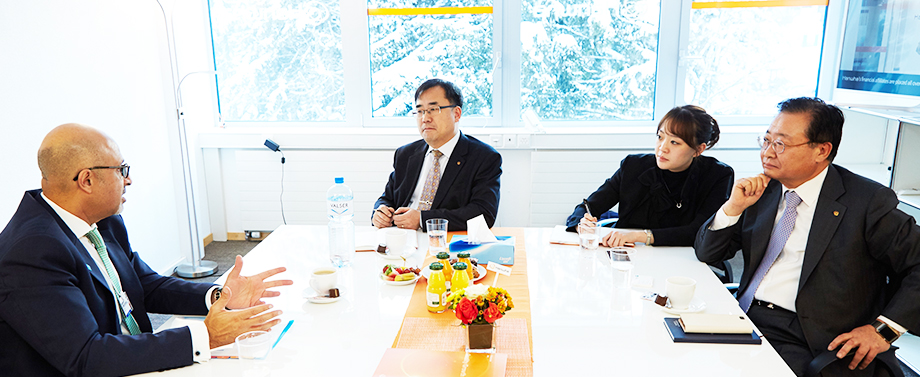 During this year's Davos Forum, Hanwha Group focused its efforts on discovering new businesses and development strategies for future growth drivers in step with the "Fourth Industrial Revolution" by taking part in over one hundred conference sessions and meetings.
Hanwha Group plans to build on raised corporate profile and identified global management strategies during the Davos Forum to continue to respond to future market changes and engage in active and dynamic management that befits the Group's banner of "year of creating the foundation for sustainable growth through innovation and substantiality."
As a strategic partner of the Davos Forum, Hanwha Group supported the project "Greener Davos" initiated by the World Economic Forum in partnership with the municipality of Davos by donating Hanwha Q CELLS' high efficiency Q.PEAK 275 Wp modules to install a 340 kWp PV solar system on the 1,000㎡ rooftops of the Davos Congress Center in January of 2014. The installation contributes to reducing the center's carbon dioxide emissions by 20 tons each year.
Contact Us
Thank you for your interest in Hanwha.
Please contact us for your inquiries.
Email Us
Information Message
Please enter your email address.
Information Message
Please enter a correct email address.
Success
Keep an eye on your inbox for the latest stories from Hanwha.
Information Message
Your subscription request has already been processed. Thank you.