Hanwha Life Boosts Its Presence in the Asian Market
Hanwha Life Insurance, founded in 1946 as Korea's first life insurance company, is forging ahead to become an Asian insurance powerhouse. Rewriting the history of Korean insurance as a pioneer to expand overseas as well as the first insurance company to have established a wholly-owned local subsidiary, Hanwha Life is accelerating its efforts to become the leading insurance company in China, Indonesia and other Asian markets by building on its successes in Vietnam.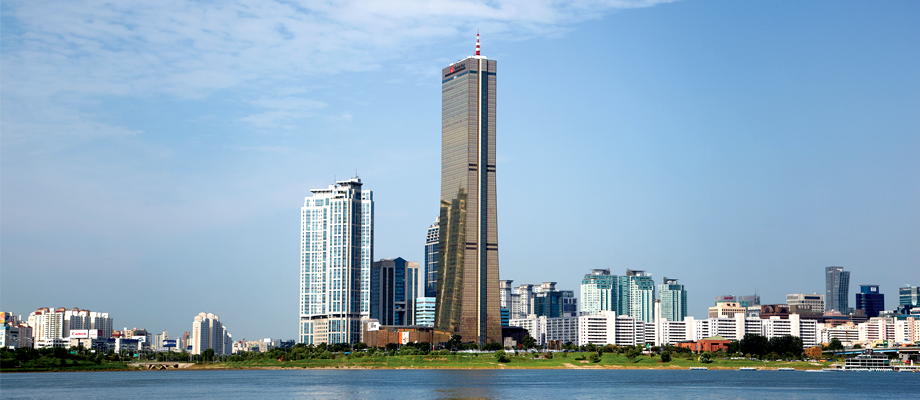 Korea's First Life Insurance Company Aims at Global Leadership
Hanwha Life's total assets exceeded $82.2 billion as of 2016. The company has reached this momentous milestone just 69 years after it first opened its doors in 1946 with total assets of only $9,200. Hanwha Life declared 2015 as the "Inaugural Year for a New Hanwha Life Insurance and a New Leap to Global Leadership", announcing that the company will continue its path of innovation to become a true global insurance powerhouse.
Hanwha Life is currently Korea's second-largest insurance company with total premiums of $12 billion and 11 million policies. The company ranks first in the industry in the policy persistency rate, the most important business index that reflects the soundness and customer satisfaction rate of an insurance company, and first in the industry in the mortality profit ratio, proof of the quality of the policies held by the company.
In 2010, Hanwha Life became the first large life insurance company in South Korea to successfully list on the stock market, further solidifying its financial stability and preparing the foundations for launching itself as a global insurance leader.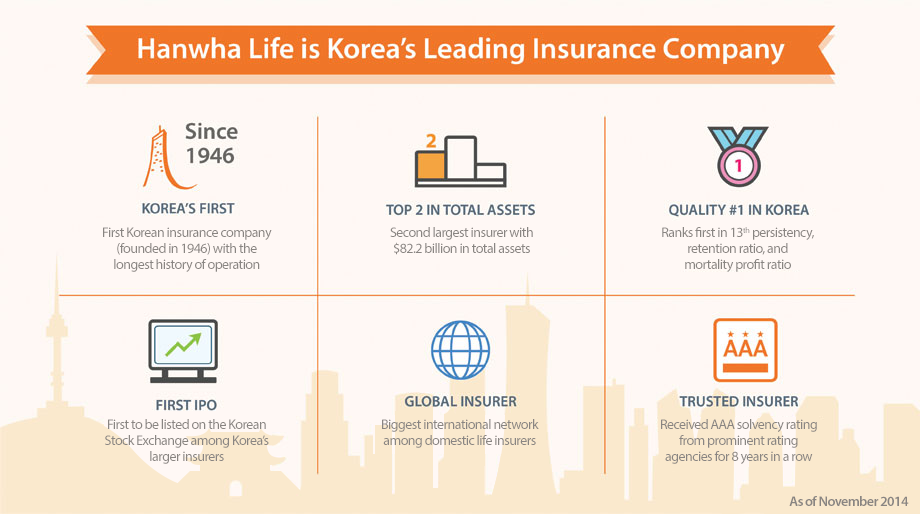 Strong Presences in Vietnam, China and Indonesia after 7 Years in the Asian Market
Hanwha Life currently operates four local subsidiaries (three operating subsidiaries, one investment venture) and five branch offices in the Asian region. A local subsidiary was established in Vietnam in 2009, and in 2012 Hanwha Life established subsidiaries in Indonesia and China, the battlegrounds for insurance companies from around the globe.
Hanwha Life was a pioneer to enter into international insurance markets, and especially noteworthy is the fact that Hanwha Life Insurance Vietnam was founded with 100% parent company equity ownership. The subsidiary operates 54 offices with over 12,000 insurance agents as of Dec 2015.
Sino-Korea Life Insurance, founded in 2012 as a 50-50 joint venture with a Chinese partner, reached 58 million in premium income in Dec 2015, ranking it the second largest foreign-invested insurance company among a total of 14 life insurance companies in Zhejiang Province, China.
Hanwha Life successfully entered Indonesia, a country with the world's fourth largest population, through the acquisition of a local life insurer, and it was the first international takeover by a Korean life insurer. Since the commencement of operation in October 2013, Hanwha Life has been expanding the basis for sales in order to meet the market demand.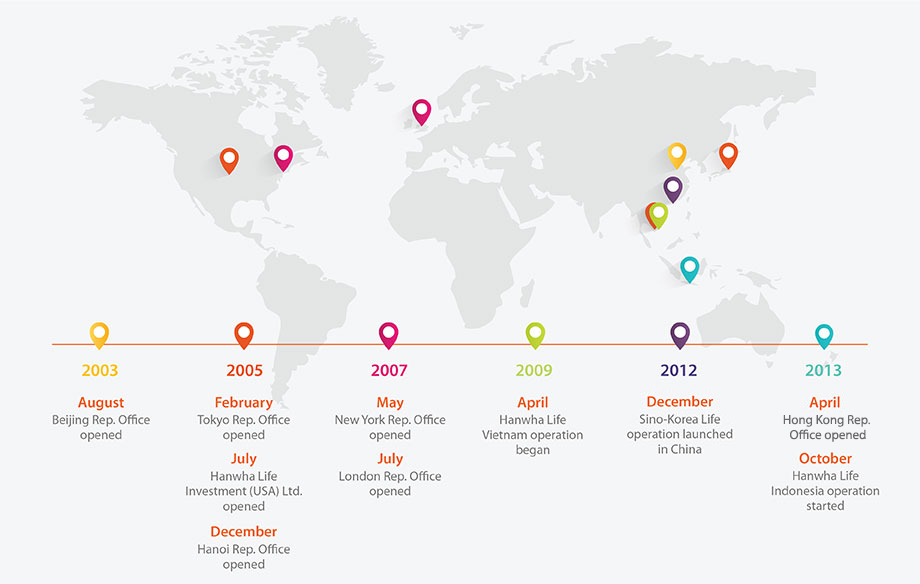 Asia's Top Insurance Choice; Hanwha Life's Strong Commitment to Southeast Asian Market
Why do consumers in Asia choose Hanwha Life? The company's success is owed to the long-term investment in and commitment to the Southeast Asian market. While Hanwha Life first began operations in Southeast Asia in 2009, the company had already established a branch office in 2003 in Beijing, China, to carefully analyze the region's market. The principle focus of the company's global business is to create harmony by precisely understanding and identifying with local customers and partners.
Hanwha Life is filling a variety of needs of local customers by providing comprehensive financial solutions to markets that lack sufficient financial infrastructure, in addition to providing advanced insurance products. Hanwha Life has created thousands of new jobs through a policy of recruiting locally, and actively reinvests its assets into the local market in order to achieve mutual growth with the local financial market.
Hanwha Life's commitment can be readily witnessed in the company's active corporate social responsibility (CSR) activities. Hanwha Life helps low-income families in Vietnam purchase health insurance, and the company has built a total of 40 houses that were provided free of charge to needy families. In Indonesia, Hanwha Life designed and provided educational modules and supports educational institutions that train school teachers, and in China the company has participated in blood drives. These and other CSR activities are testament to the company's dedication to the most basic principles of insurance--to help the less fortunate and act as a caring and dependable neighbor.
Global Life Insurer Growing Together with Customers 1st in Global Insurer Quality by 2020
Now eight years into its overseas expansion and widely regarded as having established the foundations for success, thanks to a stable operational structure and strong sales of new insurance products, Hanwha Life is preparing to kick-start its second phase of global growth.
Hanwha Life Vietnam is showing strong growth with the number of new policies increasing five-fold since 2009, the first year of the company's operation in the country, as of 2015, and similar remarkable growth can be witnessed in China where new premiums have reached 58 million in Dec 2015 after launching operations in December 2012. Hanwha Life Indonesia has recorded $6 million in premium income in Dec 2015, and is actively carrying out investments by undertaking a paid-in capital increase of $23.5 million in 2014 and targeting to increase the number of insurance agents to 1,500 by the end of 2015.
With the goal of becoming one of the world's top ten life insurance companies by 2020, Hanwha Life is quickly emerging as the favorite insurance provider of not only Koreans but people all over Asia, and a company that is rapidly growing together with its customers into a true global insurance company.
Contact Us
Thank you for your interest in Hanwha.
Please contact us for your inquiries.
Email Us
Information Message
Please enter your email address.
Information Message
Please enter a correct email address.
Success
Keep an eye on your inbox for the latest stories from Hanwha.
Information Message
Your subscription request has already been processed. Thank you.