Reimagining Insurance Services Through Digital Transformation


March 9, 2021 (KST)
We live in a world that's growing more digital by the day thanks to a phenomenon known as digital transformation.

Digital transformation is so much more than a buzzword; it's a key part of finding success in today's ultra-competitive business world. Typically defined as a radical rethinking of how a company or organization uses technology, people and processes to fundamentally change business performance, digital transformation is revolutionizing countless industries by helping businesses streamline operations and create more seamless user experiences.

The insurance industry, especially, has become a hotbed for digital innovation. That, however, wasn't always the case. As noted by Accenture, insurance companies, which have long believed in maintaining a personal touch when it comes to their services, were initially slow to embrace full-scale digital transformation. That changed with the arrival of disruptors like insurtech startups, and with advancements in technologies that made delivering services both faster and cheaper.

Just how much of an impact has digital transformation had on insurance? According to McKinsey, in recent years, the insurance industry's digital maturity – a measurement of the ability to create value through digital – has outpaced several other key sectors, including the banking and auto industries.
Digital Maturity Scores of Various Industries
According to McKinsey's Digital Quotient (Out of 100)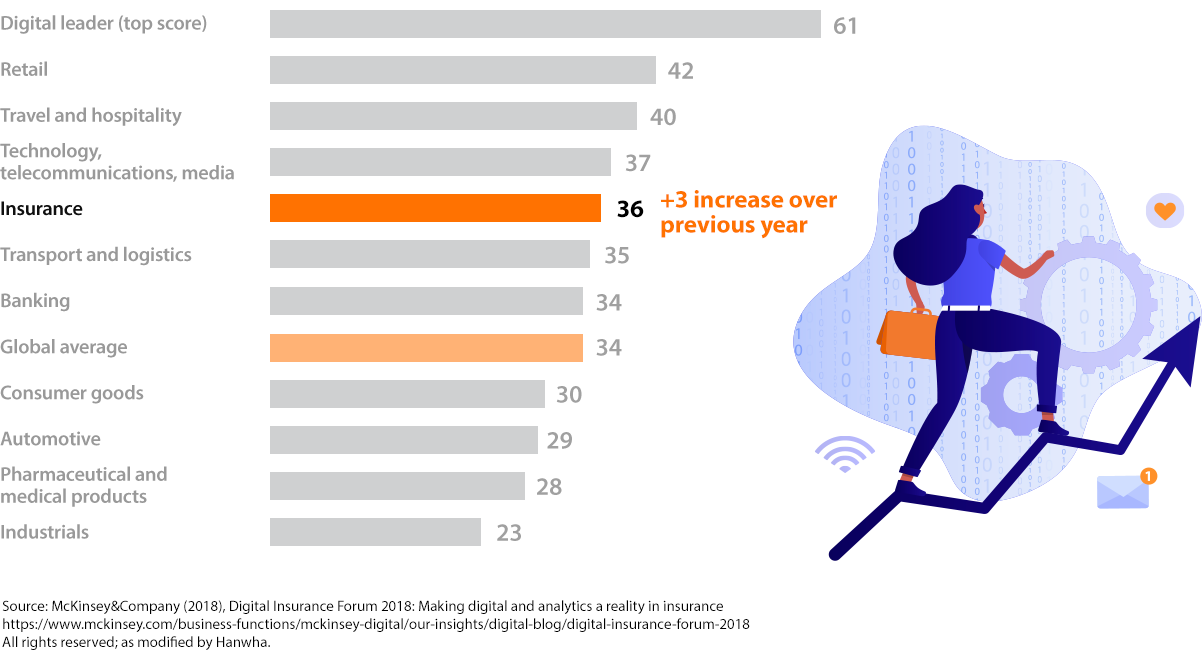 Digital leader (top score) :61, Retail : 42, Travel and hospitality :40, Technology, telecommunications, media : 37, Insurance : 36 (+3 increase over previous year), Transport and logistics : 35, Banking : 34, Global average : 34, Consumer goods : 30, Automotive : 29, Pharmaceutical and medical products : 28, Industrials : 23
Source: McKinsey&Company (2018), Digital Insurance Forum 2018:Making digital and analytics a reality in insurance . https://www.mckinsey.com/business-functions/mckinsey-digital/our-insights/digital-blog/digital-insurance-forum-2018 All rights reserved; as modified by Hanwha.
A Commitment to Innovation
Against this rapidly changing backdrop, Hanwha's life insurance business, Hanwha Life, has made streamlining its own digital transformation a top priority. The goal is to offer customers a truly seamless experience by digitizing each and every aspect of insurance sales – from browsing and signing up for products online, to purchasing insurance through financial planners.

In addition, over the last few years, the company has been innovating with cutting-edge technologies like blockchain and Big Data to unlock new ways to satisfy customers' diverse needs. Efforts like these have the power to revolutionize insurance as we know it by paving the way for much more personalized and convenient user experiences.

The company's embrace of digital transformation has been all-encompassing, and is reflected in the partnerships and innovations listed below.
AI Assessment System

Launched an AI-driven assessment system that streamlines insurance processing by analyzing customers' claims and instantly approving or denying payouts.

LIFE MD

Introduced the industry's first digital sales channel, which allows individuals to take courses to become licensed financial planners, opening the door for anyone to take part in insurance sales.
Blockchain Research

Partnered with Seoul National University on blockchain research as part of an effort to develop more advanced digital finance platforms.

Hanwha Life
Insurance Wallet

Introduced a simple and convenient mobile care service that presents users with a wide variety of information related to their insurance and offers content to help them live healthier lifestyles.

'Onsure' Channel

Became the first large Korean insurer to launch a dedicated 'onsure' (online + insurance) channel that simplified purchases and offered consumers services that were tailored to their lifestyles.
Now entering its 75th year, Korea's first life insurer has positioned itself to become a leading provider of digital financial services in major hubs across Asia. Not only have Hanwha Life's subsidiaries in markets like Vietnam and Indonesia strengthened its foothold overseas, but they've also taken bold steps to strengthen the company's offerings through digital transformation.

In addition to becoming the first Korean insurer to launch operations in Vietnam, Hanwha Life was the first in the market to establish a department dedicated to Big Data analysis. Now, the company is focusing its efforts on developing an online platform that will help expand the availability of its digital financial services.

In Indonesia, Hanwha Life has forged strategic partnerships with the goal of strengthening its online services. The company is also working with the online learning network Docquity to promote its insurance products among local doctors.
Taking the Next Step
Never content to rest on its laurels, Hanwha Life recently announced its intention to pursue digital innovation company-wide, and revamped its organizational structure last June to help accelerate this transition.

Notable adjustments included the decisions to establish offices dedicated to tech strategy and Big Data (among other digitalization-related divisions), and hire talent from tech giants to lead projects related to AI and online-to-offline services.

To learn more about the importance of advancing digital transformation in insurance, Hanwha Newsroom sat down with Hanwha Life's Managing Director, ChangHee Lee.
Interview with

ChangHee Lee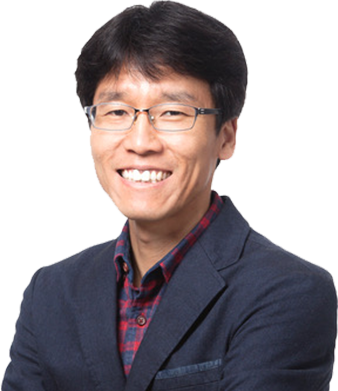 Embracing the Power of Change
Like all change, digital transformation is an ongoing process that requires a great deal of effort and commitment.

Over the years, Hanwha Life has made a habit of embracing changes like these and the challenges they present, and has evolved into a stronger, more dynamic company because of it. Digital transformation represents the next step in that evolution – one that will revolutionize how customers manage their insurance, and position Hanwha Life to become a leader in this competitive industry.