THE PLAZA, A Whole New Level of Experience

"THE PLAZA delivers the greatest warmth and beauty from the heart of Seoul."
– Guido Ciompi, Interior Designer


Korea's premier boutique hotel, THE PLAZA is recognized as one of the top hotels in Seoul, as well as in Asia, and has been honored with many accolades. THE PLAZA differentiates itself from standard hotels in contemporary design, personalized services and the latest automation systems which fit a city of international business.
THE PLAZA has elevated Korean hotels to a new level with its contemporary sense of aesthetics, impeccable service, premium accommodations and choice location. It combines luxury with functionality to offer the best experience for tourists and businesspeople. Here are some key ways THE PLAZA provides unrivaled experiences for visitors.
The Premier Choice for Travelers who Desire Style and Convenience.
THE PLAZA is an independent five-star hotel located in the heart of Seoul, a perfect location for both business and pleasure.
The hotel sits across from City Hall and Seoul Plaza, and is close to major financial institutions and corporations making it the best choice for business travelers who wish to be close to city-center by day and is a perfect place to venture out into the city to modern shopping districts like Myeongdong, Gwanghwamun Square and Cheonggyecheon, for a pleasant evening walk.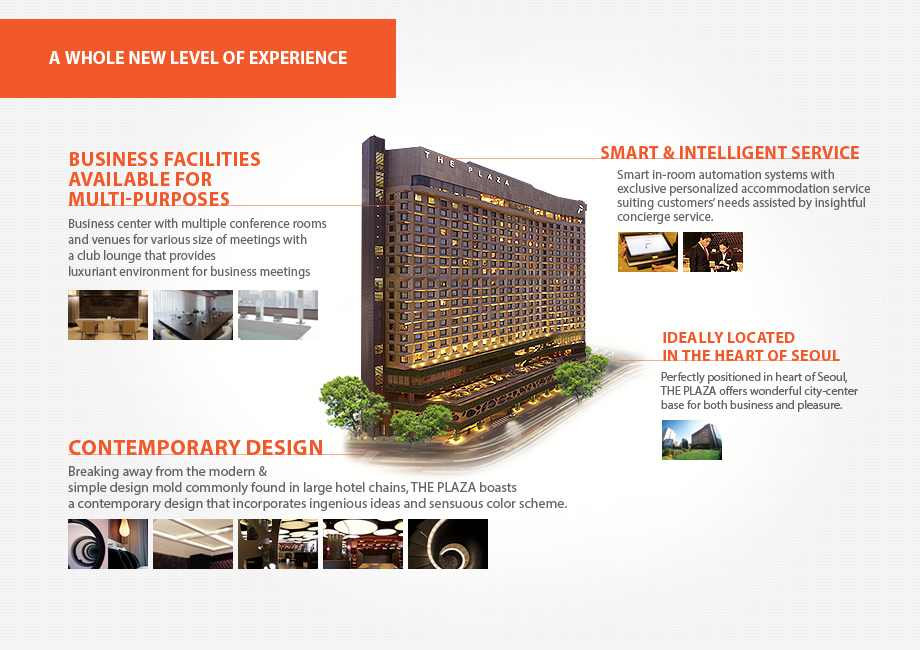 Located in the old city walls of Seoul, it is surrounded by 600 year-old cultural landmarks. The area includes a mixture of Korea's traditional and modern eras. THE PLAZA is located nearby the largest Five Grand Palaces such as Gyeongbokgung Palace and Deoksugung Palace which were built by Korea's last dynasty, Joseon.
THE PLAZA, a past host of the G20 Seoul Summit and the Nuclear Security Summit, is a symbol of history and grandeur with nine banquet halls that can accommodate up to 600 guests. The Grand Ballroom, steeped in rich design, has a capacity of 450 guests and is ideal for large-scale events and weddings. Located on the hotel's top floor, the Xystum House presents panoramic views of Seoul through its floor-to-ceiling windows and can be customized for a variety of private events.
Lavishly renovated, THE PLAZA is now Korea's premier luxury boutique hotel, which houses 410 rooms, six restaurants, as well as a fitness center and spa.
To achieve the true value of "Luxury Boutique," all rooms, in-room accessories and interior elements, were completely redesigned by world-renowned Italian designer, Guido Ciompi. Appointed by THE PLAZA for its 2010 renovation project, Ciompi revived the décor and furniture of its 410 rooms. All guestrooms feature eco-friendly materials, complementary wired and wireless internet access and a smart touchpad to control room temperature, lighting and other amenities, making the guest experience more convenient.
As a Member of Marriott International's Unique Autograph Collection Hotels, THE PLAZA Seeks to Attract the World's Travelers
Celebrating its 40th anniversary in 2015, THE PLAZA joins world-renowned hotel brand Marriott International as the region's first Autograph Collection Hotel. With this partnership, THE PLAZA hopes to add global finesse to its extensive expertise, founded in hard-earned customer trust. The hotel will be able to offer a higher standard of service to its guests, drawing from both local and international experience.
The Autograph Collection is Marriott International's exclusive portfolio of hotels with 91 hotels in the U.S., Europe & Asia. The brand strictly reviews all candidates' base facilities and services, and also examines its bold individuality and ignificance as a national landmark of culture, art and design.
Its prime location, intelligent room management systems and designer space all contributed to THE PLAZA becoming Marriott International's first partner in Korea. Visitors of THE PLAZA now have access to Marriott International's global customer services, such as the "Marriott Rewards Program," which offers guests an even more enriching experience. The "Marriott Rewards Program" is a worldwide customer loyalty points program with over 5,000 members, who benefit from each stay at a Marriott International hotel to gain complimentary stays at member hotels, airline miles, rental car services and 250 other services.
Also notable is the Autograph Collection's esteemed culinary services, which THE PLAZA will bring to life in its restaurants and bars with an exceptional staff of chefs and culinary experts, inspired by internationally acclaimed restaurants. The hotel offers a variety of dining experiences, including modern Shanghai-style cooking, simple and casual Neoclassic Kaiseki and elegant Italian, helmed by Michelin-star Executive Chef, Maurizio Ceccato.
As an Autograph Collection Hotel, THE PLAZA will strive to bring extraordinary customer experiences through incomparable services and amenities and designer aesthetics, as a leading luxury boutique hotel that is "Exactly Like Nothing Else."

For more information visit:

Contact Us
Thank you for your interest in Hanwha.
Please contact us for your inquiries.
Email Us
Information Message
Please enter your email address.
Information Message
Please enter a correct email address.
Success
Keep an eye on your inbox for the latest stories from Hanwha.
Information Message
Your subscription request has already been processed. Thank you.