Hanwha Outlines Plans to Combat Climate Change at 2021 P4G Seoul Summit
Hanwha Outlines Path for 'Measurable Progress'
Against Climate Change at 2021 P4G Seoul Summit


June 1, 2021 (KST)
What steps will the energy industry need to take to reduce its carbon footprint and help communities build back better and greener in a post-COVID-19 world?

The question of how to make energy production more sustainable was just one of the many important topics that were discussed at the 2021 P4G Seoul Summit. The landmark summit, which was held to mobilize the international community to create transformative change in sectors like food, water, energy, cities, and the circular economy, was headlined by keynote speeches from leaders of governments, international organizations and industries, including Hanwha Solutions' CEO, Dong Kwan Kim.

Read on to learn more about the wide-ranging event, including details on what Hanwha described as "tangible solutions" for decarbonizing energy.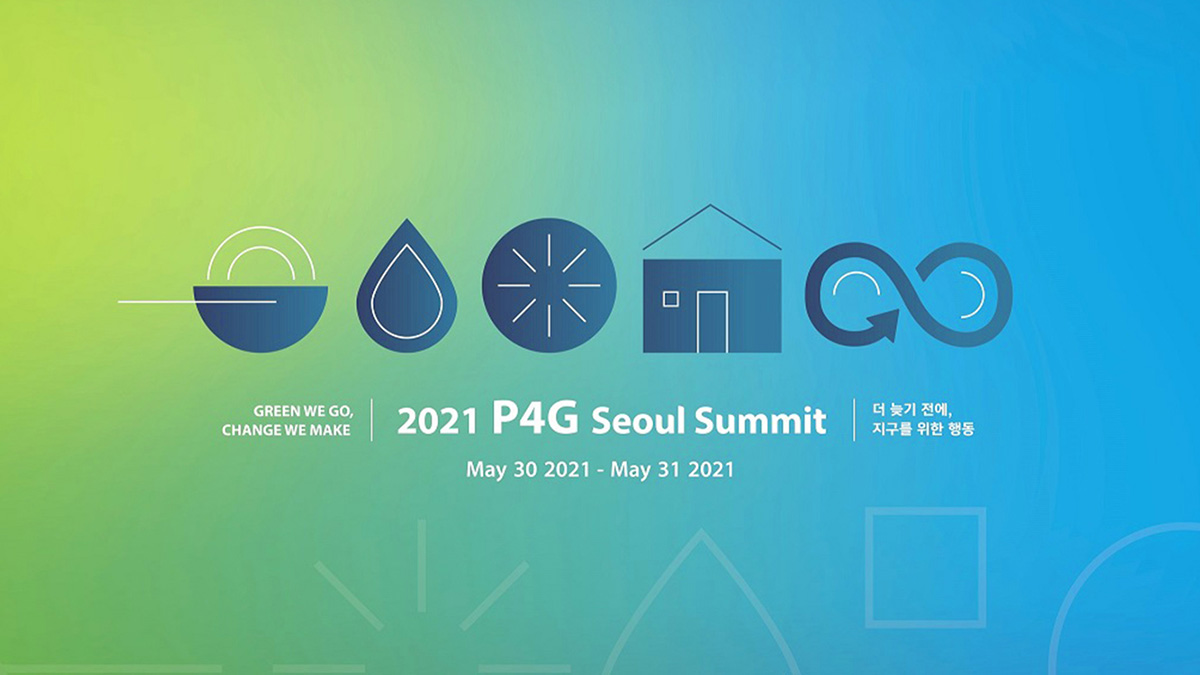 A Historic Event
Taking place from May 30–31, the 2021 P4G Seoul Summit was monumental in that it was Korea's first-ever multilateral summit on the environment.

The organization behind it, Partnering for Green Growth and the Global Goals (P4G), is a global initiative launched in 2017 to accelerate the international community's response to climate change. P4G mobilizes a network of 12 global governments, five organizational partners, and more than 240 businesses and civil societies to come together as one to partner on climate action. This year's virtual summit was a globe-spanning affair that featured leaders of over 40 countries and 21 international organizations.

2021 is a critical year for climate action, as it marks the beginning of the implementation of the Paris Agreement, a landmark global climate accord. The COVID-19 crisis has added even more urgency to this year's event, requiring closer cooperation on climate action than ever before. The goal of the summit, therefore, is to strengthen climate action by encouraging the international community to work together to build back better and greener post-COVID-19.
A Noble Goal
P4G and its partners believe that now more than ever, the world needs to make measurable progress in advancing the principles of the Paris Agreement and the United Nations' (UN) Sustainable Development Goals (SDGs).

The UN describes the 17 SDGs, which address global challenges like poverty, inequality, climate change, and environmental degradation, as "the blueprint to achieve a better and more sustainable future for all."

Each plays an important role in addressing a pressing global issue, and P4G's partnerships focus on five in particular: "Zero Hunger," "Clean Water and Sanitation," "Affordable and Clean Energy," "Sustainable Cities and Communities," and "Responsible Consumption and Production."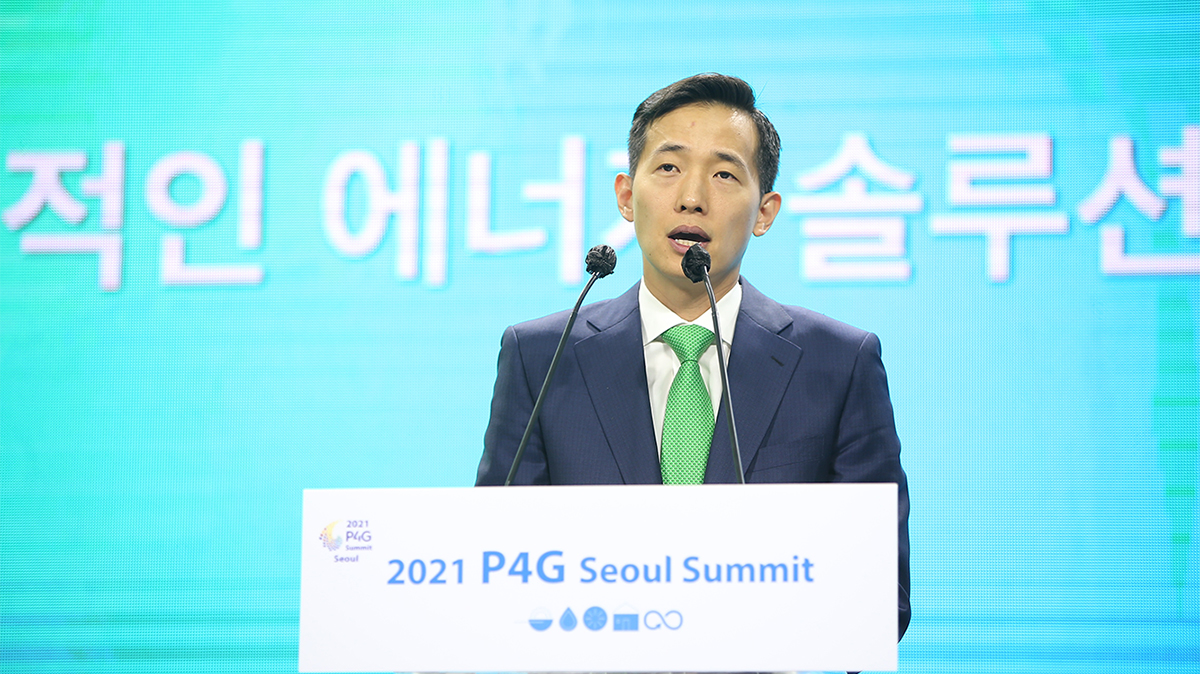 A Common Purpose
At its core, the goal of the SDGs – "to achieve a better and more sustainable future for all" – is closely aligned with Hanwha's own mission: to develop "sustainable solutions for Earth, for life."

Through its various business, technological and corporate activities, Hanwha strives to develop practical solutions to global issues that advance sustainability from an environmental, social, and economic perspective. The company's advancements in areas like solar energy and green hydrogen are producing the clean energy solutions needed to tackle urgent environmental issues like air pollution and climate change. It also prioritizes making a difference in people's lives with its corporate activities, and its commitment to sustainable economic and industrial development is laying the foundation for a new era of technological innovation.

Hanwha has also made it clear that it is a firm supporter of the SDGs, and Hanwha Solutions in particular has played a pivotal role in contributing to the Goals. The company's participation in the summit is especially significant because its innovations are helping to create the cleaner, greener world that the Goals envision*.
A Need for 'Measurable Progress'
As Kim noted in his speech, the aim of the summit itself directly connects to Hanwha Solutions' goal of providing the planet with smart, affordable, and sustainable energy. The keynote offered Hanwha an opportunity to emphasize the importance of that mission and share insights on technologies that could be key to reducing energy's carbon footprint.


Dong Kwan Kim outlines ways Hanwha is combating climate change at P4G including advancements in green hydrogen and solar energy
"We believe that even the smallest advancements can lead to tremendous change," said Kim. "We've created technologies that are making energy production smarter and more sustainable, and we've done so by committing ourselves to making measurable progress against climate change, one innovation at a time."

Kim pointed to Hanwha's 'hydrogen to gas turbine' technology (H2GT) and AI-powered energy storage software as examples of the types of "tangible solutions" that the energy industry needs right now. The former could be used to retrofit liquified natural gas (LNG)-fired power plants to run on hydrogen fuel, which would significantly reduce their CO₂ and nitrogen oxide emissions, while the latter could help make solar energy more affordable by alleviating pressure on power grids. "As we look to build back greener and cleaner," said Kim, "we'll need to prioritize tangible solutions like these to set the stage for more measurable progress down the line."
A Call for Cross-Sector Collaboration
Of course, tackling climate change is about more than just innovations; it is also about making a difference in communities. Which is why Hanwha prioritizes projects like the Hanwha Solar Forest, which allow it to use its green energy solutions for the greater good.
Hanwha has been combating climate change through Hanwha Solar Forest which uses solar energy to prevent desertification
As Kim explained, efforts like Hanwha's reforestation project, which has planted over half a million trees in Korea and abroad, would not have been possible without cross-sector collaboration. "Each of us has a unique role to play, and each is equally important to the success of our collective cause," said Kim.

Going forward, these cross-sector collaborations between governments, businesses, and civil society groups will play an integral role in helping humanity overcome this existential threat.

"Climate change is as significant a challenge as humanity has ever faced, and rising to that challenge will require the combined efforts of all of us," said Kim. "Only by working together will we finally turn the measurable progress we've been making into transformative change."


* This article has been featured on the World Economic Forum (WEF) Live updates as an example of a business advancing sustainability.