Hanwha Showcases the Future of Green Hydrogen Energy with "Hanwha Energy Innovation" Virtual Exhibition
March 15, 2022 (KST)
Achieving carbon neutrality is becoming more critical as the effects of climate change continue to be felt globally and environmental concern grows in every corner of the world. Clean energy sources are moving into the spotlight; they present a compelling solution to reach net-zero emissions by 2050 and the Paris Agreement's goal of limiting global warming to 1.5 °C by 2030.

One solution, green hydrogen, demonstrates how an existing energy source, hydrogen gas, can be transformed into a genuinely eco-friendly solution. The most abundant element in the universe, hydrogen, is expected to play a significant role in the coming green energy transition. According to Wood Mackenzie, green, low-carbon hydrogen will fulfill 7% of the global final energy demand by 2050.

Hanwha is aggressively investing in green hydrogen as a clean energy source that can contribute significantly to achieving global carbon neutrality. Designed to inspire understanding and interest in the hydrogen-energy industry, Hanwha's new online, virtual exhibition, "Hanwha Energy Innovation," spotlights the company's meaningful hydrogen-based R&D activities and innovations. This virtual space showcases the company's hydrogen value chain using dynamic visual elements. And in doing so, the complex concept of green hydrogen energy has been made easier to understand and at the same time, entertaining for any visitor to the exhibit.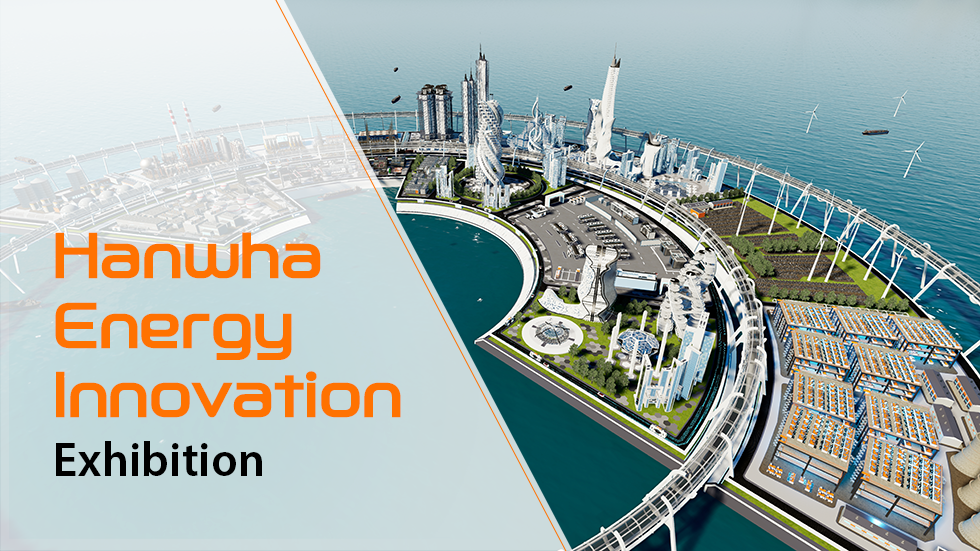 Making Clean, Green Hydrogen Energy
Informative videos detail each element of Hanwha's optimized green hydrogen value chain
Hydrogen energy is classified in three "colors," green, blue, and gray. The "color" of hydrogen depends on whether its production utilizes fossil fuels or renewable energy sources. Producing green hydrogen requires electricity sourced from renewable energy solutions like solar PV and wind power. Unlike the production of gray hydrogen, which generates carbon emissions during the process of natural gas extraction, the production of green hydrogen does not emit any carbon dioxide.

The same is true concerning the application of green hydrogen. In power plants, hydrogen fuel cells produce no harmful emissions. When hydrogen reacts with oxygen to generate hydrogen-powered electricity, the only by-products are heat and pure water.
Hanwha's Hydrogen Value Chain
The "Hanwha Energy Innovation" exhibition introduces a virtual, sustainable city built atop Hanwha's hydrogen value chain. To strengthen its competitiveness in the hydrogen industry, Hanwha has been developing a hydrogen value chain that encompasses the production, storage, transportation, distribution, and charging of green hydrogen.
The "Hanwha Energy Innovation" exhibition invites visitors to explore a virtual city leveraging green hydrogen
Creating this comprehensive, clean energy value chain involves almost every arm of Hanwha Solutions' renewable businesses. Hanwha Solutions' Q CELLS Division (Hanwha Q CELLS) provides the solar energy needed to produce green hydrogen, while the Chemical Division innovates the production process with an anion exchange membrane water electrolyzer (AEMWE). The next-generation technology is capable of scaling green hydrogen production at a low cost. Furthermore, the Hanwha Solutions Advanced Materials Division manufactures Type-4 hydrogen tanks designed for safe storage and large-scale transportation.

Hanwha Power Systems provides hydrogen refueling systems consisting of hydrogen compressors, high-pressure vessels, cooling devices, and dispensers. Essential parts of hydrogen co-firing power plants are developed and manufactured by Hanwha Impact. And Hanwha is leading the hydrogen energy industry with its hydrogen value chain that provides an optimal energy generation solution designed to support a carbon-neutral society.
A 360-degree Look at a Green-hydrogen City
The "Hanwha Energy Innovation" virtual experience includes three areas of exploration: "About Us," "Hydrogen Value Chain," and "Virtual Tour."
Informative videos detail each element of Hanwha's optimized green hydrogen value chain
The "About Us" section serves as the introduction to the exhibition. It covers several aspects of Hanwha's green hydrogen business with informational videos. The videos include topics ranging from the hydrogen refueling process to the principles of anion exchange membrane water electrolyzer (AEMWE) technology to the total solar power project solutions.

The "Hydrogen Value Chain" section explains the roles of Hanwha's major affiliates from the production of green hydrogen (using renewable energy such as solar and wind power and water electrolysis technology) to the storage, transportation, charging, power generation, and utilization of green hydrogen energy.

The exhibition's "Virtual Tour" section allows users to explore the digital green-hydrogen city through 360-Degree View virtual reality (VR) technology. Visitors navigate the city via arrows to see the main facilities and equipment that make up Hanwha's hydrogen value chain. Highlights include Hanwha Solutions' solar power plant and Hanwha Power Systems' hydrogen charging stations.

The virtual city boasts all the key facilities and equipment underpinning Hanwha's hydrogen value chain. And through this experience, visitors can discover more about the present and the future of Hanwha's green-hydrogen business.
A Green-hydrogen-fueled Future
Over time, due to economies of scale and increasing capacity, green hydrogen production costs will fall as will the production costs of other renewable energy sources like solar PV and wind power. To secure affordable and sustainable energy for tomorrow, we must begin today. Now is the time to start tapping into green hydrogen energy's full potential.

Hanwha will continue to optimize and focus on the green hydrogen energy value chain to support carbon neutrality worldwide. Hanwha's hydrogen value chain is laying the foundation for a sustainable, green-hydrogen society. So come and discover the future of carbon-neutral communities with the Hanwha Energy Innovation exhibition.


*Hanwha Energy Innovation: https://www.hanwhaenergyinnovation.com/en/index.html