Hanwha's Caustic Soda Investment
Powers More Sustainable Solutions
April 4, 2022 (KST)
As Hanwha Solutions continues to explore new opportunities that align with its sustainability goals, at the same time, the company is actively diversifying its business portfolio to include materials with greener applications. Many Hanwha affiliates are working in tandem to increase investment in green tech and the material building blocks of future-forward, eco-friendly industries such as sustainable mobility, and green energy, including solar, green hydrogen, and wind.

Recently, Hanwha Solutions made a strategic decision to increase its production of caustic soda. Caustic soda, or sodium hydroxide, is essential in the production of rechargeable batteries and lightweight materials, as they are both fundamental to building sustainable solutions.
A Formula for Caustic Soda Growth
Hanwha Solutions is currently producing 840,000 tons of caustic soda per year, making it the top domestic producer in the chlor-alkali industry with 38% of market share. In the latter half of 2021, Hanwha Solutions invested USD 282 million (KRW 338 billion) to increase the production of caustic soda by additional 270,000 tons. With this infusion of capital, the annual caustic soda production volume is expected to jump to 1.11 million tons by 2025.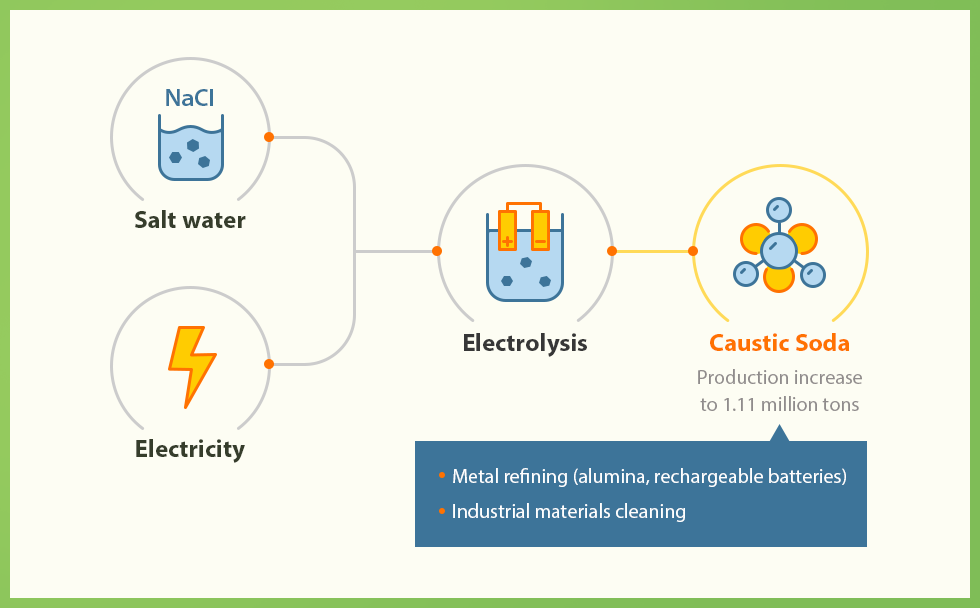 By increasing its domestic caustic soda production volume, Hanwha Solutions will further strengthen its leadership in the chemicals industry.

Caustic soda is a highly versatile material; it can be found on production lines across a variety of industries, including paper, textiles, detergents, metals, food, and electricity generation. Most commonly, caustic soda is used to raise the pH level in water treatment to prevent contamination.

Hanwha is particularly interested in how caustic soda can be used as a contributing element in sustainable transportation—specifically EV production. Battery electric vehicles, or BEV, use a battery pack to power an electric motor. Manufacturers use caustic soda to purify cathode materials used in rechargeable EV batteries. Caustic soda is also used to extract aluminum from bauxite.
Investing in Sustainable Transport Solutions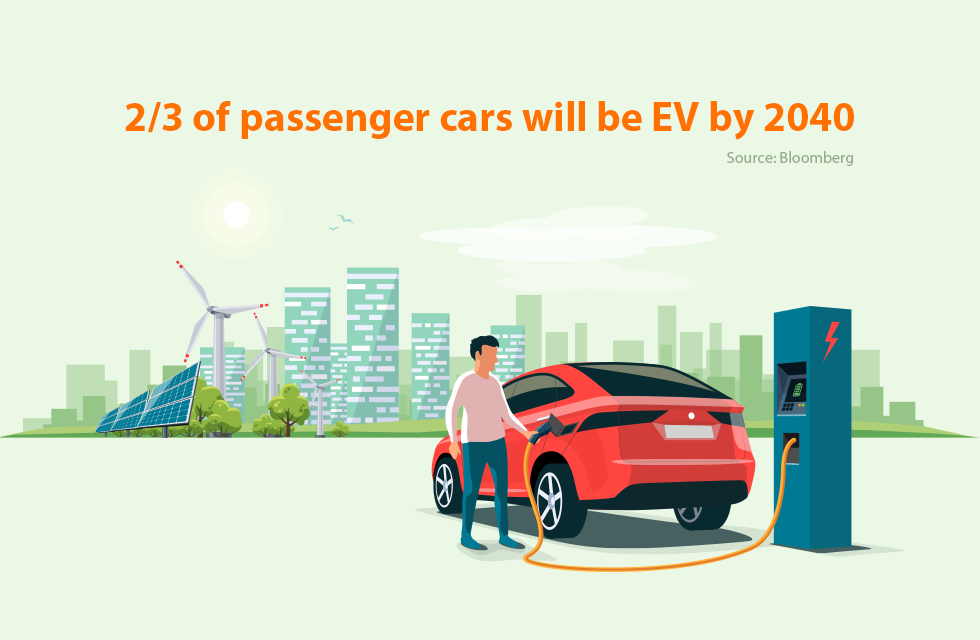 Globally, the electric vehicle market is growing commensurately to the increasing calls for more sustainable products all over the world. In 2020, the global share of electric car sales rose 70% to 4.6%—a record volume. Looking to the future, BloombergNEF predicts electric vehicles will make up two-thirds of passenger vehicle sales in 2040.

Not only do these vehicles not require gas or diesel fuel, they also don't produce tailpipe emissions. Furthermore, by generating power for charging stations through renewable energy sources, the eco-friendly impact of these all-electric solutions can be amplified further.
Achieving Net-zero Emissions by 2050
To help Hanwha Solutions reach its goal to be carbon-neutral by 2050, the Hanwha Solutions Chemical division plans to shift caustic soda production to an eco-friendlier model. In the new model, Hanwha Solutions' expertise in green energy and the use of green energy sources will be applied across all manufacturing efforts to create a more sustainable value chain.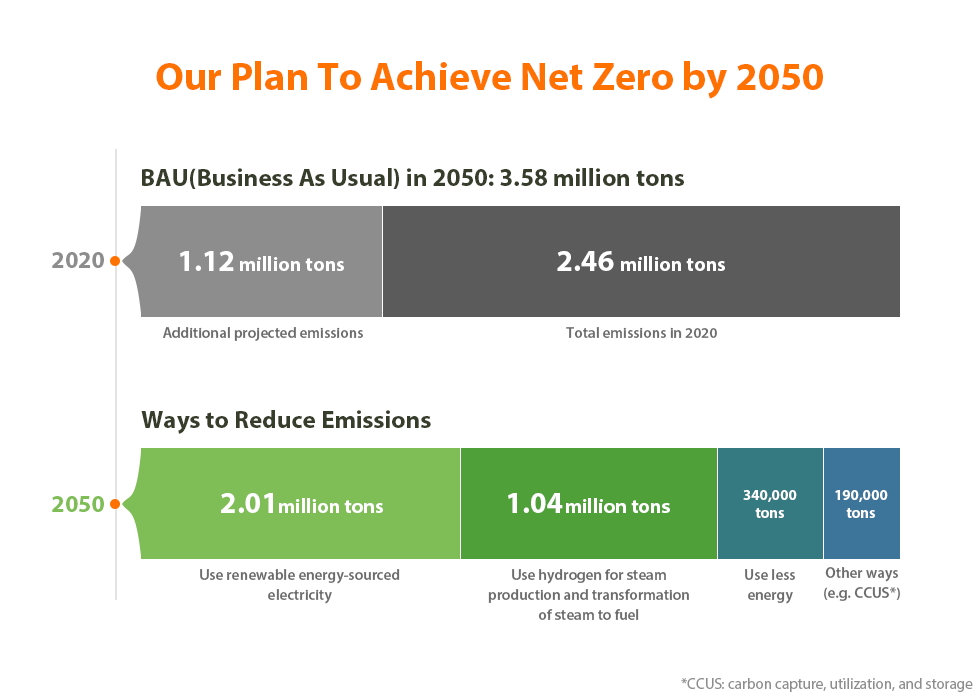 Hanwha is transforming its business practices in production and management across all divisions. Its goals include eliminating 3.58 million tons of greenhouse gas emissions and increasing the use of renewable-energy-sourced electricity to 100%.
Driving Eco-friendly Technology Forward
Hanwha Solutions continues its mission to combat climate change with various strategic investments and commitments, including its vow to go net-zero by 2050. Expanding the production of materials that support sustainable development, such as caustic soda, drives business growth and global adoption of green technology like EVs. And with its ongoing contributions to the sustainable economy, Hanwha Solutions hopes to contribute more to the global goal to reach net-zero and achieve a sustainable future for all.