How Hanwha Made Its Headquarters More Sustainable

Buildings are hubs for so many aspects of our lives – they are where we live, work and rest. And yet, according to the United Nations, buildings are the largest contributors of greenhouse gas emissions globally and account for a third of all the energy consumed worldwide. What's more, after emissions from buildings
hit a record high in 2019, the UN called on the building industry to halve its CO₂ emissions by 2030 in order to meet net-zero carbon building stock by 2050.

As communities all over the globe look to realize more sustainable outcomes, our buildings therefore need to start contributing more meaningfully to sustainability.

Thankfully, initiatives like the Council on Tall Buildings and Urban Habitat (CTBUH) Awards program have long been encouraging shifts to better ways forward.
Since 2002, the CTBUH has been recognizing projects that significantly contribute to the sustainable development and advancement of high-rise buildings and urban environments.

At this year's CTBUH Awards, Hanwha won the Renovation Award for its overhaul of its Seoul headquarters building. This upgrade included the development of
a striking façade that features embedded solar panels and an inviting interior. A leader in green energy, it came as no surprise that Hanwha's 45-month
renovation of its headquarters saw the incorporation of the company's leading solar technology in addition to a number of socially and economically sustainable features.
RENOVATING TO REFLECT AN IDENTITY
Having been built in the 1980s, the Hanwha Building and its dated façade were long overdue for an upgrade. Among other aspects, the building's lack of energy efficiency did not reflect the company's identity. Hanwha, as a company with a firm vision for innovation, energy and the future, needed its headquarters to better represent its commitment to sustainability.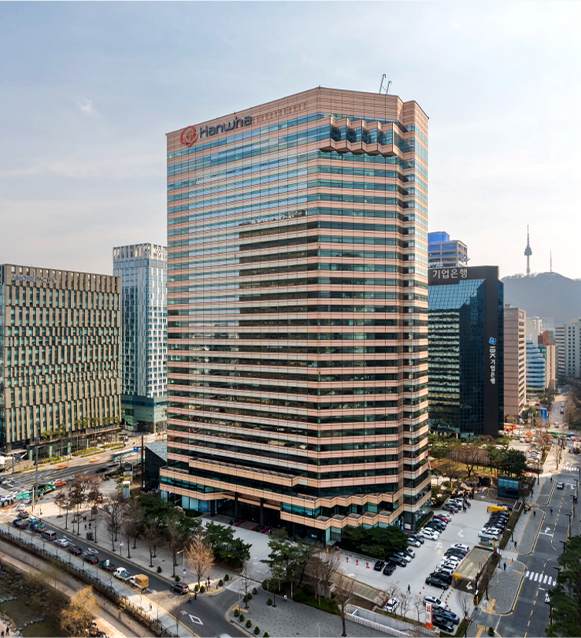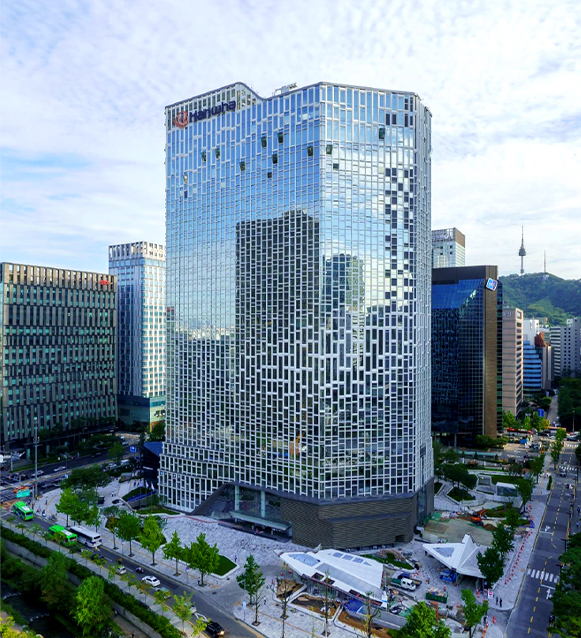 UNStudio partner and senior architect in charge of the renovation Astrid Piber said of the project that, "Remodeling buildings such as the Hanwha headquarters offers several benefits that follow a circular approach of reusing what has been built in our cities in the past. " While the incorporation of a broad range of
modern technologies, materials and systems improved conditions for employees in the Hanwha Building, the renovation itself was completed three to four
floors at a time to allow the floors above and below those being renovated to remain in use.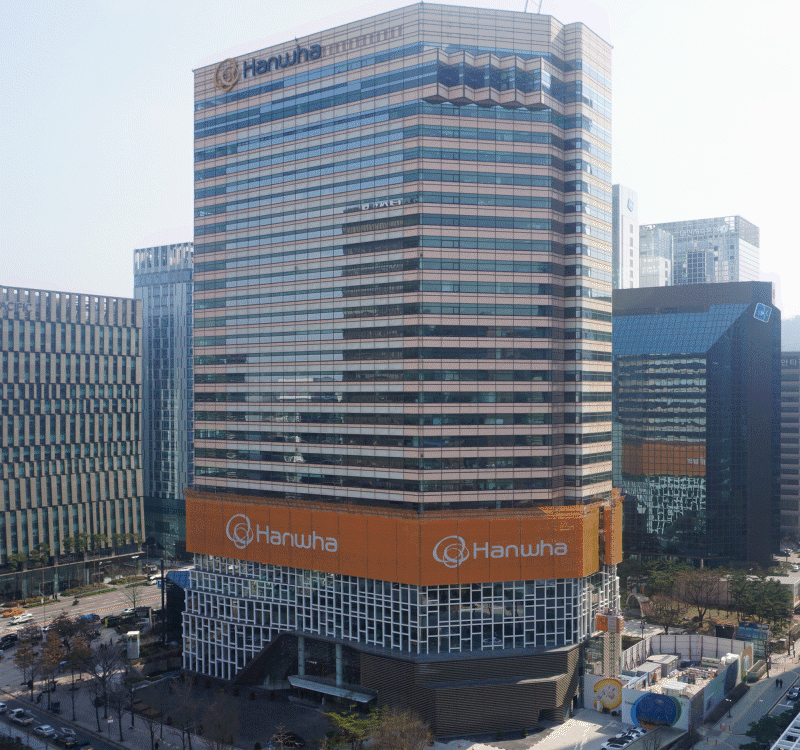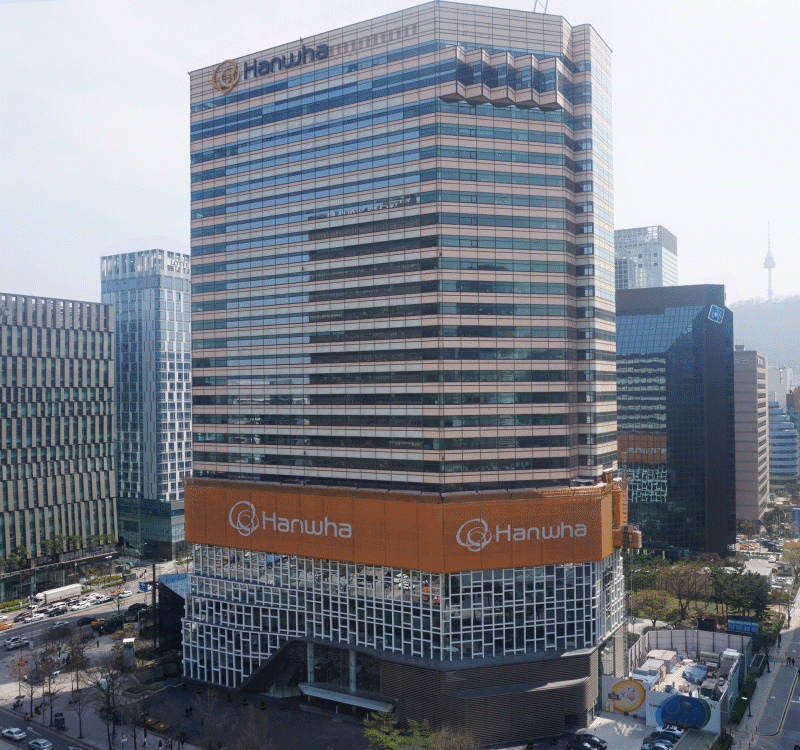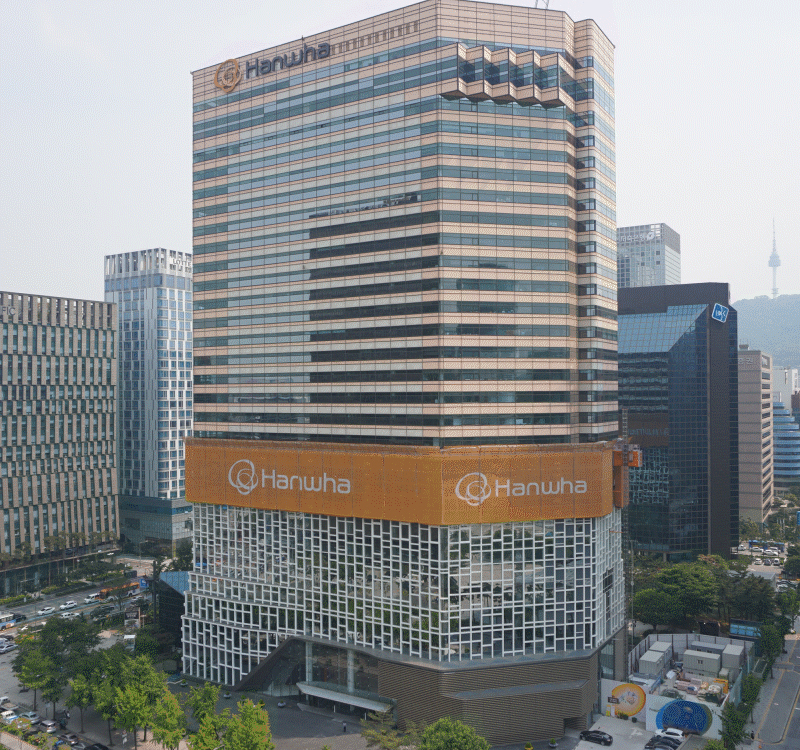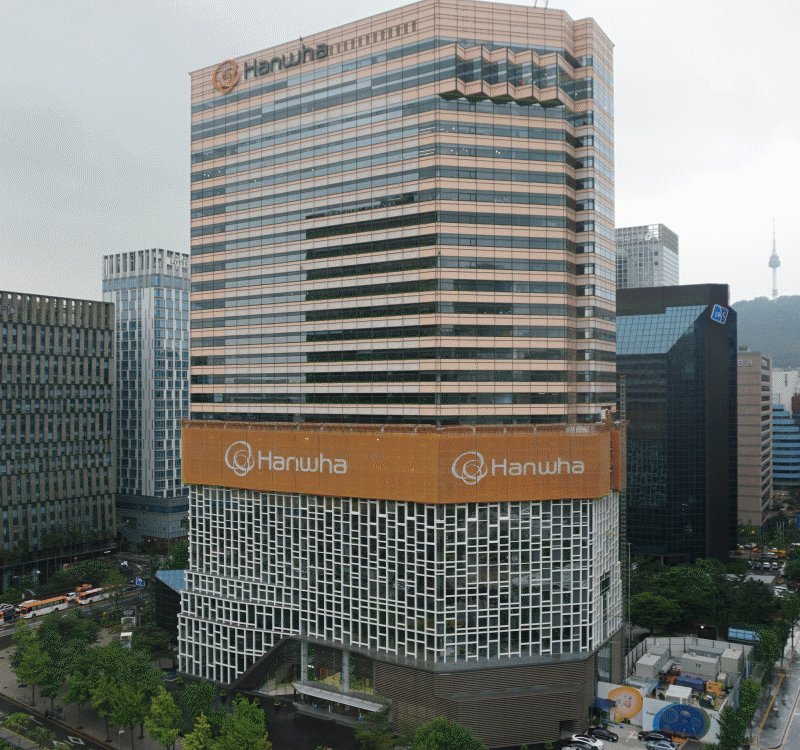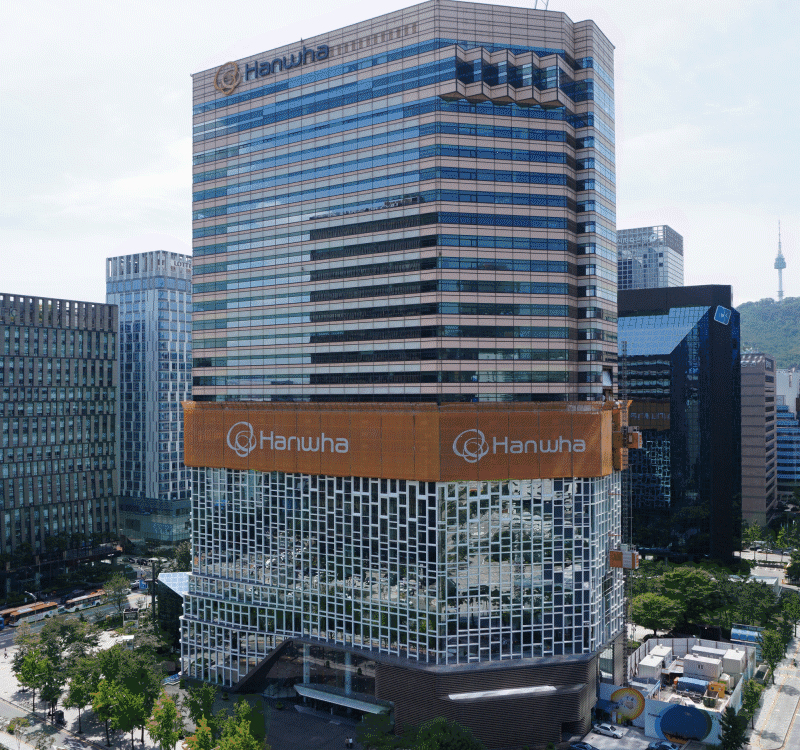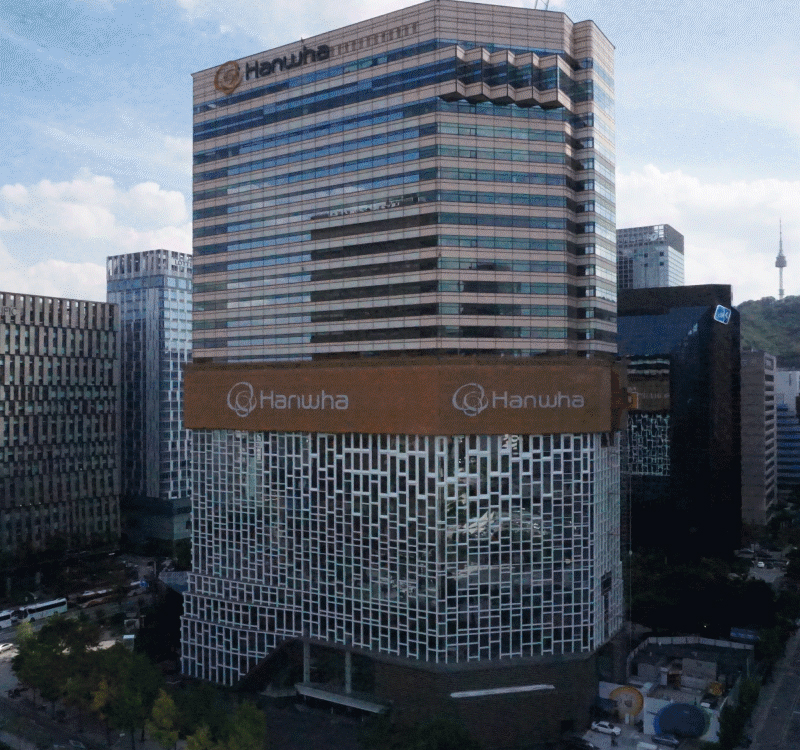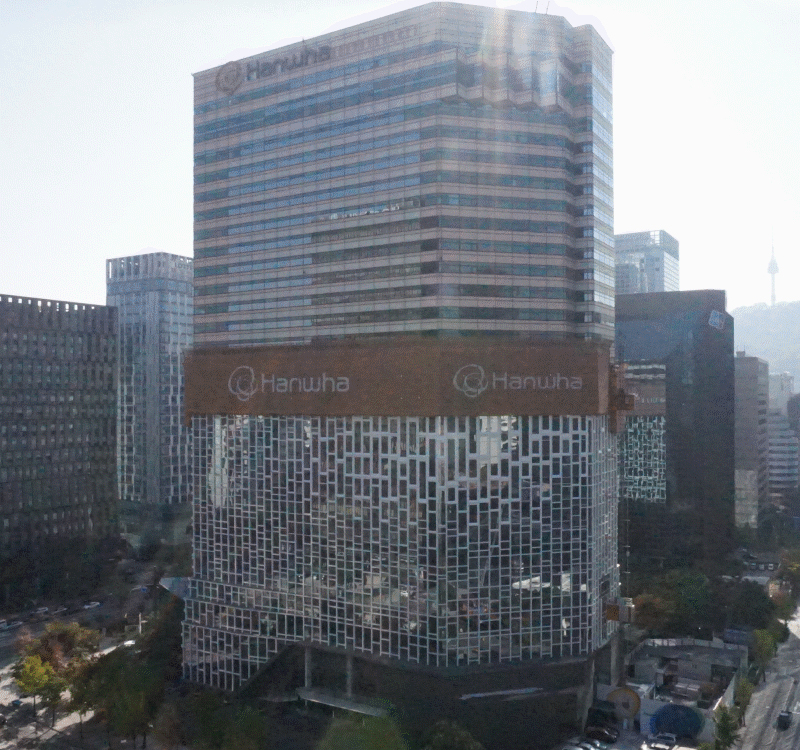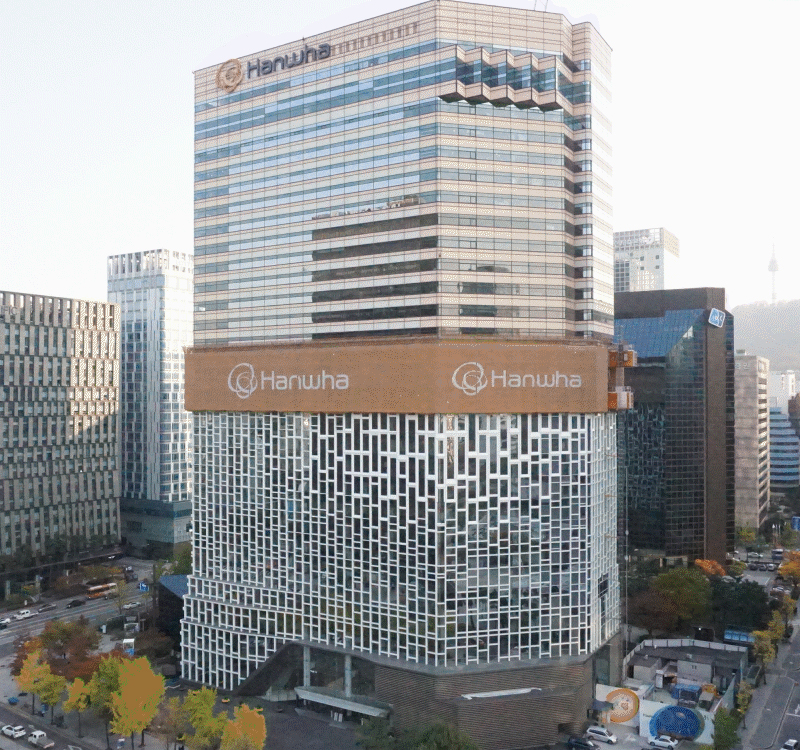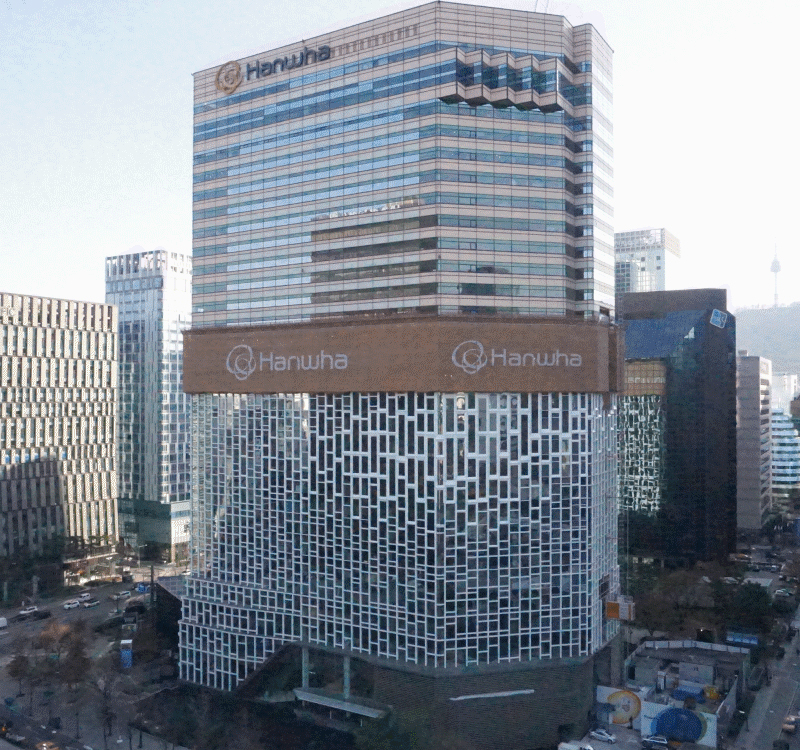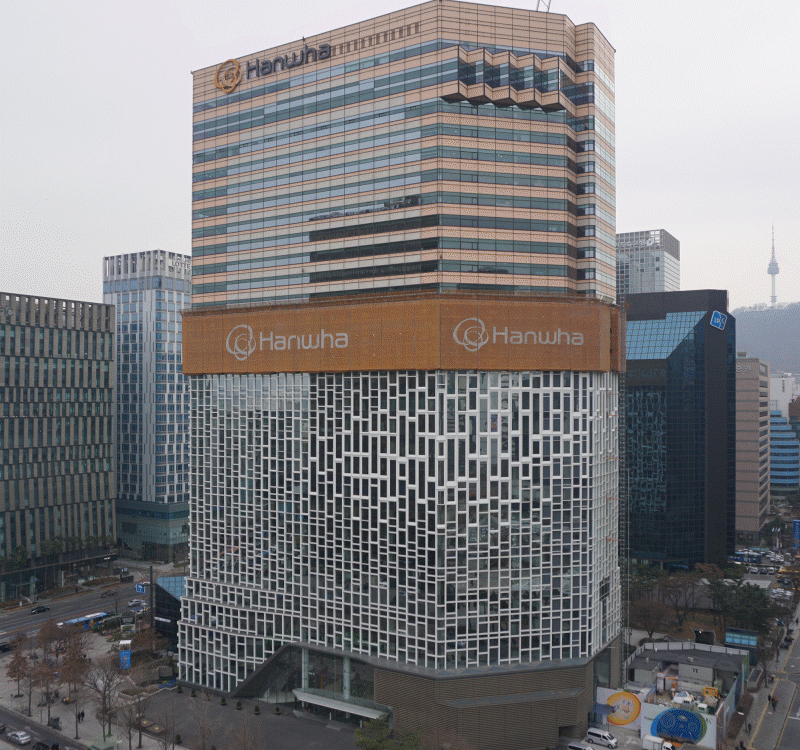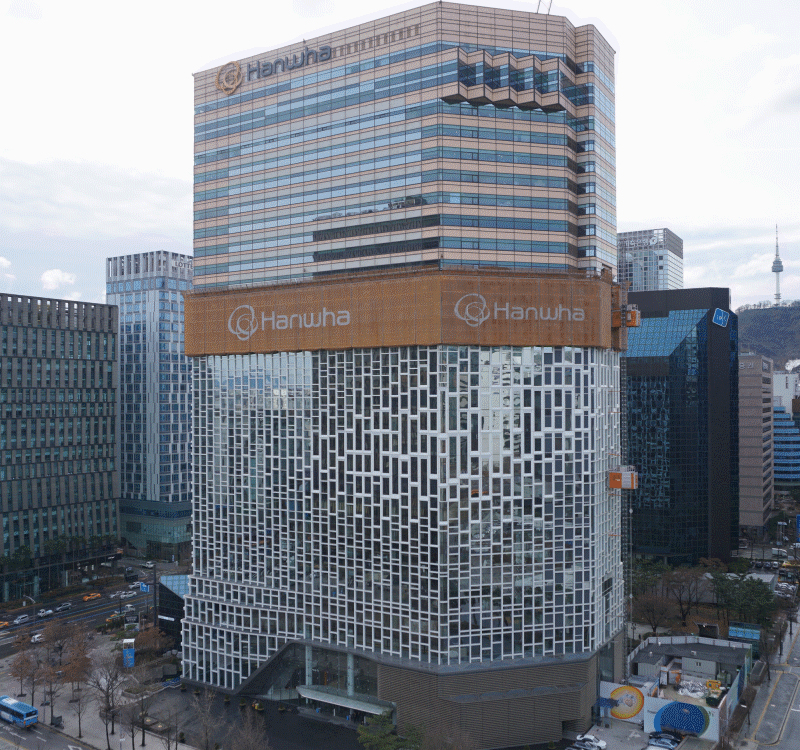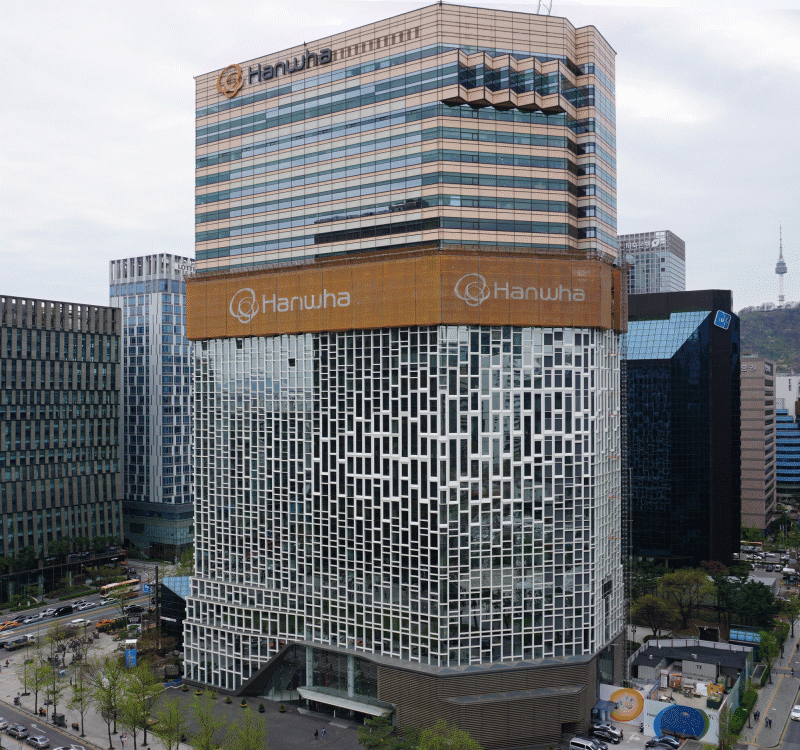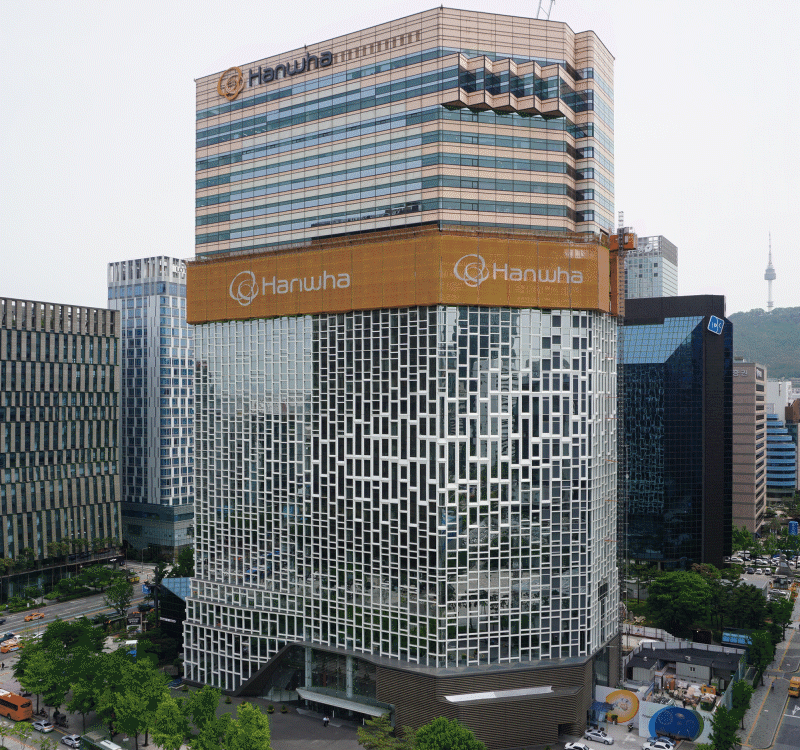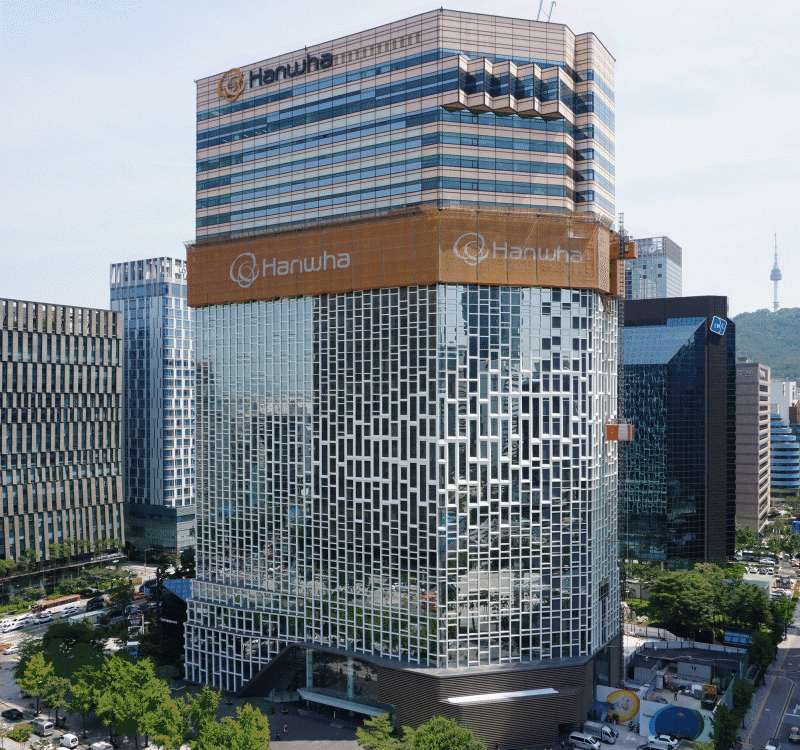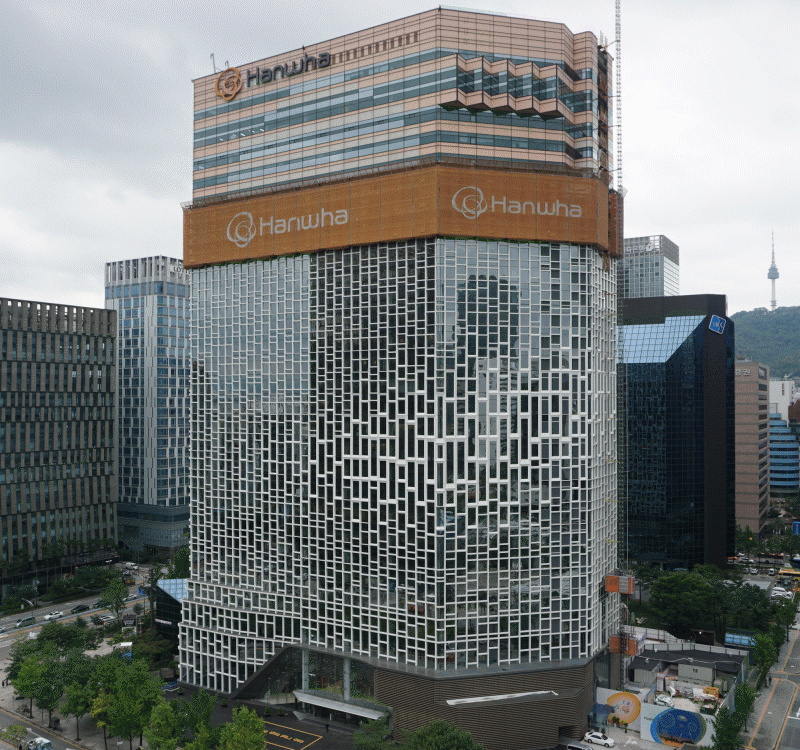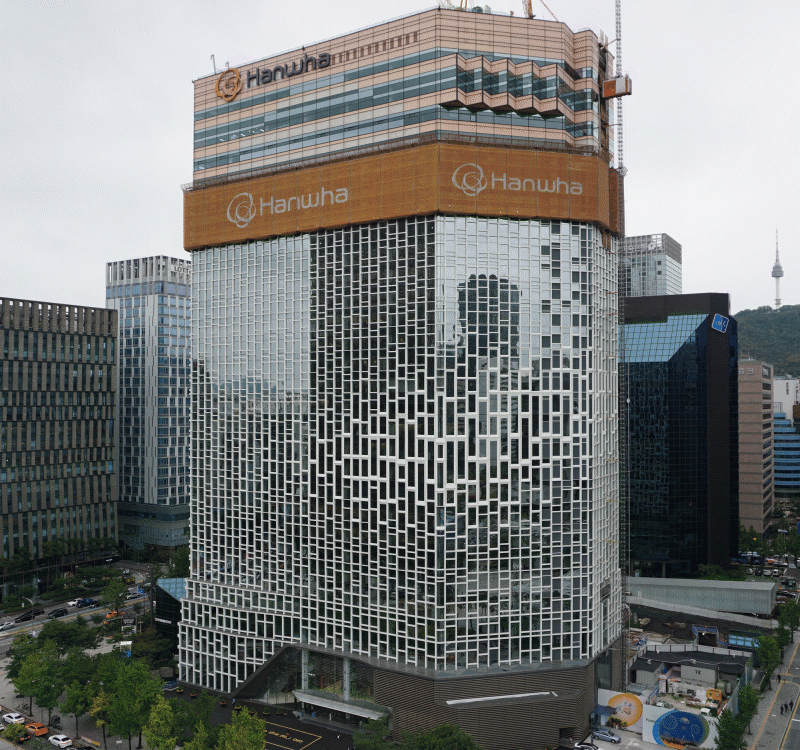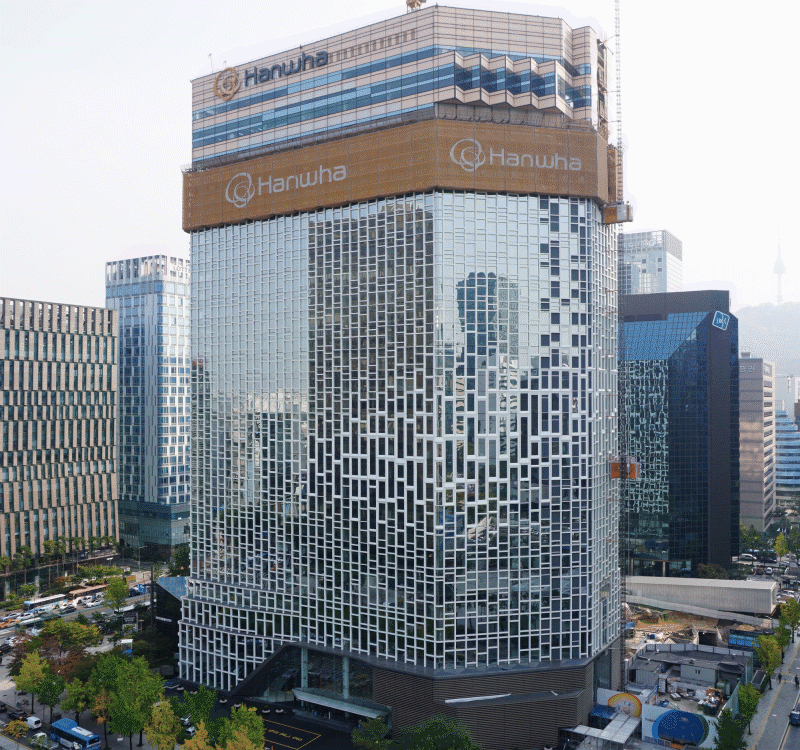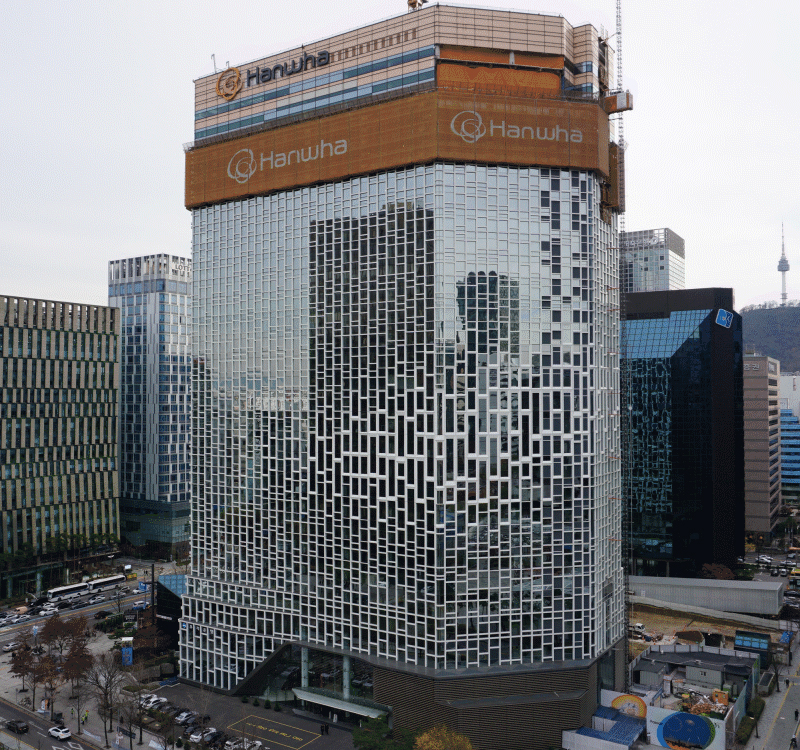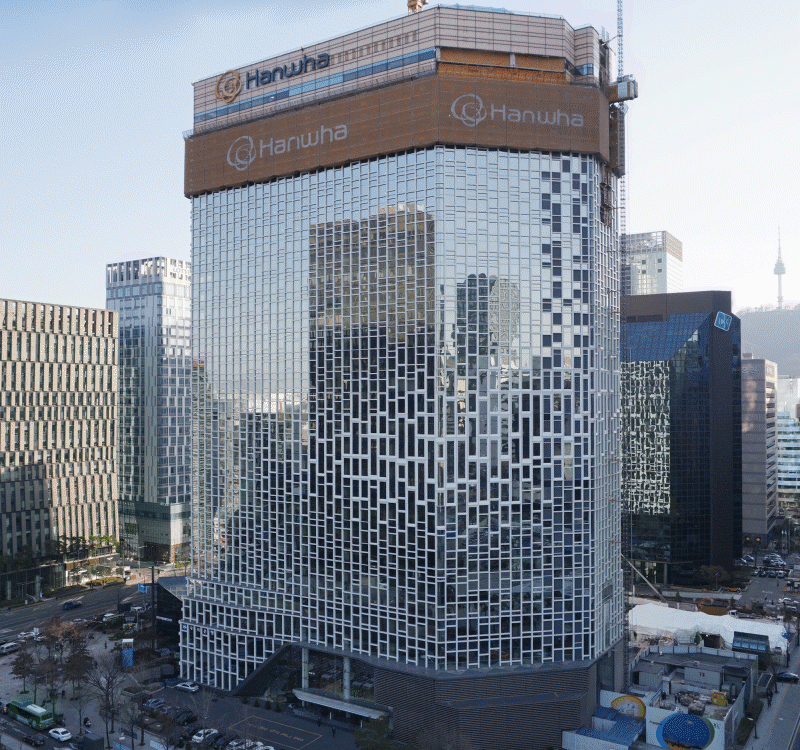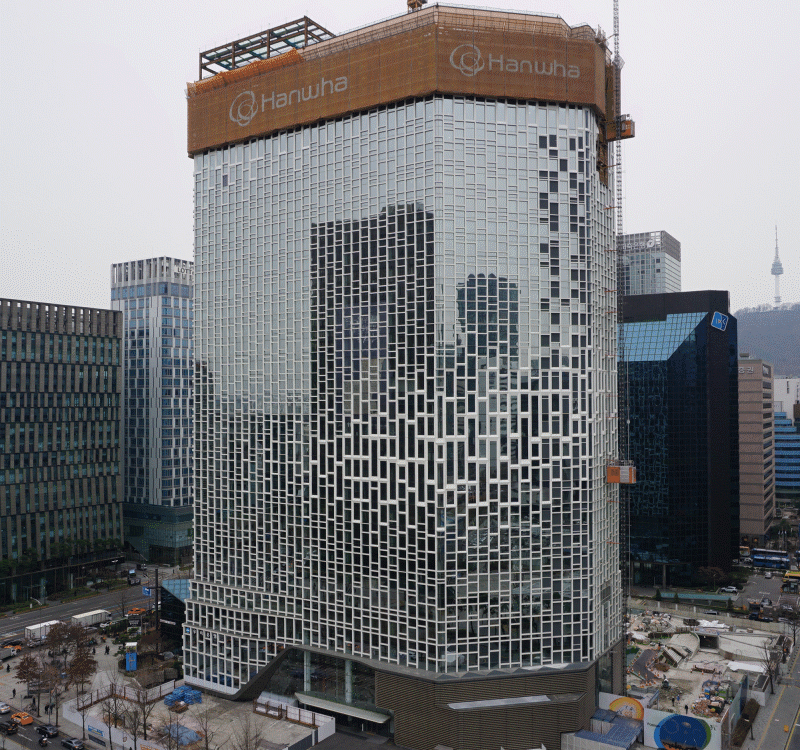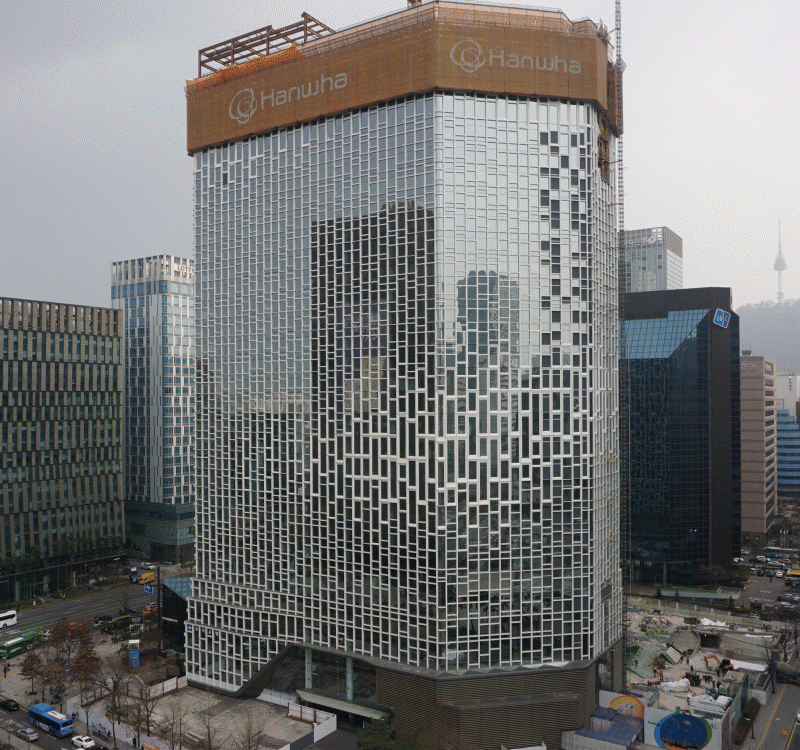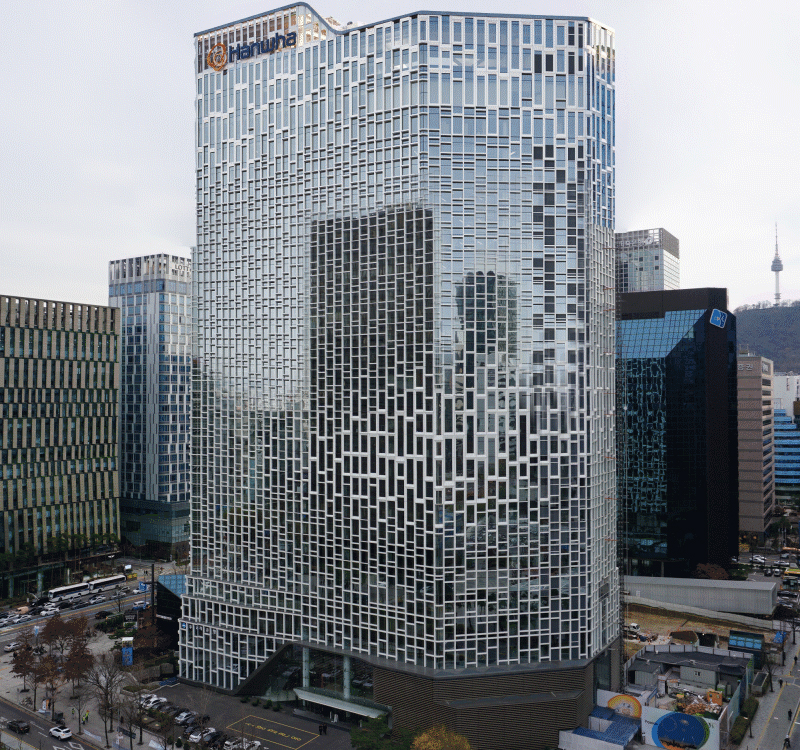 Piber added, "We designed with the future in mind – applying our design thinking to projects across different scales, aiming to create the best framework for both our planet and its people." Hanwha's headquarters renovation therefore also came to reflect the company's sustainability philosophy, which involves remaining mindful of the environment while making changes that will benefit future generations.
SUSTAINABILITY TO PROTECT THE ENVIRONMENT
Intergovernmental bodies often classify sustainability measures as either environmental, economic or social. And the Hanwha Building's manifestation of sustainability can be broken down in a similar way, with the renovation having tangibly realized each of these forms of sustainability.

For activities to be deemed environmentally sustainable, they must create and maintain conditions in which humans and nature can exist harmoniously while supporting present and future generations. The CTBUH has recognized a host of building projects that have realized environmental sustainability, including Milan's "Vertical Forest," which received the Best Tall Building Worldwide award in 2015 after erecting a pair of towers that are home to more than 20,000 CO₂
and micro particle-absorbing plants and trees.

The renovation of the Hanwha headquarters demonstrated environmental sustainability in a number of ways. First, the Hanwha Building's façade features
275m² of embedded Q.PEAK solar modules from Hanwha Q CELLS that are capable of producing clean energy and offsetting the building's dependence on traditionally-derived electricity.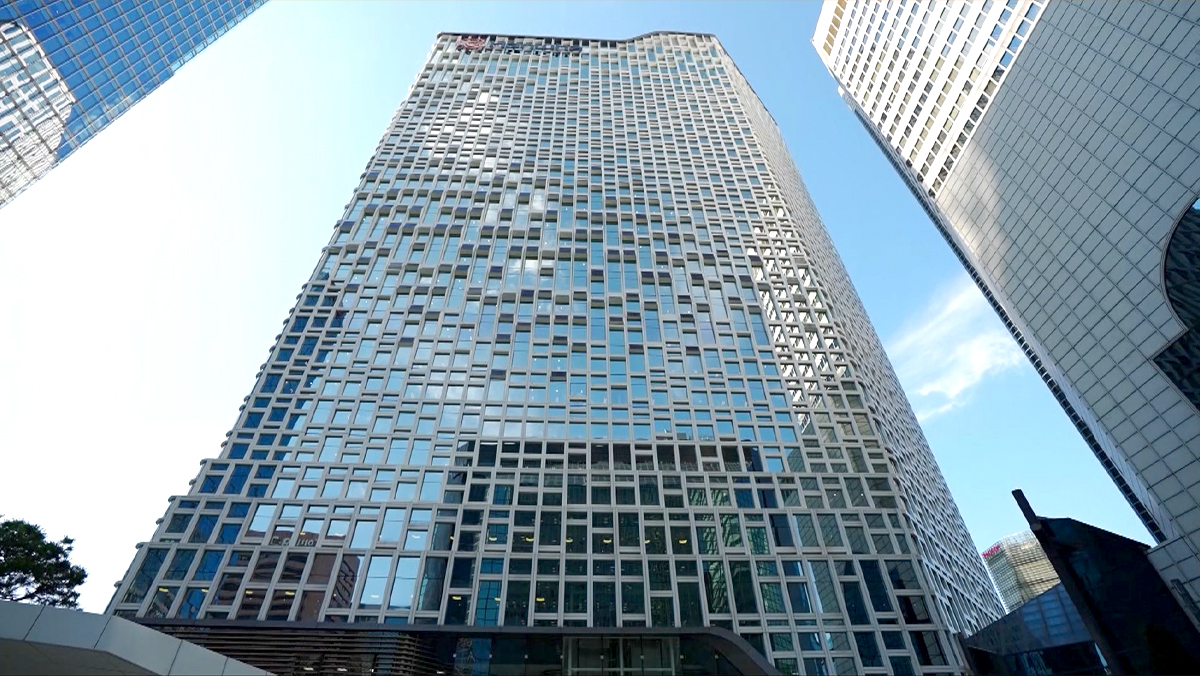 Designers at UNStudio used computer modeling to determine which sections of the building receive the most sunlight and designed a "reactive façade" to
make the best possible use of the natural light and heat provided by the sun. Data from the modelling was then used to develop specialized angles, materials
and insulation, the incorporation of which resulted in a 35% reduction in the building's annual carbon dioxide emissions and a 40% drop in its yearly energy consumption. In recognition of this, the Hanwha Building received a green building excellence grade of "Green 2" from green building certifier G-Seed. And the retrofit of the building's façade was not only a sustainability success, but also produced a visually stunning result.
CONTRIBUTING TO ECONOMIC SUSTAINABILITY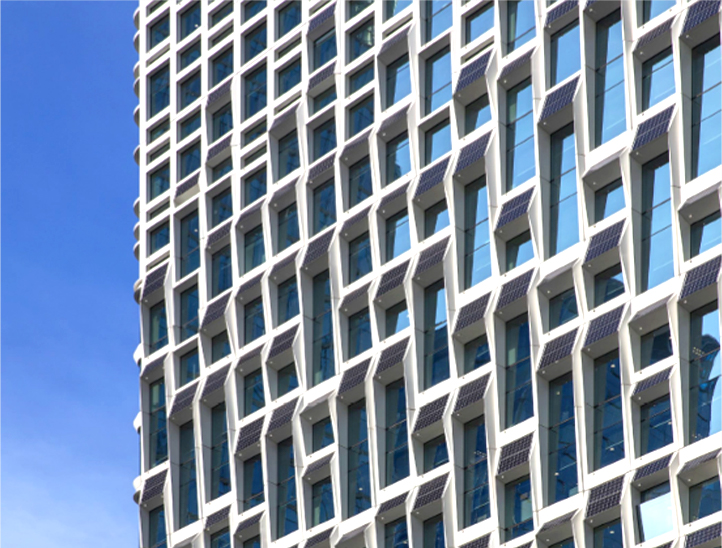 As building methods and technology continue to evolve, buildings are not only emitting less CO₂, but are also increasingly contributing to sustainable industrial and economic development. For their activities to be deemed truly economically sustainable, businesses must put as much emphasis into measures that safeguard human and material resources as they do into producing operational profits.

One piece of technology that is helping deliver more sustainable economic outcomes is Hanwha's building- integrated photovoltaics (BIPV) technology. BIPV technology is both a building material and a power generation source, and thus allows the capacity to reduce energy costs built into the very structure of a building.
This technology was not only used in the façade of the Hanwha Building, but has also been incorporated into other Hanwha buildings like the Sangnok-gu District Office and Changwon Solar Tower. In the latter, the embedded solar panels in the building produce enough energy to power 200 households.
One way in which Hanwha's renovated headquarters contributes to economic sustainability is with the solar panels integrated into its exterior. These solar
panels produce 300kW of clean energy per day, reducing the building's power bill.

The scope of the renovation also included the upgrade of the building's interior for the up to 3,000 people that can work in it. Flexibility and comfort were prioritized in the interior redesign, which encompassed areas such as entrances, meeting rooms, dining areas, and much more. With its new design, the building's interior is primed to facilitate greater efficiency, and yield more economically sustainable outcomes.
THE SOCIAL ASPECTS OF SUSTAINABILITY
As a socially responsible corporate citizen, Hanwha understands the impact buildings can have on people's quality of life and sense of community. For their activities to be called socially sustainable, organizations must identify and manage the positive and negative impacts their actions have on people.

Hanwha's renovated headquarters promotes social sustainability both inside and outside of the building, with the interior having been carefully designed to create collective spaces that allow different departments to work together. The interior is blended with the exterior as well, allowing the landscaping features to flow into the interior, culminating in a clear wayfinding effect. And to complement it all, the interior also features increased floor to ceiling heights, natural materials and plants.

The renovation also included the establishment of an outdoor plaza and spaces that facilitate relaxation and interaction. At the center of the plaza is a sunken stage for holding events, while a pavilion for displaying media art is located on the western side of the building. In addition to providing amenities for public
use, this landscape design helps the Hanwha Building better meld into the fabric of the broader city.
The various spaces in the Hanwha Building's renovated plaza
Media Stage

Landscape parking structure

Light Shelter

Media Theater
Meanwhile, the side of the building that faces Seoul's iconic Cheonggyecheon Stream features the restored Berlin Plaza, which includes a donated piece of the Berlin Wall. Despite the Berlin Plaza being outside of Hanwha's designated renovation zone, the company decided to restore the space as a way to recognize its cultural significance.
A PHILOSOPHY IN PRACTICE
At this year's CTBUH Awards, Hanwha was recognized for having strived to make its headquarters building more environmentally and economically responsible. The awards win is also a testament to the company's unwavering commitment to improving social outcomes for both Hanwha employees and the public*.
The HQ's renovation reflects the spirit of positivity embodied by Hanwha's renewable energy pursuits
Hanwha's meticulously planned and executed renovation of its headquarters represents the company's dedication to developing practical solutions to global issues and leading sustainable change. The renovation also stands as both a manifestation of the company's sustainability philosophy, and its relentless pursuit of better outcomes that will benefit the generations of tomorrow.


* This article has been featured on the World Economic Forum (WEF) Live updates as an example of a business advancing sustainability.
Hanwha uses cookies to improve site functionality and provide you with a better browsing experience and service. By using this site or clicking on "OK", you consent to the use of cookies. Learn more.
Close