The Hanwha Solar Forest: A Cross-sector Desertification Initiative Growing to Fight Climate Change

In countries where deserts are not commonplace, desertification may sound like a distant issue. However, the situation is more dire than one may think. Kofi Annan, Former Secretary-General of the United Nations, once said that one of the most serious problems confronting civilization is desertification. According to the UNCCD (United Nations Convention to Combat Desertification), desertification affects more than 250 million people directly, and 1 billion more are at risk.
To help resolve the problem of desertification, Hanwha is committed to realizing its mission of addressing climate change, energy depletion, and energy poverty challenges. Through efforts such as planting trees and promoting afforestation, it hopes to bring positive change to the global community. Furthermore, Hanwha will continue to advance clean technologies and promote pathways toward a sustainable, green future. Hanwha will actively pursue cross-sector collaboration among governments, businesses, and civil society groups, where each member plays an integral role in helping humanity overcome this existential threat.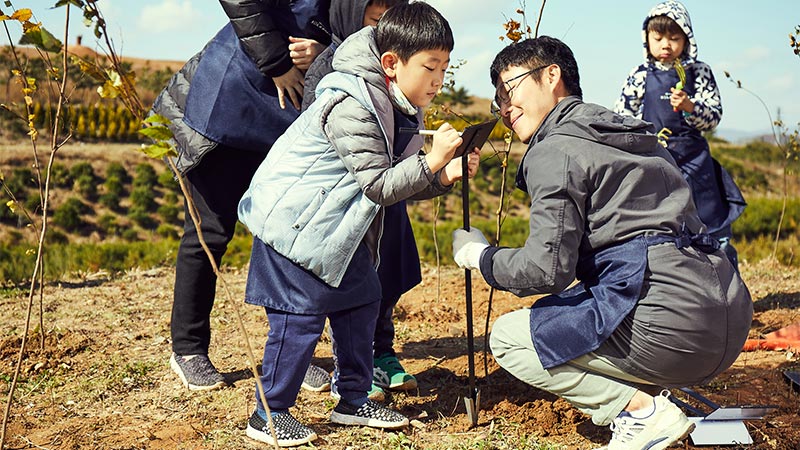 What is Hanwha Solar Forest?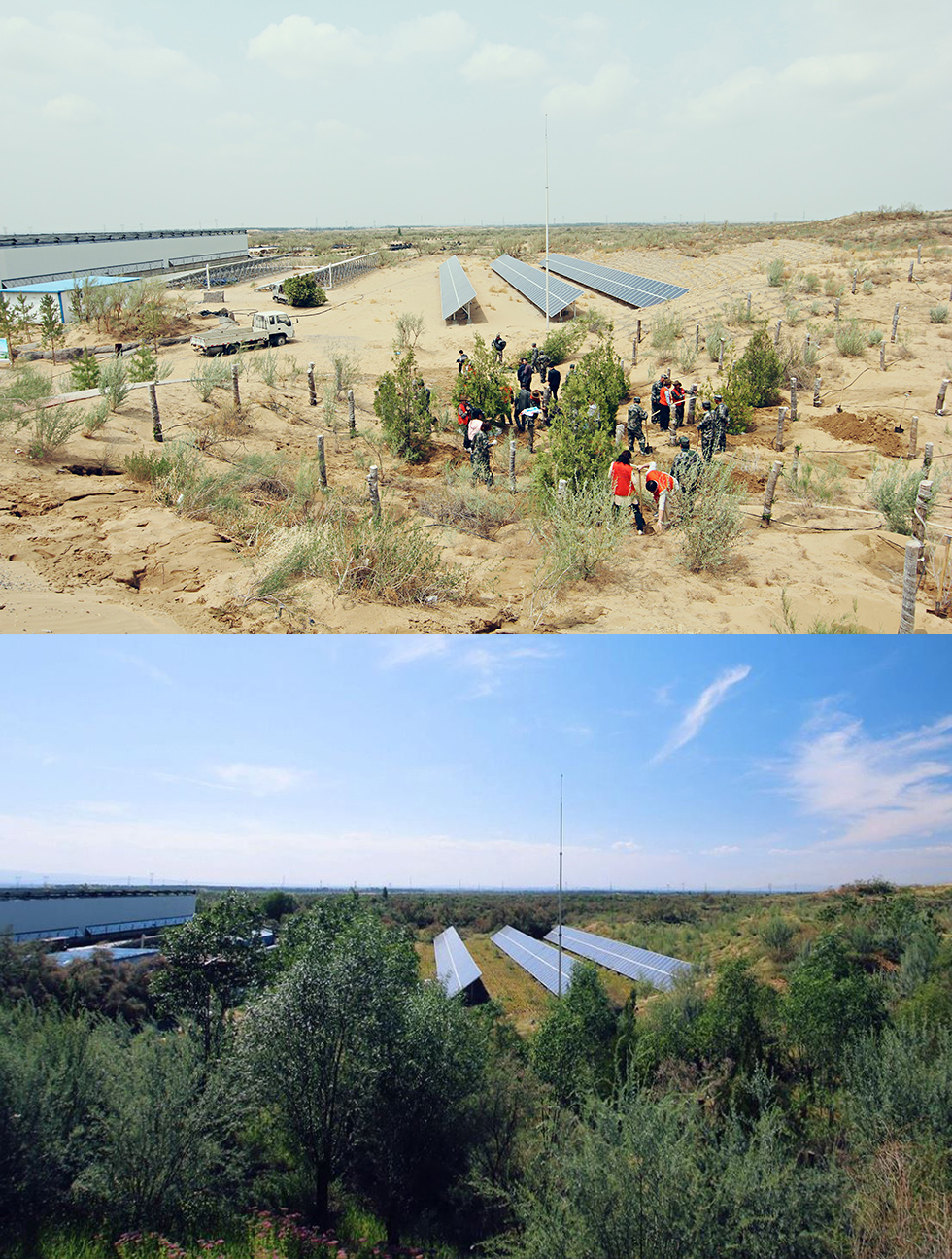 Hanwha Solar Forest began in 2011 in partnership with Tree Planet, a social venture company, to create eco-friendly forests locally and globally. The initiative is a standout amongst its peers due to its use of solar energy to power nurseries.
Traditionally, sapling nurseries are powered by electricity produced from fossil fuels. Ironically, this method releases more carbon into the atmosphere—the very same carbon afforestation efforts aim to remove. In Hanwha Solar Forest nurseries, solar energy supports the clean water supply, temperature and humidity control, and lighting conditions required to nurture saplings, resulting in a more environmentally friendly, carbon-neutral forest. At a general meeting of the UNCCD in 2011, the initiative was cited as the world's first corporate practice of utilizing solar energy to fight desertification.
The History of Hanwha Solar Forest
Since the program's launch, it has created eight forests throughout South Korea, China, and Mongolia. Over half a million trees have been planted across 1.33 million square meters, equivalent to 180 soccer fields.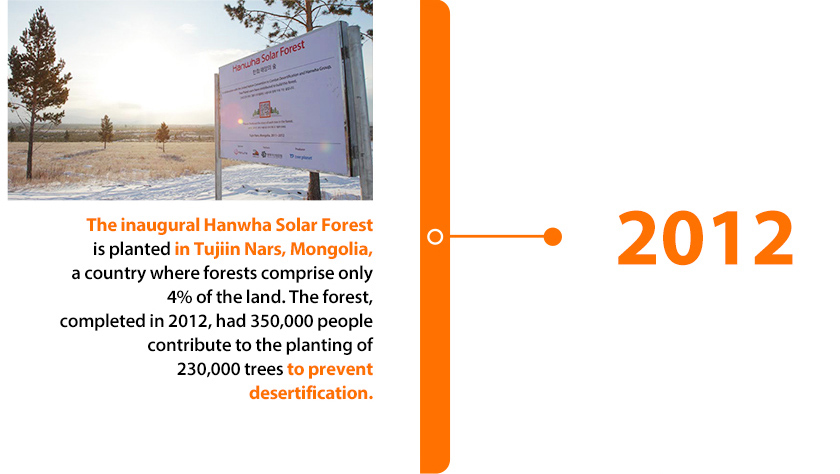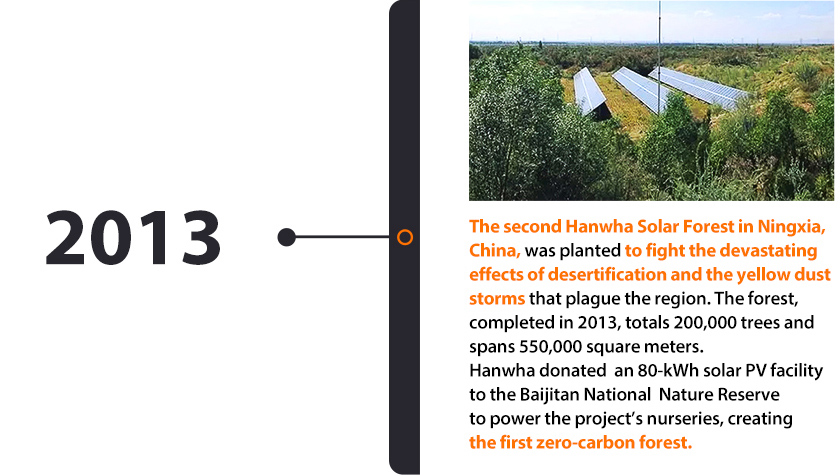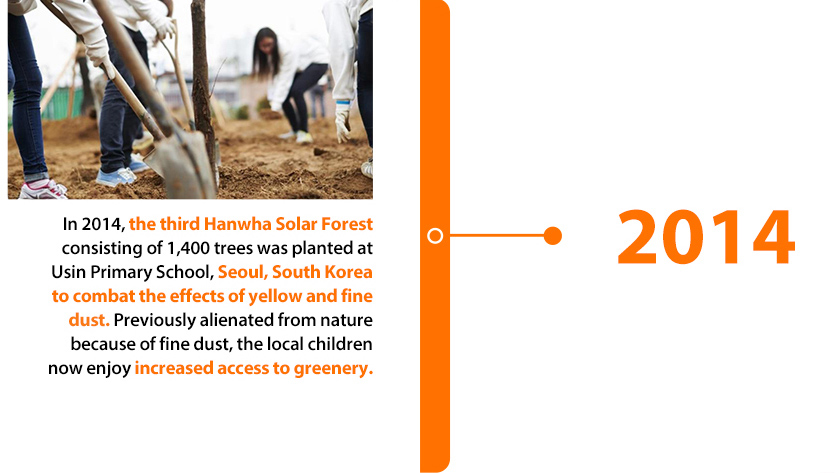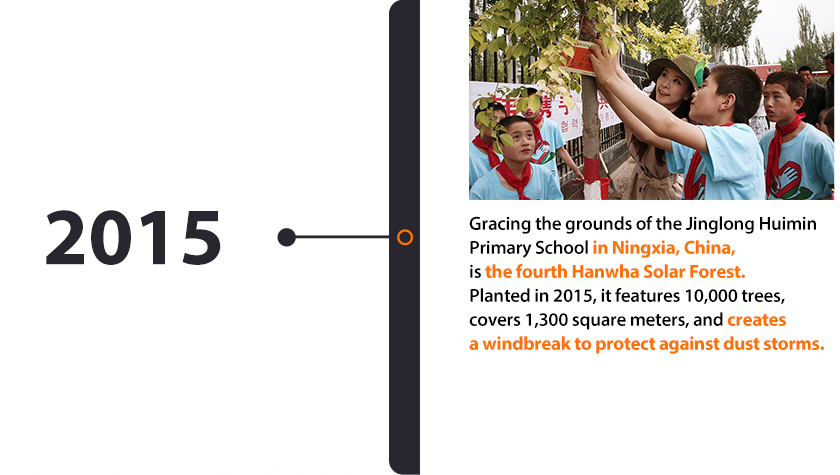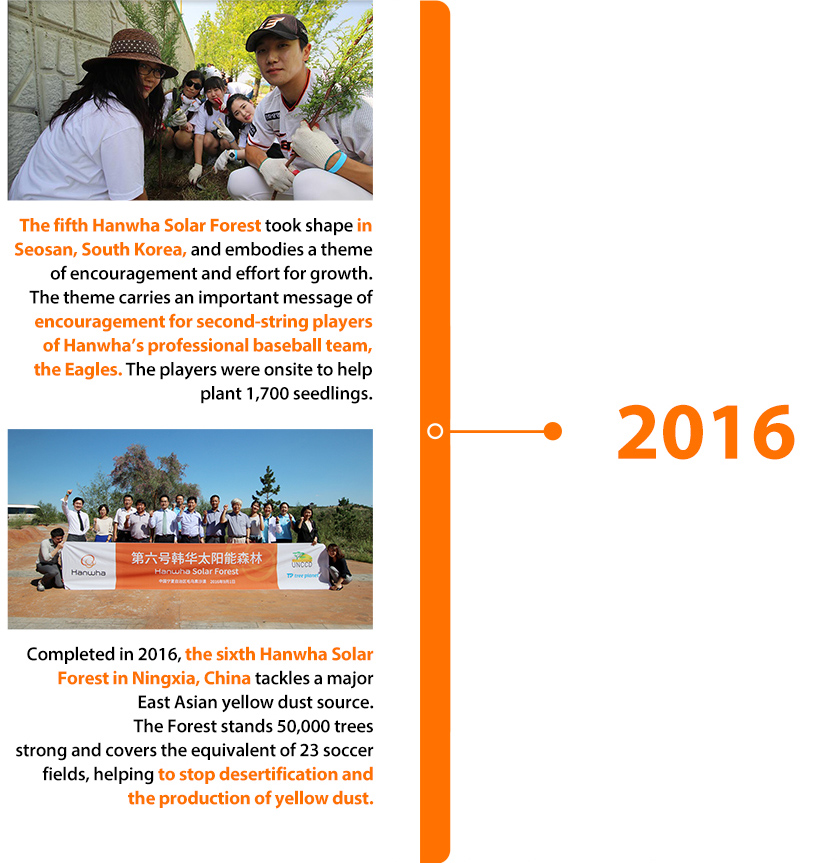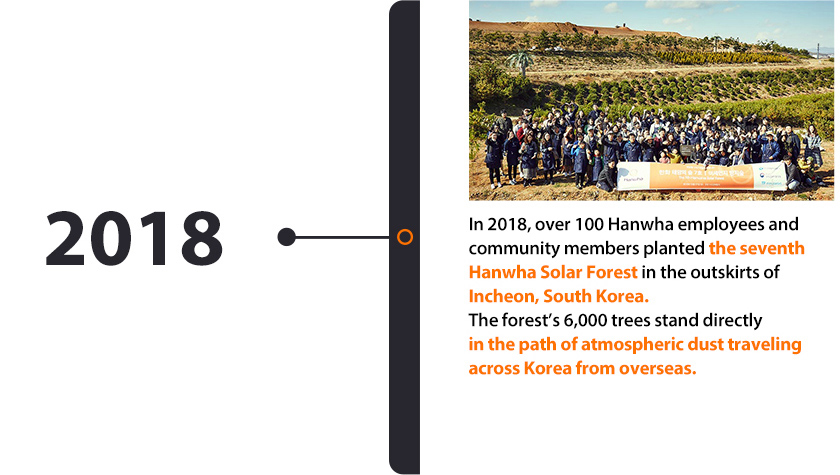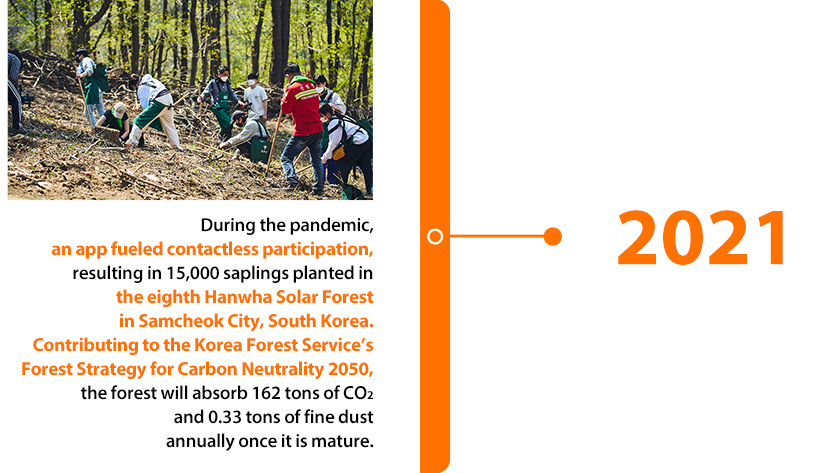 Inspiring Climate Action with Greener Practices and Public Engagement
To commemorate its 10-year anniversary in June 2020, Hanwha launched an upgraded version of the campaign's mobile application, Solar Forest. The mobile app successfully spreads awareness and keeps the public engaged, incentivizing participants to plant trees virtually.
At the time, the 8th Solar Forest could have been halted due to the impact of the COVID-19 pandemic. However, Hanwha was able to use the unique circumstances to create its most impressive forest yet with the support of the Solar Forest app. Hanwha was able to engage the public in the project virtually, providing them with a contactless way to engage with the campaign. Participants were encouraged to nurture and grow virtual trees within the app, with Hanwha promising to match every virtual tree with a real one planted in a designated region.

Designing Hanwha Solar Forest as a sustainable, carbon-neutral initiative underscores Hanwha's commitment to ushering in a greener future for all. Creating a genuinely carbon-neutral forest by using solar energy to mature saplings is a remarkable achievement that sets the standard for afforestation efforts. Hanwha continues to find ways to utilize solar power and other green energy sources to improve our world and positively impact the global community.
At its core, the goal is to reforest vulnerable regions without causing further harm to the environment by way of carbon emissions. Using solar energy to replace harmful fossil fuels made the dream of an eco-friendly, carbon-neutral forest a reality.
Contact Us
Thank you for your interest in Hanwha.
Please contact us for your inquiries.
Email Us
Information Message
Please enter your email address.
Information Message
Please enter a correct email address.
Information Message
Thank you for your newsletter subscription.
Your email account has been successfully registered.