Hanwha Corporation
Since Korea Explosives was established in 1952, Hanwha Corporation has been leading the domestic explosives and related industries for more than 70 years, fortifying the foundation for Hanwha Group's growth. In November 2022, we merged with our subsidiary Hanwha Engineering & Construction and reorganized the business into three divisions: Hanwha Corporation/Global, Hanwha Corporation/Momentum and Hanwha Corporation/Engineering & Construction. Each division will strengthen growth engines and raise its profile at home and abroad by developing high value–added technologies, entering new businesses and expanding overseas businesses. In March 2022, we acquired stakes in REC Silicon, a Norway–based U.S. polysilicon manufacturer, as we expand our business into core materials for semiconductors and secondary batteries.
Global

Petrochemicals, inorganic compounds, materials for eco-friendly energy, industrial explosives products, fireworks, domestic and overseas mining services

Momentum

Secondary battery production equipment, solar cell and module manufacturing equipment, display manufacturing and logistics equipment, collaborative robots, factory automation (autonomous guided vehicles, automated warehouses, logistics centers)
Global

By leveraging our extensive operating synergies, business networks and more than seven decades of experience in explosives, Hanwha Corporation/Global has transitioned into chemical technology–based solutions, effectively meeting the challenges of energy and the environment.

Our industrial explosives products are essential for a range of construction and resources development. Our experience, knowledge and technology are leading domestic and overseas explosives markets with competitive and quality products supported by stable distribution networks. We also provide electronic detonators and unique blasting systems that provide customers with safe, economical and efficient blasting solutions. In addition, we operate a fireworks business that lights up the night sky at major national and regional events.

We are achieving steady revenue in trading by focusing on polymers and monomers. Going forward, we will expand our business model into eco–friendly energy sources, such as ammonia and hydrogen. We expect to continue efforts to localize next–generation materials, such as silicon gas, a material used for semiconductors and secondary batteries, as well as eco–friendly derivatives that help reduce global warming. By commercializing inorganic compounds, we will secure new growth engines, such as high value–added derivatives using nitric acid and a hydrogen infrastructure.
Momentum

Hanwha Corporation/Momentum was established in 1953, and, today, its deep experience and cutting–edge technology leads the global machinery & equipment industry. We produce high value–added machinery & equipment while exploring new business opportunities that focus on heat treatment, vacuum deposition processing, logistics, ICT and robotics.

Both domestically and internationally, we provide market–proven turnkey solutions for battery companies that include the materials, electrodes, assembly and formation processes. We are further manufacturing specialized facilities for photovoltaic cells and modules using our vacuum deposition technology, a core technology of photovoltaic cell process equipment. Our infrared heating oven for LCD/OLED, a display manufacturing equipment, maintains the world's No. 1 market share with differentiated technology. In addition, we provide total solutions for the semiconductor industry with clean type automated logistics optimized for customer requirements.

We also lead the logistics automation industry with advanced factory and warehouse automation technology that we've been developing for the past 46 years. Our automation business is stronger than ever. We successfully completed the world's first system to automate the entire tire production process. We ensure higher productivity and automated innovation by developing collaborative robots and autonomous guided vehicles for logistics centers and automated warehouses. In the renewable energy business, we are leading domestic renewable energy plant construction with differentiated construction and operational services capabilities.

With rigorous R&D and innovation, as well as development of our high value–added product portfolios and market entries overseas, Hanwha Corporation/ Momentum is on track to be a global leader in machinery & equipment as well as a total engineering solutions provider.
Engineering & Construction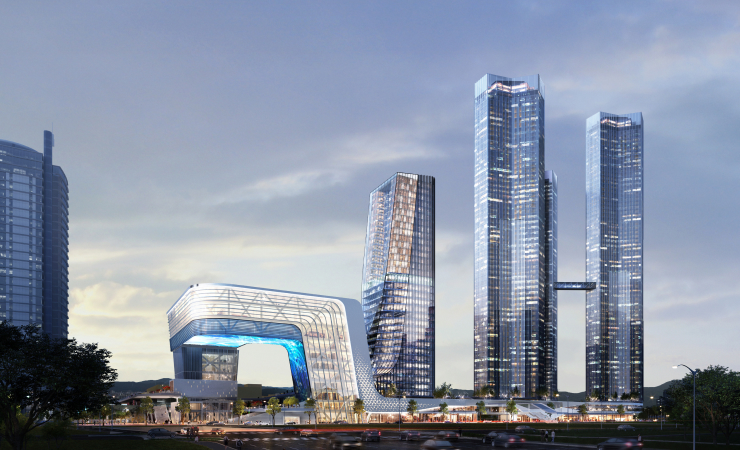 Originally Taepyeongyang Construction, Hanwha Engineering & Construction was founded in 1967. In 2022, the company became Hanwha Corporation/Engineering & Construction, a division of Hanwha Corporation. From the start, we quickly became a global player by leveraging extensive experience in construction projects and applying new technologies and subject matter expertise across a wide range of projects, from industrial, chemical and power plants to civil engineering works, commercial buildings and more. With the goal of becoming a Green Infrastructure Developer, we are growing into a leader in building eco-friendly energy and environmental facilities as well as large–scale complex developments.
Recently, we have moved beyond constructing simple buildings to focus on complex development projects that combine residential, cultural, business, leisure, commercial and social infrastructures. The Suwon MICE Multi Complex for example, is a flagship urban development project with multifunctional buildings, including a convention center, an aquarium, a department store, a hotel and one of our FORENA residential complexes. In addition, we are creating distinctive urban spaces and multifunctional complexes, such as the northern area of Seoul Station, the eastern part of Daejeon Station, the Suseo Station Transit Center Complex and Seoul's Jamsil Sports Complex in South Korea.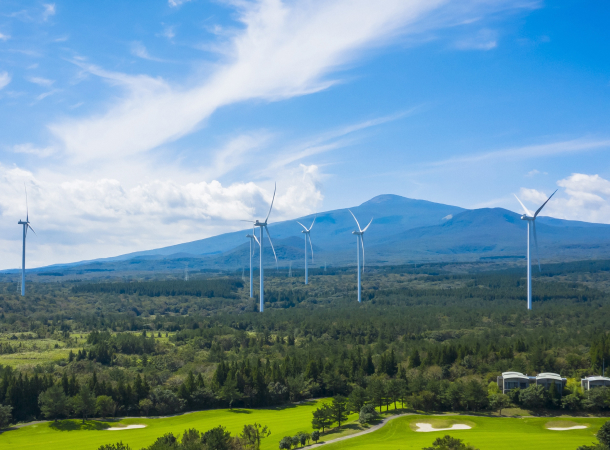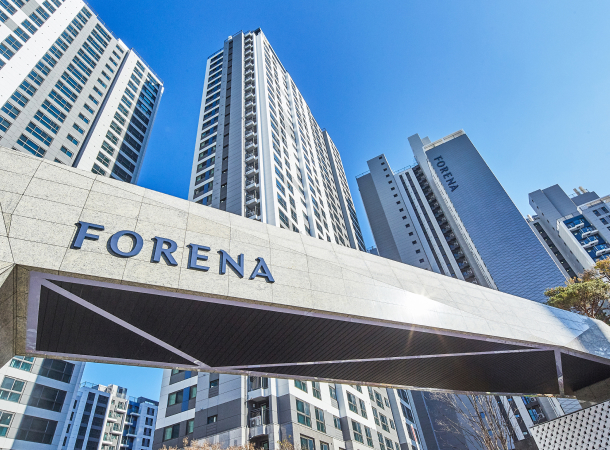 We're nurturing the wind power business as a future growth engine. After building a 76MW wind farm in Yeongyang and a 25MW farm in Jeju Sumang, we are expanding to offshore business. We are leading development of the nation's largest 400 MW offshore farm in Sinan.

Sharpening our competitive edge in hydrogen energy, we built the world's largest industrial hydrogen fuel cell power plant and were the first to exclusively use hydrogen recycled from petrochemical manufacturing in the Daesan Industrial Complex. In addition, we are preparing for net zero by developing hydrogen production technology that uses wastewater sludge and waste plastic–based pyrolysis oil.

In environmental facilities, we developed the nation's first advanced membrane filtration water treatment technology and sewage water treatment technology. By harnessing eco–friendly advanced technology, we are raising the bar for water treatment facilities from construction to operation, such as the modernization project of the Daejeon sewage treatment plant, the largest private investment for a sewage treatment plant in South Korea.

In residential sector, since its launch in 2019, our residential brand FORENA has been established as a premium brand in the South Korean housing market. We are building landmark residential complexes in the nation's major cities.

Bismayah New City is a USD 10.1 billion project, the largest urban development in Iraq's modern history, and the first overseas project of its kind developed by a South Korean company. The city will be the world's largest urban construction with infrastructure facilities that support 100,000 households, schools, government offices and roads as well as social infrastructure, such as water and sewage facilities. In 2014, we demonstrated our technological prowess by successfully building the world's largest domed arena in the Philippines. We are also building power and petrochemical plants in the Middle East and North Africa.
For more information, please visit:
Related Affiliates
Hanwha's businesses span aerospace, ocean & mechatronics, materials, green energy, finance, retail & services. Through the integration of our growing number of affiliate enterprises worldwide, we are harnessing the power of sustainable, quality growth to continually increase the value we bring to our customers.