Products & Services > Affiliates > Hanwha Eagles
Hanwha Eagles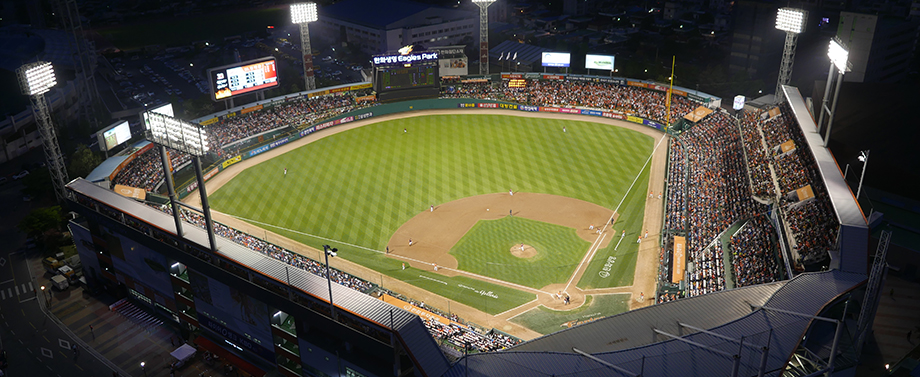 The Hanwha Eagles were founded as the seventh Korea Baseball Organization (KBO) club in 1985.
The Eagles' home ballpark is the Hanwha Life Eagles Park located in Daejeon, South Korea, making the club the highest-profile sports organization in the Daejeon and Chungcheongnam-do region. Founded as the Binggrae Eagles in 1985, the club changed its name into the Hanwha Eagles in 1993.
Winning their first Korean Series championship in 1999, the Hanwha Eagles are one of KBO's leading teams, with five seasons as the runner-up of the Korean Series including in 2006.
The Eagles became the first team in Korean baseball history to advance into the playoffs three years
in a row, from 2005 to 2007, and members of the team formed the backbone of Korea's national baseball team that wowed fans by reaching the final four in 2006 and placing second in 2009 in the World Baseball Classic games. The club has produced many legendary players throughout its history, including Hyun-Jin Ryu, the first ever KBO player to go directly to MLB.
As one of the top pro baseball teams in Korea, the Hanwha Eagles always strive to return the love and dedication shown by their fans. The Eagles brought in Kim Sung-keun as the team's manager in 2014, taking the team's performance to the next level and winning new fans. The Hanwha Eagles always aim to bring the highest level of enjoyment to their fans and local community by fielding their best performance each and every game, regardless of what the scoreboard says. Off the field, the team is devoted to a wide variety of corporate social responsibility activities and is a key partner in efforts to develop
local communities.
For more information, please visit :