Products & Services > Affiliates > Hanwha Galleria Timeworld
Hanwha Galleria Timeworld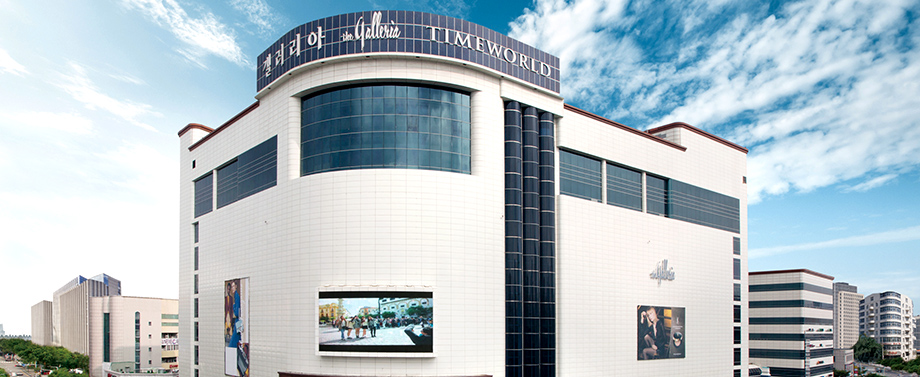 Hanwha Galleria Timeworld is the largest high-end department store in central province of South Korea. Our unique luxury brands, gourmet restaurants, and differentiated leisure facilities cater to seekers of premium lifestyle experiences and consumers of all ages.
Hanwha Galleria Timeworld, a subsidiary of Hanwha Galleria, primarily oversees department stores in the city of Daejeon.
Hanwha Galleria Timeworld is itself also the largest high-end department store in central province of South Korea. It is located in the metropolitan area of Daejeon city, where public institutions, financial companies, and large apartment complexes are concentrated. Hanwha Galleria Timeworld specializes in luxury fashion brands from around the world and it was the first of its kind in the region to feature brands such as Louis Vuitton, Gucci, and Prada. We're renowned as the premier high-end shopping destination in Daejeon, one of the largest cities in Korea.
We've subdivided expansive areas within the building for home living & décor shopping, experiencing culture, entertainment, and a maze of international gourmet restaurants to satisfy the interests and tastes of everyone young and old. In 2019, we expect to secure our status as the top department store in the central province of South Korea by launching additional luxury brands and renovating our group of restaurants. Timeworld West will focus on affordable fashion brands for trendsetting fashionistas while Timeworld East will be reorganized to offer exclusive signature product lines targeting more mainstream customers. We will also improve the exterior of our building with a differentiated design that will make it a Daejeon city landmark. Hanwha Galleria Timeworld is building on its local reputation to become a major department store recognized nationwide.
For more information, please visit:
Related Affiliates
Hanwha's businesses span chemicals & materials, aerospace & mechatronics, solar energy, finance,
leisure & lifestyle, and construction. Through the integration of our growing number of affiliate enterprises worldwide, we are harnessing the power of sustainable, quality growth to continually increase the value we bring to our customers.