Introduction
With robust online and offline platforms in retail & services, Hanwha sustains the lifestyles and dreams of customers. We plan to expand into developing large–scale complexes and change the view of urban living by using our accumulated design and operational capabilities as well as our technology and expertise to provide benefits for the public and achieve business success. We offer customers differentiated experiences in retail & services to enrich leisure and lives, from premium lifestyle department stores, luxury boutique hotels and high–end resorts to commercial complexes that showcase city living and culture. We expect to leap forward as a lifestyle platform company. By developing new and relevant content while strengthening the competitiveness of our existing businesses, we will create innovative experiences and value for daily lives.
Business in Focus
Hanwha Corporation/

Engineering & Construction

Korea's Leading

Construction Company

Korea's leading

Green
Infrastructure
Developer

in wind energy

Korea's

Largest

Resort Condominium

THE PLAZA

Tripadvisor's 2019

Best Luxury

Service Hotel in Korea

Galleria
Luxury Hall

Seoul's landmark

high-end shopping

destination
Business Highlights


COMPLEX DEVELOPMENT
Creating iconic complexes
After successfully completing the gleaming Suwon MICE Multi Complex and becoming a key player in developing large-scale urban projects, Hanwha Corporation/Engineering & Construction won the bid in 2021 to construct the new sports and convention complex on a 350,000-square-meter-site near Seoul's Jamsil Sports Complex that will become a new hub for Seoul's culture and business. As a striking new landmark in southern Seoul, the complex is expected to become a global venue for MICE (meetings, incentives, conferences and exhibitions) that will attract major international events and visitors. Along with developing the northern area of Seoul Station, we are creating distinctive urban spaces and multifunctional complexes that offer differentiated capabilities and performance and introduce new customer experiences, including a convention center, hotel, offices and a shopping center.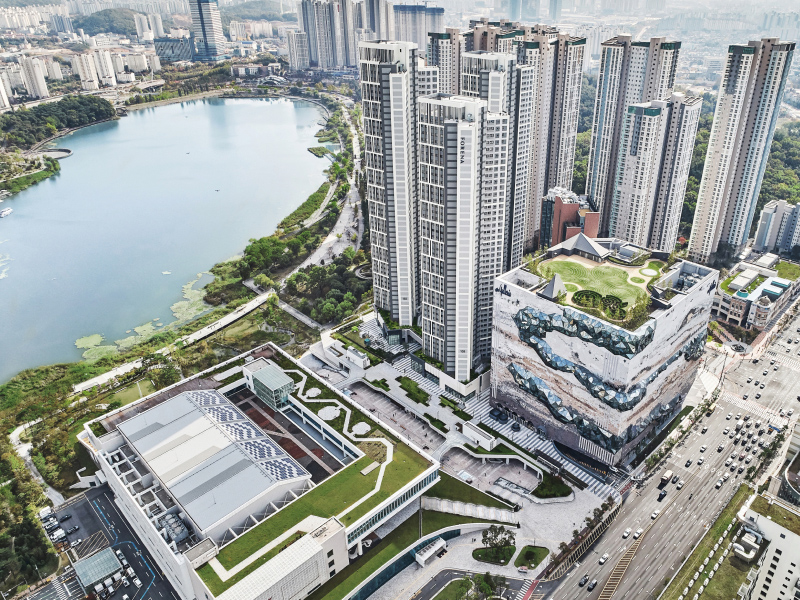 PREMIUM LIFESTYLE
Setting lifestyle and fashion trends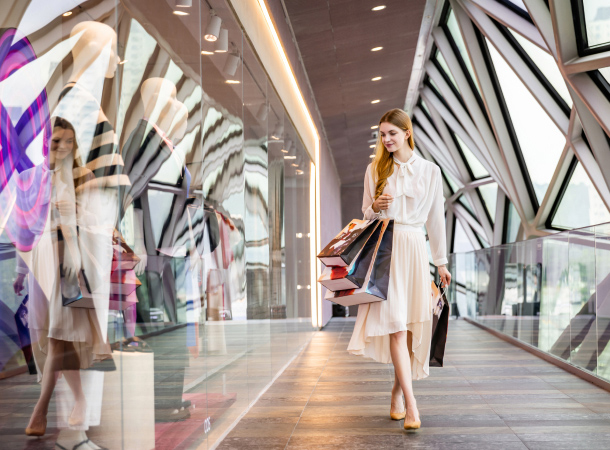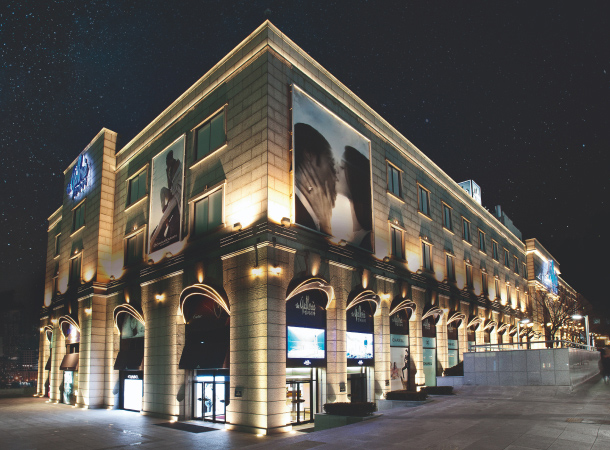 Stocked with luxury offerings, style options and up-to-the-minute trends, the Galleria is South Korea's premium department store chain. As we become the No. 1 premium content producer, we are creating exceptional platforms for online and offline stores. We provide differentiated customer experiences by incorporating timely lifestyle trends into our offerings, such as South Korea's first grocerant (grocery-restaurant hybrid) department store. We also launched Maison Galleria, the first-ever exclusive VIP lounge within a department store, while developing our own high-end brands, digitally transformed services, foods and beverages. We are dedicated to leading trends and offering unique customer experiences that no other retailer can provide.
LUXURY BOUTIQUE HOTEL
Staying in style and comfort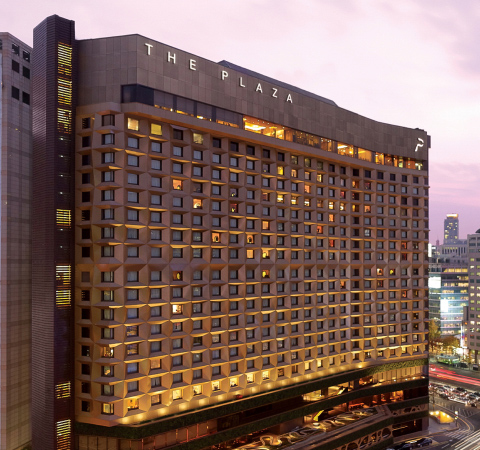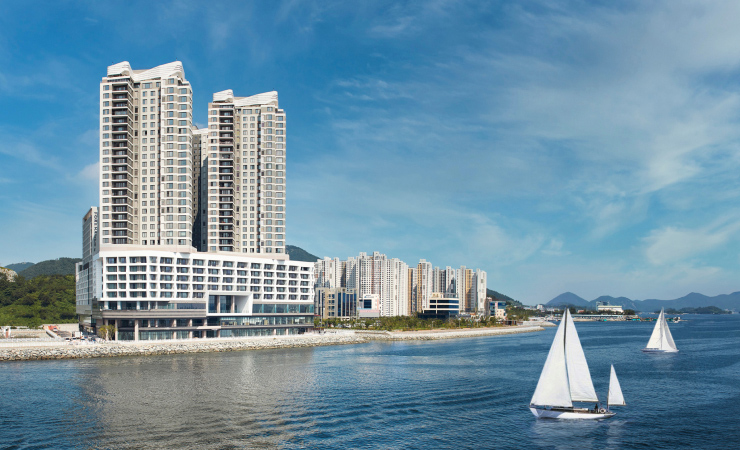 Located in the heart of Seoul, THE PLAZA is South Korea's most luxurious boutique hotel and considered one of the preeminent hotels in Asia. Near historical landmarks, including Deoksugung Palace and Gyeongbokgung Palace, and within walking distance of such major attractions as Gwanghwamun, Seoul Plaza, Myeongdong and Insadong, THE PLAZA is a first-class destination for tourists from around the world. THE PLAZA's services and location also draw premier business customers because the surrounding area has a large concentration of domestic and international financial institutions and multinational corporations. The 5-star hotel boasts refined design, impeccable service and top-of-the-line accommodations. It is the first hotel in Korea to join the Autograph Collection, Marriott International's premium portfolio of distinctive hotels. Our premium resort hotel Yeosu BELLE MER, launched in 2020, provides perfect oceanfront relaxation. We also launched the MATIÈ hotel brand in 2022, which is designed for Gen Z and Millennial trendsetters, that has already received rave reviews. To meet growing demands from younger consumers for more leisure activities and comfort, we expect to launch 10 or more MATIÈ franchised properties around the nation by 2030.
FINE STAYS, SPECIAL DESTINATION
Relaxing into luxury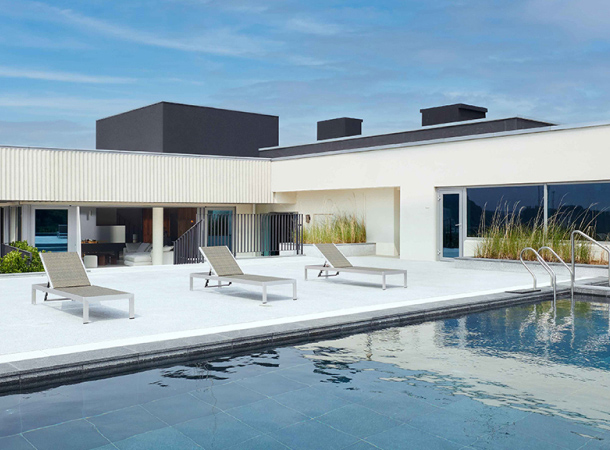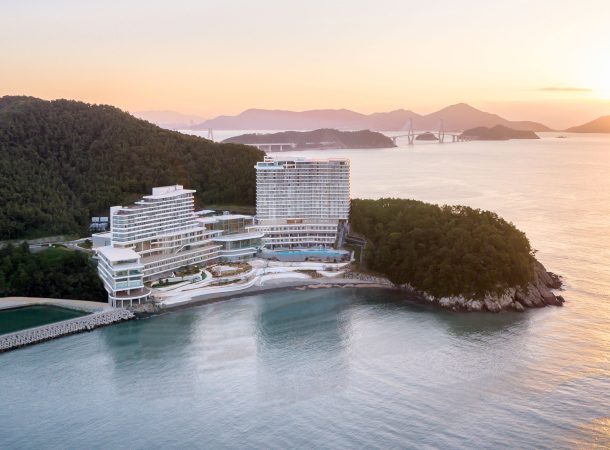 South Korea's leading premium leisure services company, Hanwha Hotels & Resorts provides customers with relaxation and comfort at various resorts and leisure facilities at home and abroad. Designed for exceptional convenience and friendly service, our remodeled resort complexes around the country encourage guests to connect with nature and relax in comfort as they enjoy unique, authentic and memorable experiences. Launched in 2018, our Geoje Belvedere is an upscale beachfront resort complex that offers guests a complete holistic experience. The seaside retreat immerses travelers in wellness and wellbeing. Nestled between a lush coastal mountaintop and an idyllic sea, the Belvedere is the ultimate destination where nature and luxury meet.
LIFESTYLE CENTER
Connecting life and culture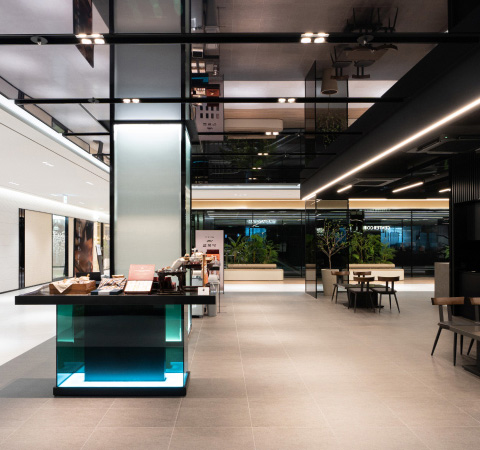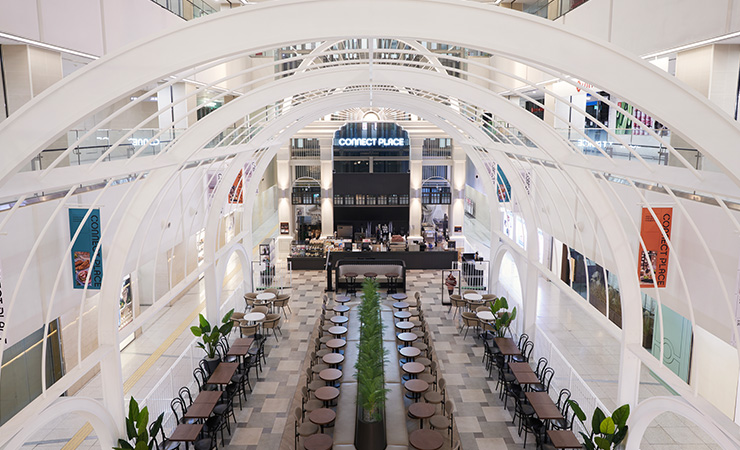 Experienced in developing and operating advanced railway stations, such as Seoul Station and Cheongnyangni Station, Hanwha Connect is a premier developer and manager of commercial complexes. We strive to realize our vision of providing new experiences and creating central spaces for the urban lifestyle by connecting various cultures and businesses. Part of that goal is enhancing our competitiveness by continuously renewing interiors and merchandising of each branch. In the future, we will expand our business by operating commercial facilities that surround Seoul Station and Daejeon Station, creating a model of growing together with the local community.
E&C Work Reference



Suwon Convention
Center

Suwon, Korea
2017 to 2020
Our Global Footprint
manufacturing JAPAN


marketing & sales CHINA, IRAQ, KOREA, KUWAIT,
SAUDI ARABIA, UAE, AND USA