Our Commitment
Our Commitment

's Commitment to Sustainability
At Hanwha, we are firm in our belief that the choices we make today will impact the world tomorrow.
Therefore, we develop practical solutions to global issues through our business, technological, and corporate activities.
As a leader for positive change around the world, we also pursue sustainable development opportunities.
Environmental Sustainability

With a sharp focus on the research and development of eco-friendly technologies, we are addressing urgent environmental issues such as climate change and air pollution by producing clean energy solutions to ensure a sustainable future.

Social Sustainability

We strive to make a positive impact on the global community through our corporate activities. To achieve this, we established a working environment that inspires professional development. We also began implementing a healthier work culture and supporting social sustainability through better compliance management and participation in social impact activities.

Economic Sustainability

As the Fourth Industrial Revolution advances, we will stand at the forefront of technological innovation that will form the foundation for sustainable industrial and economic development.
United Nations' Sustainable Development Goals (SDGs)
Countries and organizations around the world have rallied around the United Nations' Sustainable Development Goals (SDGs): a set of interconnected objectives to "achieve a better and more sustainable future for all" by 2030. Cross-sector collaboration – economic, socio-political, and environmental – is crucial to achieve the 17 SDGs and their 169 development targets.

's SDG Support
Hanwha is a firm supporter of the UN SDGs, particularly those we can address directly through our business and social impact activities. Our primary areas of focus are SDG 7 (Affordable and Clean Energy), SDG 12 (Responsible Consumption and Production), SDG 13 (Climate Action), SDG 15 (Life on Land), and SDG 17 (Partnership for the Goals).
Some of the ways Hanwha contributes to the SDGs include:

Solar energy
Hydrogen energy
Eco-friendly mobility
Hanwha Happy Sunshine
Solar power system donation to Jukdo, Korea

Hanwha DREAMPLUS
Hanwha Science Challenge

Researching and development of eco-friendly materials and plastics
(such as ECO-DEHCH plasticizer,
bioplastics, etc.)

Shared-Growth and Fair-Trade
Agreements with small-to-medium
business partners
Co-prosperity funds and private
equity funds for mutual growth

Solar energy
Hydrogen energy
Eco-friendly mobility
Clean Up Mekong
Hanwha Happy Sunshine

Partnering with international organizations, including the World Economic Forum, United Nations Convention to Combat Desertification, and Global Green Growth Institute, and Partnering for Green Growth and the Global Goals 2030 (P4G)
Corporate Compliance
One of our fundamental beliefs is that all business must be conducted with integrity.
Based on our corporate philosophy of "Going further together," we actively work to foster trust within our workforce and ensure corporate compliance and transparency.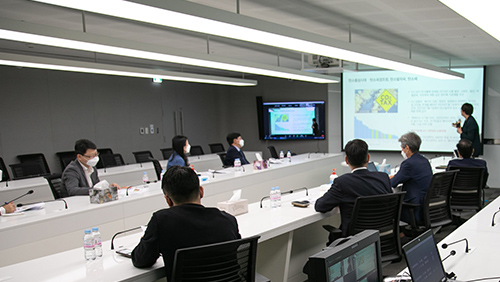 Integrity has been a core Hanwha value since our inception. To better reflect this, we established the independent Hanwha Compliance Committee in 2018. The committee's aim is to create a clearer and more ethical management culture.
Unconnected to our businesses, this committee is composed of Hanwha employees and outside experts who provide an objective perspective on our activities. The committee members evaluate our corporate activities and propose solutions for conflict-of-interest issues. The committee is also responsible for setting global compliance policies and educating our workforce to make sure we follow all necessary rules and regulations.

's Structure and Roles
Structure

To maintain independence, objectivity, and fairness, three of the five Hanwha Compliance Committee members are external experts.
The committee receives quarterly reports on major compliance issues so that it may deliberate and decide on the best courses of action.

Role

The committee is responsible for establishing Hanwha's global compliance policies.
It also supports and reviews compliance implementation at each Hanwha business.

Duties