Hanwha Q CELLS USA Receives Indiana Governor's Environmental Award
- Solar farm constructed in 2014 on contaminated land in Indiana
- Hanwha Q CELLS offers new model for using environmentally-compromised
land to generate clean energy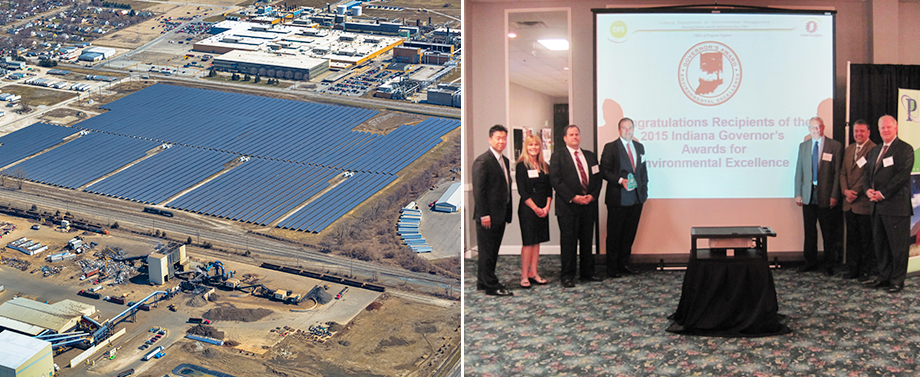 [1 October, 2015] Hanwha Q CELLS (CEO Seong Woo Nam) was awarded the Indiana Governor's
Award for Environmental Excellence in Indianapolis on September 30.
Hanwha Q CELLS USA built a 10.9 MW solar farm in Maywood near Indianapolis, Indiana, in April of 2014. The land on which the solar power generation facility was build was designated as a "Superfund Site"
by the United States Environmental Protection Agency (USEPA), which classifies an environmentally contaminated site that is subjected to monitoring after the completion of environmental improvement. Hanwha Q CELLS USA built its solar power generation facility on this reclaimed site.
Hanwha Q CELLS USA received the Indiana Governor's Award for Environmental Excellence
in Indianapolis in recognition of the company's contribution in establishing a new milestone in the development of Superfund Sites, by transforming contaminated land that has been abandoned into a solar power facility that can generate clean, eco-friendly energy.
President of Hanwha Q CELLS USA Cha Moon-hwan said that "Hanwha Q CELLS has acquired the know-how for constructing solar power facilities in contaminated areas that have been abandoned for extended periods, and the recent award from the state government of Indiana is an acknowledgement
of our facility as a model for environmentally-friendly enterprises in the United States," adding that the company has "received numerous inquiries about constructing solar power generation facilities in chemically-contaminated areas and landfills" to indicate that Hanwha Q CELLS plans to continue to engage in construction projects that reclaim contaminated and abandoned land.
A spokesperson for the USEPA stated that "the Maywood solar power facility is an important case study
in finding a solution for new and renewable energy development using Superfund Sites."
Total CO2 savings from the 10.9 MW solar power generation facility amounts to 13,235 tons per year, equivalent to the carbon emissions of 1,800 households.

Hanwha Q CELLS
Hanwha Q CELLS is a total solar power solution provider with the world's largest cell
production capacity. We are at the center of the Hanwha Group's solar business, with a business scope ranging from the midstream of ingots to cells and modules to downstream solar solutions for residential, commercial buildings, and solar power plants. Our full spectrum of products creates synergy with Hanwha Chemical's polysilicon business and Hanwha Q CELLS Korea's power plant business. This completes the total vertical integration of Hanwha's solar businesses.Hanwha Q CELLS is a flagship company of Hanwha Group, a Top-Ten business enterprise in South Korea.

Hanwha Group
Hanwha Group, founded in 1952, is one of the Top-Ten business enterprises in South Korea
and a "FORTUNE Global 500" company. Hanwha Group has 56 domestic affiliates and 226 global networks in three major sectors: manufacturing and construction, finance, and services and leisure.
With more than 60 years track record of industrial leadership, Hanwha's manufacturing and construction businesses encompass a broad range of fields from chemicals & materials, aerospace & mechatronics, total solar energy solutions, and global construction. The finance network, covering insurance, asset management and securities, is the second largest non-bank financial group in South Korea. The services and leisure sector offers premium lifestyle services with retail and resort businesses.

For more information, visit: www.hanwha.com