Hanwha Q CELLS and Martifer Solar Team Up
in 30 MW Module Supply
- 11 MW of Q.PRO modules already utilized in power plant in France
- Europe's largest PV provider expands its presence on the French PV market
- Q CELLS offers French installers long-term co-operation, service and financial stability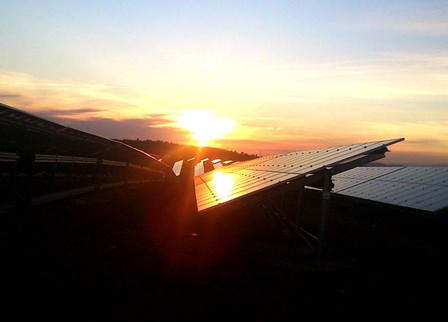 [Ginasservis, France, Thalheim, Germany, 19 June, 2014] Hanwha Q CELLS, Europe's largest PV provider headquartered in Germany, today announced the supply of more than 42,000 modules of its Q.PRO-G3 series for an 11 MW solar farm in South of France. As one of the world's leading solar companies Hanwha Q CELLS has teamed up with Martifer Solar for the project. Moreover both companies expand their co-operation in Europe by collaborating on more than 30MW module supply of Q CELLS solar modules
in different European countries.
"We are satisfied with the commitment and quality of Q CELLS modules and look forward to continue collaborating in our future PV plants. Martifer Solar is prepared to develop and maintain key strategic partnerships in order to advance our business model and drive down the LCoE in post-FIT markets such as France." said Bernardo Mota Veiga, Head of Manufacturing, Purchasing & Trading of Portugal-based Martifer Solar. And Hanwha Q CELLS' Key Account Manager for Portugal, Luis Perez, added, "We are glad to supply our 'Engineered in Germany' solar modules for another PV project of Martifer Solar in Europe." Martifer Solar was responsible for the engineering, procurement and construction (EPC) of the 11 MW solar farm in the south of France and will manage the subsequent operations and maintenance (O&M). The PV park has been installed in just ten weeks' time on an area of approximately 200,000㎡. The ground-mounted plant will generate an estimated 17 GWh of clean energy per year; enough to power approximately 1,860 local households and save approximately 1,345 tons of carbon emissions each year.
Q CELLS strengthens its position in France
After opening its first office in the country at the end of March 2014 Hanwha Q CELLS now strengthens its position on France's PV market through the 11MW plant and the module supply agreement with Martifer Solar. "France is one of Hanwha Q CELLS' focus markets in Europe. And we are consistently gaining market share in France." said Philippe Pflieger, Hanwha Q CELLS' Head of Sales France. According to analysts at NPD Solarbuzz, France will be one of the recovering European PV markets this year next to Germany, the U.K. and Italy. According to Davide Pacheco, Country Manager of France for Martifer Solar, "This accomplishment contributes to the clear path set by recently appointed French Energy Minister for green growth in the country, where solar energy is undoubtedly an affordable and competitive solution."
Hanwha Q CELLS offers installers long-term cooperation, service and financial stability
in France
Moreover, in an independent study among high-volume installers in France, Germany, the UK and Italy, the Q CELLS brand generally achieved the best results in comparison to other manufacturers ("Top Brand PV Europe 2014" says market researcher EuPD Research). Europe's largest PV provider, Hanwha Q CELLS, is aiming at beginning new partnerships with medium-sized and large-scale installers in France. "Thanks to its high irradiation PV makes a lot of sense in France's sunny regions." added Philippe Pflieger. "We should be able to provide a "full system" C&I kit to the installers in Q4 2014." With a strengthened team and the new office the company is offering an on-site service throughout the entire country as well as a long-term cooperation and financial stability.
For more information:
Hanwha Q CELLS GmbH

Sonnenallee 17-21
06766 Bitterfeld-Wolfen (OT Thalheim), Germany
Corporate Communications

Jochen Endle, Robert Reinsch
Tel: +49 (0)3494 6699 10121
Email: presse@q-cells.com
Executive Board

Hee Cheul Kim (CEO), Kye Chun Son (CFO),
Dr. Andreas v. Zitzewitz (COO), Koo Yung Lee (CCO)
Hanwha Q CELLS
In February 2015 Hanwha Q CELLS Co., Ltd. (NASDAQ:HQCL) emerged as a new global solar power leader from combining two of the world´s most recognized photovoltaic manufacturers, Hanwha SolarOne and Hanwha Q CELLS. The combined company is listed on NASDAQ under the trading symbol of HQCL.
It is headquartered in Seoul, South Korea, (Global Executive Headquarters) and Thalheim, Germany (Technology & Innovation Headquarters) and is the world's largest solar cell manufacturer as well as one of the largest photovoltaic module manufacturers. Due to its diverse international footprint including facilities in China, Malaysia, and South Korea, Hanwha Q CELLS is in a unique position to flexibly address all global markets, even ones with import tariffs, such as the United States and the European Union. Based on its well respected "Engineered in Germany" technology, innovation and quality,
Hanwha Q CELLS offers the full spectrum of photovoltaic products, applications and solutions, from modules to kits to systems to large scale solar power plants. Through its growing global business network spanning Europe, North America, Asia, South America, Africa and the Middle East, the company provides excellent services and long-term partnership to its customers in the utility, commercial, government and residential markets. Hanwha Q CELLS is a flagship company of Hanwha Group,
a FORTUNE Global 500 firm and a Top-Ten business enterprise in South Korea.

For more information, visit: investors.hanwha-qcells.com
Hanwha Group
Hanwha Group, founded in 1952, is one of the Top-Ten business enterprises in South Korea
and a "FORTUNE Global 500" company. Hanwha Group has 56 domestic affiliates and 226 global networks in three major sectors: manufacturing and construction, finance, and services and leisure.
With more than 60 years track record of industrial leadership, Hanwha's manufacturing and construction businesses encompass a broad range of fields from chemicals & materials, aerospace & mechatronics, total solar energy solutions, and global construction. The finance network, covering insurance, asset management and securities, is the second largest non-bank financial group in South Korea. The services and leisure sector offers premium lifestyle services with retail and resort businesses.

For more information, visit: www.hanwha.com
Martifer Solar
Martifer Solar is a leading fully-integrated player in the global photovoltaic market focused on Development, EPC and O&M Service. The company is based in Portugal and has presence in Europe (Spain, Italy, Greece, Belgium, France, Czech Republic, Slovakia, United Kingdom, Germany, Romania and Ukraine), North and Latin America (United States, Canada, Mexico, El Salvador, Chile, Brazil and Ecuador), Africa (Cape Verde, Mozambique and South Africa) and Asia (India, United Arab Emirates, Singapore and Japan). In 2013, Martifer Solar's revenues reached 274.7 million euros and, to date, the company has implemented more than 500 MW of photovoltaic solar energy worldwide.

For more information, visit: www.martifersolar.com