Powering Tomorrow Through Sustainability
Learn How Hanbit Kim is Creating a Sustainable and Inclusive
Tomorrow With Hanwha Solutions Chile
Spotlight on Hanwha Solutions Chile's

Hanbit Kim
Hanwha Solutions Chile
Business Development Manager
The Powering Tomorrow Through Sustainability series features interviews with the seven Hanwha employees selected as Gold Prize Winners in the company's recent internal campaign commemorating Hanwha's 70th anniversary. These employees strive to incorporate Hanwha's core brand values of sustainable and inclusive growth, technology and solution-driven innovation, and enhancing lives into their careers as they work to build a more sustainable future.

Hanwha sat down with Hanbit Kim from Hanwha Solutions Chile to learn more about how the company is working to provide local communities in Chile with sustainable, green technology.
"My passion and vision to contribute to the creation of a more sustainable
world and raise awareness to the community to make a better world led me to
work with Hanwha Solutions Chile."
Impassioned by the goal of creating a more sustainable world, Hanbit Kim, an employee of Hanwha Solutions Chile, has been diligently working to achieve this vision. Since joining the company five years ago, Hanbit has been responsible for project management and business development, bringing green technology to local communities in Chile and supporting their transition to clean energy.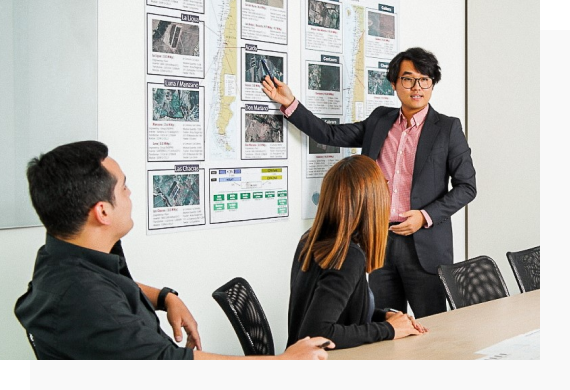 Hanwha Solutions, together with its subsidiaries, including Qcells, offers a comprehensive range of solar solutions that cover the complete solar supply chain. The company's upstream activities include producing raw materials such as polysilicon, ingots, and wafers. Its midstream operations include the production of solar cells and modules, and its downstream operations include renewable energy power plant development, construction, operation, and energy retail services. The company continues to grow its global network and bring solar energy to new markets around the world, including Chile.

Hanwha Solutions entered the large-scale power plant market in Chile in 2014 and has been investing in and securing new solar projects across the country since then, aiming to provide the Chilean people with innovative PV solutions and reliable solar energy. In furthering new business across the region, Hanbit and his team at Hanwha Solutions Chile work with local governments, organizations, and communities in order to ensure everyone enjoys the benefits of clean energy.




To achieve the goals in its Energy 2050 plan, Chile's government has sought cooperation with numerous companies like Hanwha Solutions that possess industry-leading green technology and the know-how to create a low-carbon future. Hanbit notes that "the main objective is to secure mutual benefits with the Chilean central and local governments by ensuring the trust, support, and growth of the local communities."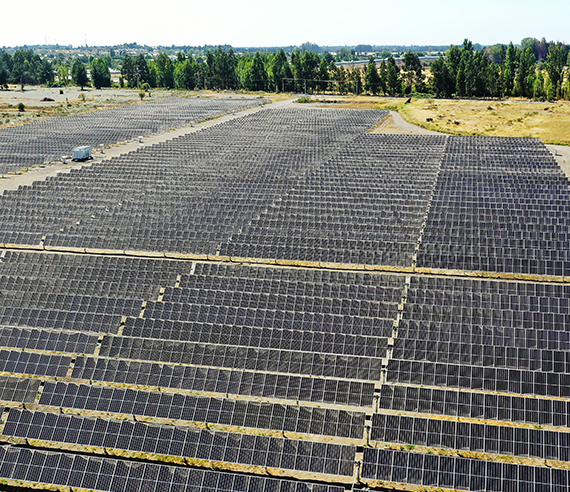 To ensure such cooperation, Hanbit's role in project development is essential. "We want to make sure we comply with the environmental management and work to create an eco-friendlier industrial ecosystem," Hanbit explained. By doing so, Hanwha Solutions can develop new, innovative solar projects that both run on renewable energy and work to grow the surrounding communities.

Hanbit enjoys working with a variety of people from the 16 different regions of Chile when developing new projects, as he is able to learn about and experience the rich culture and diversity of the country. "I must engage and meet all types of groups and communities and I can say this is one of the things that I consider my favorite part of my job," Hanbit said. He also likes being able to see the fruits of his team's labor in real time as he partners with local communities on project development.

Hanbit recounted a lighting project his team completed in the south of Chile, helping to improve the community with Hanwha Solutions' innovative, sustainable technology. He was the lead negotiator of the project and worked with local governments to help the project achieve success.


"I met with the local government major, counsel, and the administration to help them get the zone, with the ultimate goal of giving the people a better place to live," he explained. "[The project] was very well received, as the public lighting was powered by green technology from our company."

Hanbit experienced the satisfaction being able to deliver real change to the community at large together with his team at Hanwha Solutions Chile. "It was a meaningful project because there were so many positive impacts to the whole community," he stated.
"Not only does our green technology and
innovation provide economic growth to our
company, but it also impacts and enhances lives."
Projects such as these promote Hanwha's brand value of sustainable and inclusive growth — the brand value Hanbit identifies with most closely. "Not only does our green technology and innovation provide economic growth to our company, it also impacts and enhances lives," he explained. True sustainability helps lift up all members of the community, exemplifying the nature of inclusive growth that Hanwha Solutions aims to achieve.

Hanbit is proud to be a part of the Hanwha Solutions Chile team and has formed a close relationship with his coworkers. When asked about the best part of the company's culture, Hanbit cited the working environment, explaining the positive influence this has on the work his team does. "I consider my colleagues a part of my family. Because of this, everything is positively affected," he said.

As it expands further into Chile, South America, and the world, Hanwha Solutions is playing a crucial role in the global energy transition by ensuring its solar energy projects both better the environment and local communities. The tireless efforts of Hanwha employees like Hanbit Kim incite real change around the world as they take the company's brand values of sustainable and inclusive growth to heart, bringing a better, greener future closer to fruition.