New Year's Greetings from Global Offices
Please click the pictures to see the greetings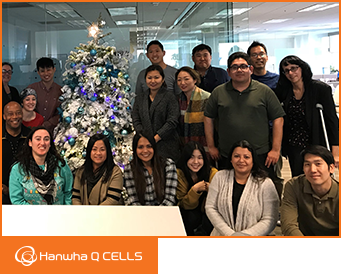 Those of us at Hanwha Q CELLS America, Hanwha Q CELLS USA, and 174 Power Global would like to wish you a Happy New Year!
We wish you all the joys of the season and every happiness throughout the coming year. Happy 2018!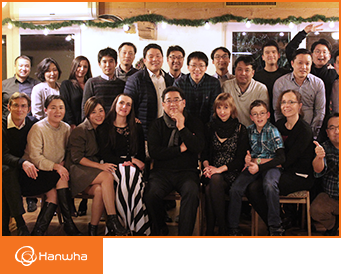 The photo is from our Christmas Party from the whole
Hanwha Europe GmbH. A message from our Managing
Director Mr. Ku, Ja Bong:
We want to thank you for showing so much love and appreciation for Hanwha Europe this year. We would like to ask for your continuous support in 2018 and wish all of our Hanwha family health and happiness in the New Year.
We will try our best to further ignite Hanwha's "fireworks" in Europe. Let's go Hanwha!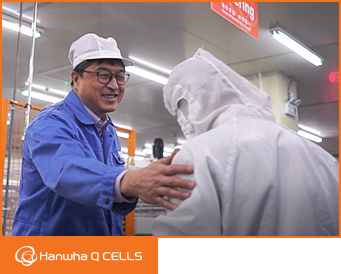 New Year's Message From Kim Sang Hoon, Executive Director
and Hanwha Q CELLS Qidong Plant Manager
To my global Hanwha family:
The many challenges of 2017 have passed and we are now greeting a hopeful 2018. Speaking for all of us here at
Hanwha Q CELLS' Qidong Plant, I would like to wish you all
a Happy New Year. I hope that you will all have peace of mind
and much success in 2018.
Looking back at 2017, our Chinese factory, like all of our other affiliates, experienced a year of constant innovations. We successfully introduced single crystal solar cells onto the market. Our 6BB manufacturing line was modified in order to improve quality while simultaneously reducing costs in order to be profitable. Although there were many difficulties, we were able to achieve our goals thanks to our employees' dedication and ability to step up to the challenge spirits of 'challenge' and 'dedication'.
I would like to take this opportunity to share with you our goals for 2018: to post a profit of $60 million, produce up to 2.6GW of solar cells, and to also produce up to 2.5GW of solar modules.
Finally, I would like to thank the global Hanwha family for all of your hard work.
I hope that in the next year, all of us at Hanwha will work together to become the leader in all of our industries.
Have a Happy New Year!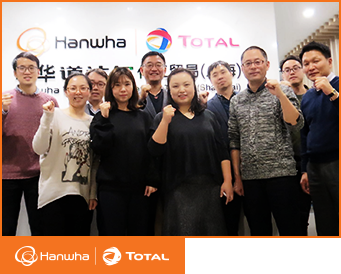 New Year's Greetings from SHTC
We bid farewell to the Year of the Rooster and welcome the Year of the Dog. As we greet 2018, everyone here at Hanwha Total Petrochemical Shanghai would like to wish you all a Happy New Year.
I hope all goes well for you and that the coming year will be filled with happiness and joy.

New Year's Greeting Message
Hello, my name is Chris Hickman.
I am the plant manager of the Opelika, Alabama division of Hanwha Advanced Materials America.
On behalf of everyone here, I would like to wish ALL of our Hanwha family around the world a safe, happy, and productive new year!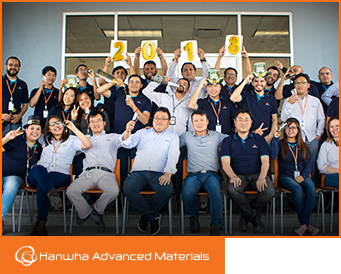 Hello, Hanwha Advanced Materials Mexico would like to wish you all a very Happy New Year!
We welcome a year that promises new challenges, trusting that we will be able to overcome them by working as a team, pooling our efforts to face every obstacle that presents itself, and sharing the happiness of every victory.
It would be difficult to summarize everything we want to achieve next year, but we believe that our main resolution will be to maintain the essence of our vision and values in our daily work.
With joy in our hearts, the Hanwha Advanced Materials Mexico team wishes you a ... Happy New Year 2018!

New Year's greetings from Jochen Endle, Hanwha Q CELLS GmbH.
Hello everyone! It's Jochen Endle from Hanwha Q CELLS.
2018 is upon us, and it is going to be a tough year with many challenges. However, we like that!
We know at Hanwha, challenges are meant to be overcome.
If we combine our forces, we will be able to overcome any challenge that comes our way. 2018 is going to be a great year.
I'd like to wish everyone a very happy, successful New Year!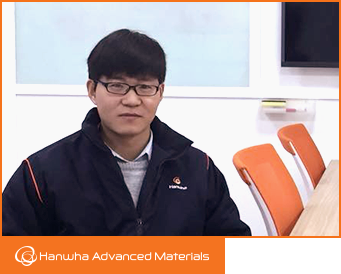 New Year's Message from Hanwha Advanced Materials Beijing:
A new year and a new hope. I wish for this coming year to be brighter than the last and that all your hopes and dreams come true.
May all your projects go smoothly and come to fruition.
- Li Yunpeng, Design Team

New Year's greeting Message
Hello, my name is Ali Fateh Ibrahim. On behalf of the team in Iraq, I would like to wish all members of the Hanwha family a very Happy New Year! In particular, I hope the E&C division achieves even more in 2018 and continues being successful, as it is considered to be one of the pioneer companies here in the Middle East.
I see a very bright future in Iraq as we are currently in the construction process of the Bismayah New City project.
close