Europe Technical Center Poised to Accelerate Hanwha Precision Machinery's Global Expansion
The new technical center is built near Frankfurt, Germany, to showcase its top products
Hanwha Precision Machinery becomes the first Korean machinery firm to setup a technical center for Surface Mount Technology(SMT) mounters and Swiss Turn(Swiss type Turning center) and Collaborative Robot in Europe
Hanwha Precision Machinery is on a trajectory to become a global player through its world-class technologies and services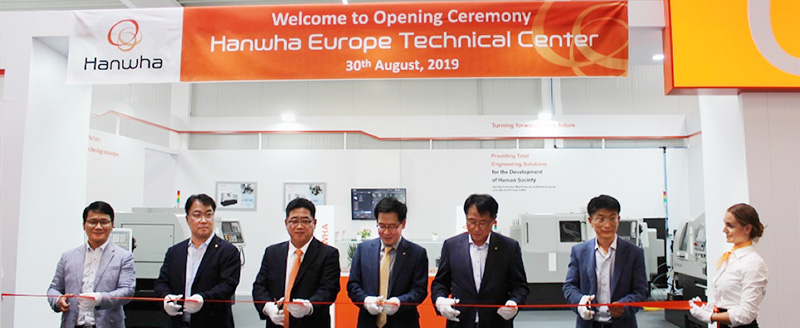 On September 3, 2019, Hanwha Precision Machinery's President Ki-Nam Lee announced the grand opening of the Hanwha Europe Technical Center near Frankfurt, Germany. This is part of the company's efforts to accelerate the company's growth in the European market.
This makes Hanwha Precision Machinery the first Korean manufacturer of Surface Mount Technology(SMT) mounters and Swiss Turn(Swiss type Turning center) and Collaborative Robots to open a technical center in Europe.
Hanwha Precision Machinery plans to use its new technical center as a base from which it will increase its global presence. The center is expected to attract new customers and large projects across Europe while offering local customers with world-class technologies and services including training programs, cycle time computations, and production demonstrations.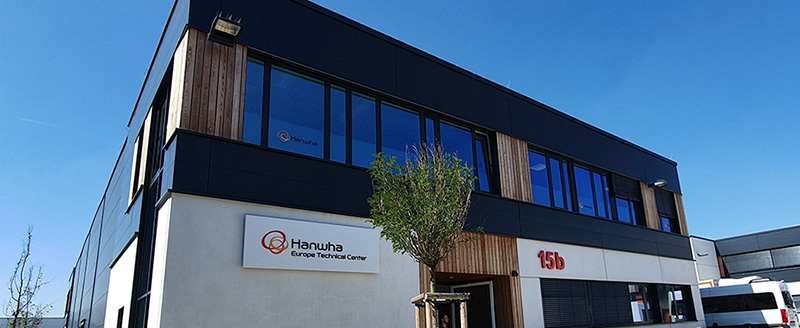 The Hanwha Europe Technical Center is a two-story structure with 711m² of floor space located in Mörfelden-Walldorf, ten minutes from Frankfurt. It features a showroom, training facilities, offices, and a conference room. The center will showcase and demo Hanwha Precision Machinery's main products(10ea), including Surface Mount Technology(SMT) mounters, machine tools such as Swiss Turn(Swiss type Turning center), and HCR collaborative robots.
The launch of this technical center is part of Hanwha Precision Machinery's expansion strategy to increase sales in Europe by at least EUR 30 million and make Europe account for more than 15% of its total sales.
A ceremony to celebrate the opening of the technical center was attended by the President of Hanwha Precision Machinery Ki-Nam Lee, the Managing Director of Hanwha Europe Jabong Ku, and other senior members from Hanwha's European network.
"We're very proud to be establishing this technical center in Germany, the home of the Fourth Industrial Revolution. This is where we'll begin accelerating our growth in the European market," said President Ki-Nam Lee. "Moving forward, we hope that the technical center will help increase our sales in Europe and create a synergy between Hanwha's business and technology behind precision machinery."
Hanwha Corporation
Hanwha Corporation, the parent company of the Hanwha Group, is a global manufacturing company that has directly contributed to the growth of South Korea's economy. There are 3 divisions under the Hanwha Corporation: Global, Defense, and Machinery. Hanwha Corporation was founded in 1952 as Korea Explosives Company, quickly becoming the leader in the explosives industry of South Korea. It has since grown into a global manufacturing company operating in three business areas—explosives and chemical, defense, and machinery.

In 1959, Hanwha was the first domestic manufacturer of dynamite in South Korea. After having successfully developed safer, high-quality industrial explosives and fire process products, we have been able to supply the South Korean government with the crucial means to rebuild its cities and infrastructure.

For more information, visit: www.hanwhacorp.co.kr/eng
Additional Notes:
• Hanwha Precision Machinery is a subsidiary of Hanwha Aerospace. It produces machinery for the electronics and mechanical industries. Its primary products include chip mounters, collaborative robots, and machine tools.
• Hanwha Precision Machinery is currently the world's #1 manufacturer of medium-speed chip mounters. In 1989, the company released the SCM-130, the first chip mounter developed in Korea. It is the only Korean company with the ability to independently design, produce, and quality test chip mounters as well as provide customer service.
• In 2017, Hanwha Precision Machinery released the HCR-5, the first collaborative robot developed in Korea. The HCR-5 was expanded into a product line, adding the HCR-3 and HCR-12. The company has been developing its collaborative robot business across Korea, China, Southeast Asia, Europe, the Americas and India.
• Hanwha Precision Machinery began its machine tool business in 1977. By continuously building on and leveraging its 50 years of technology, the company has become the #1 CNC Swiss Turn(Swiss type Turning center) manufacturer in Korea and the #4 manufacturer in the world. The company continues to develop new products and technologies for the Fourth Industrial Revolution and to aggressively target the smart factory market with products like the Hanwha Intelligence CNC Prognostic System (Hi-CPS), a cloud-based remote monitoring and diagnostic solution.
Hi-CPS allows for all equipment within a factory to be managed through a PC or smartphone, supporting productivity and operator convenience.
Contact Us
Thank you for your interest in Hanwha.
Please contact us for your inquiries.
Email Us
Information Message
Please enter your email address.
Information Message
Please enter a correct email address.
Success
Keep an eye on your inbox for the latest stories from Hanwha.
Information Message
Your subscription request has already been processed. Thank you.