Hanwha Corporation, Ranked 277th
on Fortune "Global 500" List, up 52 Spots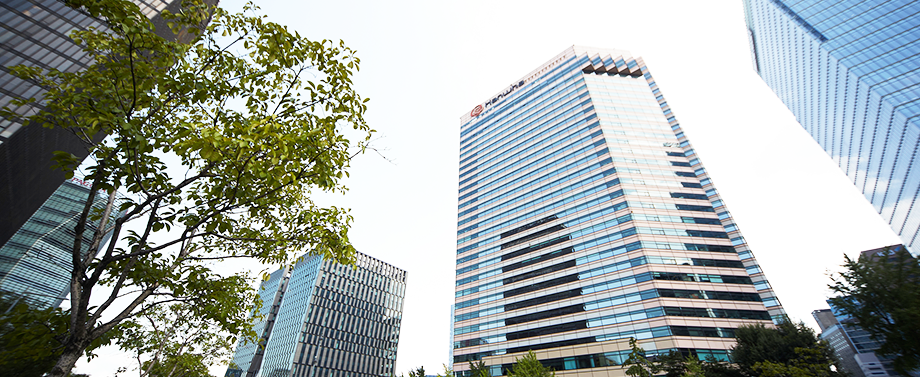 Hanwha Corporation jumped 52 rankings to the number 277 spot on the latest list of "Global 500 Companies" by Fortune Magazine, a widely recognized U.S. business publication. The Hanwha Corporation was ranked 329th last year.
"Global 500 Companies," also known as "Global 500," is an annual ranking of the top 500 corporations worldwide as measured by revenue. Hanwha's revenue increased from $33 billion in 2015 to $36.5 billion¹ in 2016.
Hanwha Corporation's higher ranking is credited to strong performances by Hanwha Total Petrochemical, Hanwha General Chemical, Hanwha Techwin and Hanwha Systems. Hanwha Total Petrochemical enjoyed high margins from the price of ethylene that remained largely unaffected even as other oil prices fell. Hanwha Total Petrochemical was further buoyed by its diversified product portfolio that serves as the company's foundation for steady profit growth.
Since its acquisition last year, Hanwha General Chemical achieved a turnaround and posted operating profits in the black.
Hanwha Techwin is maintaining a steady performance after having reorganized its business around engine components and military defense and by growing the number of its long-term supply contracts. Increased engine production volume and orders for engine components as well as overseas exports of the K9 self-propelled howitzer developed by the company's Aerospace and Defense Business Group are driving higher business performance. Hanwha Systems has also posted excellent results in core areas including electro-optical systems, tactical communications systems, combat command systems, and fire control systems.
In May 2016, Hanwha Defense Systems became the newest member of the Hanwha Group. Its mobility & anti-aircraft and guided weapons systems joins a wide-ranging defense systems portfolio that includes Hanwha Corporation's munitions & precision weapons, Hanwha Techwin's artillery equipment & aircraft engines, and Hanwha Systems' command, control, surveillance and reconnaissance systems. Together, they offer a comprehensive assembly of capabilities and technologies that are not only are expected to further raise Hanwha's Global 500 ranking but also deliver an advanced system of solutions for national defense and the needs of customers worldwide.
Hanwha's solar energy business Hanwha Q CELLS also has helped to boost Hanwha's Global 500 ranking. In April of 2015, it signed the largest single contract in the industry to date – over 1.5 GW module supply with NextEra Energy. In addition, strategic investments and prudent management decisions enabled the company to navigate through a global downturn and begin posting profits in the second quarter of 2015 and consistently every quarter thereafter.
Hanwha Life broke the $82.2 billion¹ mark in total assets earlier in 2016 becoming a the first Korean life insurance company to enter the Vietnamese insurance market; it has continued to actively develop overseas markets by establishing local subsidiaries in China in 2012 and in Indonesia the following year.
Hanwha Life expects to maintain its leadership position by investing into new future growth drivers, such as direct banking and FinTech.
¹ Currency is converted into US dollars using an exchange rate of USD 1 = KRW 1,133.50
Hanwha Corporation
Hanwha Corporation, the parent company of the Hanwha Group, is a global manufacturing company that has directly contributed to the growth of South Korea's economy. There are 3 divisions under the Hanwha Corporation: Global, Defense, and Machinery. Hanwha Corporation was founded in 1952 as Korea Explosives Company, quickly becoming the leader in the explosives industry of South Korea. It has since grown into a global manufacturing company operating in three business areas—explosives and chemical, defense, and machinery.

In 1959, Hanwha was the first domestic manufacturer of dynamite in South Korea. After having successfully developed safer, high-quality industrial explosives and fire process products, we have been able to supply the South Korean government with the crucial means to rebuild its cities and infrastructure.

For more information, visit: www.hanwhacorp.co.kr/eng
Hanwha Group
Founded in 1952, Hanwha has grown quickly by anticipating and responding to changing business environments with a balanced business portfolio that includes energy & materials, aerospace, finance and retail & services. Our expertise and synergy in key areas have catapulted us into the seventh-largest business in South Korea and a Fortune Global 500 company. Hanwha continues to grow rapidly as we strive to pursue global leadership in all of our businesses. We are building a robust foundation for sustainable development and a brighter future for everyone.

For more information, visit: www.hanwha.com
Contact Us
Thank you for your interest in Hanwha.
Please contact us for your inquiries.
Email Us
Information Message
Please enter your email address.
Information Message
Please enter a correct email address.
Success
Keep an eye on your inbox for the latest stories from Hanwha.
Information Message
Your subscription request has already been processed. Thank you.