Hanwha Corporation Set to Support PyeongChang 2018
Hanwha Corporation to provide fireworks for the Opening and Closing Ceremonies
as well as 8,000 torches for the Olympic Torch Relay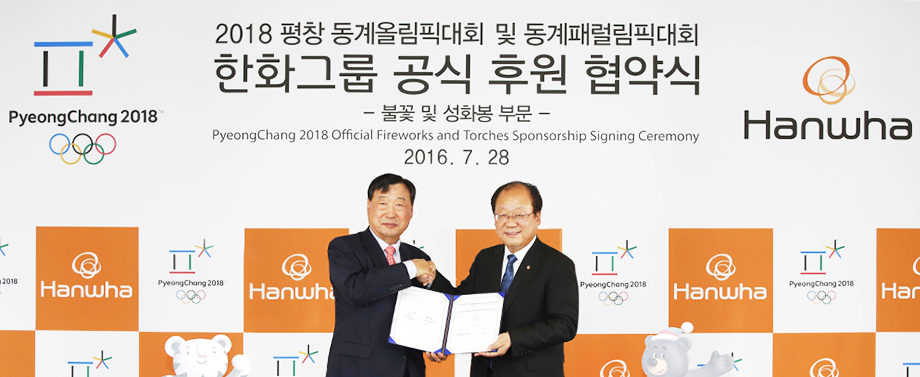 Hanwha Corporation has agreed to support the PyeongChang Organizing Committee for the 2018 Olympic and Paralympic Winter Games (POCOG) as Official Supplier of Fireworks and Torches.
According to the agreement signed today between POCOG President LEE Hee-beom and Hanwha Corporation Explosives Division CEO Choi Yang-soo, Hanwha Corporation will provide PyeongChang 2018 with fireworks to be used at various events including the Opening and Closing Ceremonies, as well as approximately 8,000 torches that will be used throughout the Olympic Torch Relay that will travel around the country in the lead up to the Games' opening on February 9, 2018.
POCOG President LEE Hee-beom said, "I greatly appreciate the support of Hanwha Corporation. I am certain that their expertise in explosives will contribute to creating a more exciting atmosphere and energy for the PyeongChang 2018 Games."
Hanwha Corporation Explosives Division CEO Choi Yang-soo commented, "It is a great honor for Hanwha to support torches again for the 2018 Olympic Winter Games, as we did 30 years ago for the Seoul 1988 Summer Olympic Games."
Meeting with President Lee prior to the signing, Hanwha Group Chairman Seung Youn Kim promised full support of the entire Hanwha Group for the successful operation and hosting of the PyeongChang 2018 Games.
*Source: PyeongChang 2018 Olympic Winter Games website
Hanwha Corporation
Hanwha Corporation, the parent company of the Hanwha Group, is a global manufacturing company that has directly contributed to the growth of South Korea's economy. There are 3 divisions under the Hanwha Corporation: Global, Defense, and Machinery. Hanwha Corporation was founded in 1952 as Korea Explosives Company, quickly becoming the leader in the explosives industry of South Korea. It has since grown into a global manufacturing company operating in three business areas—explosives and chemical, defense, and machinery.

In 1959, Hanwha was the first domestic manufacturer of dynamite in South Korea. After having successfully developed safer, high-quality industrial explosives and fire process products, we have been able to supply the South Korean government with the crucial means to rebuild its cities and infrastructure.

For more information, visit: www.hanwhacorp.co.kr/eng
Hanwha Group
Founded in 1952, Hanwha has grown quickly by anticipating and responding to changing business environments with a balanced business portfolio that includes energy & materials, aerospace, finance and retail & services. Our expertise and synergy in key areas have catapulted us into the seventh-largest business in South Korea and a Fortune Global 500 company. Hanwha continues to grow rapidly as we strive to pursue global leadership in all of our businesses. We are building a robust foundation for sustainable development and a brighter future for everyone.

For more information, visit: www.hanwha.com
Contact Us
Thank you for your interest in Hanwha.
Please contact us for your inquiries.
Email Us
Information Message
Please enter your email address.
Information Message
Please enter a correct email address.
Success
Keep an eye on your inbox for the latest stories from Hanwha.
Information Message
Your subscription request has already been processed. Thank you.