Hanwha Group Becomes Korea's Defense Industry Leader with Launch of Hanwha Techwin, Hanwha Systems
Precision machinery, electronics/IT to provide new growth engines for Hanwha Group
Foundations laid down for Group's growth into global defense company
Samsung Techwin, Samsung Thales hold general meetings and convene board of directors on 29th, resolving to change company names to Hanwha Techwin, Hanwha Systems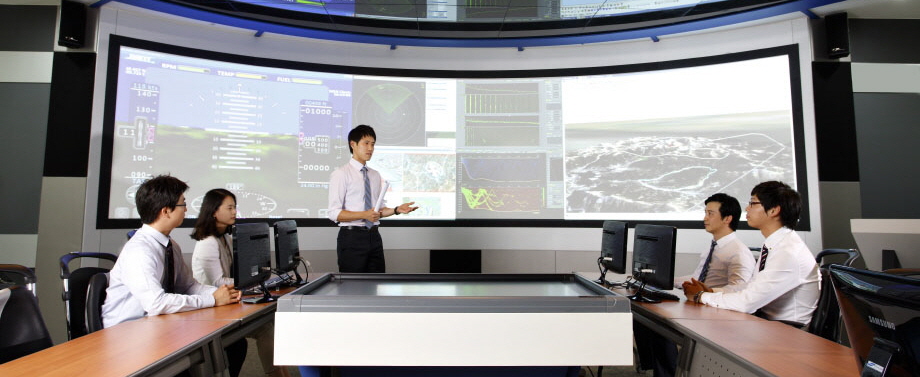 Hanwha Group (Chairman Seung Youn Kim) completed the acquisition process for Samsung Techwin and Samsung Thales, re-launching them as Hanwha Group's subsidiary companies. Samsung Techwin and Samsung Thales each held general meetings of shareholders on the 29th, resolving to change the names to Hanwha Techwin and Hanwha Systems, respectively.
The new acquisitions propelled Hanwha Group to the top position in Korea's defense industry, preparing the foundation for the Group's growth into a global defense company.
President & CEO Kim Cheol-kyo will retain management oversight of Hanwha Techwin, and Executive Vice-president Chang Si-kweon, former Senior Managing Director of Hanwha Corporation's defense division, was appointed as the CEO of Hanwha Systems.
Chairman Seung Youn Kim said, in his New Year's address, that "we have pushed through an intense regimen of business reorganization despite the slowdown in growth of many of our core businesses. Looking several decades ahead, we have focused on strengthening our competitive capabilities through proactive measures. We aim to boost our key capabilities to global standards by concentrating on what we do best. Defense and chemicals, areas in which we have now cemented our leadership, are businesses that both the preceding chairman and myself have held a passion and dedication since the first days of our service to the company, and I hope that every member of the Hanwha family, bolstered by a clear sense of mission and purpose, will strive to take our company to the top."
With the acquisition of Hanwha Techwin and Hanwha Systems as Hanwha Group subsidiaries, Hanwha Group's defense business, which has served as the core driver of growth for the past six decades with Hanwha Corporation at its center, reached the top spot in Korea with total annual sales of over $2.4 billion. Hanwha Group also gains new inroads into future industries including precision machinery and electronics and IT.
The newest members of the Hanwha Group will expand not only the scale of the company's defense division but its breadth as well, building on Hanwha Corporation's traditional strong presence in munitions and precision guided weapons to include self-propelled howitzer, and electronics such as engines and radar for aircraft and ships, creating the foundation's for the Group's growth into a global defense company.

Hanwha Group also plans to focus on Hanwha Techwin's civilian businesses including CCTVs, chip mounters, energy equipment and engine components to develop these key products into new growth drivers for the Group's manufacturing portfolio, securing leadership positions in these sectors as well.
These plans ultimately aim to develop the defense and civilian divisions of Hanwha Corporation, Hanwha Techwin and Hanwha Systems into the key growth engines of both Hanwha Group as well as Korean industry. As a part of these efforts, Hanwha Corporation and Hanwha Techwin formed the "New Vision and Growth Strategy Taskforce" on June 12th to build new medium- and long-term strategies that will prepare for the next decade of the company's growth. To further support the realization of this vision, Hanwha Techwin and Hanwha Systems retain independent management control, and job security as well as existing benefits is guaranteed to the employees of both companies.
"Each of Hanwha Techwin's business divisions represents Hanwha Group's major areas of operational focus, and we will continue to build them up as the key pillars of our organization's future growth,"
said Hanwha Techwin President & CEO Kim Cheol-kyo.
Newly-appointed CEO of Hanwha Systems Chang Si-kweon urged his employees to "develop new markets and create further synergies with Hanwha Group's existing defense business while continuing to build on the company's current strengths in order to secure powerful competitive capabilities."
Hanwha Group
Founded in 1952, Hanwha has grown quickly by anticipating and responding to changing business environments with a balanced business portfolio that includes energy & materials, aerospace, finance and retail & services. Our expertise and synergy in key areas have catapulted us into the seventh-largest business in South Korea and a Fortune Global 500 company. Hanwha continues to grow rapidly as we strive to pursue global leadership in all of our businesses. We are building a robust foundation for sustainable development and a brighter future for everyone.

For more information, visit: www.hanwha.com
Contact Us
Thank you for your interest in Hanwha.
Please contact us for your inquiries.
Email Us
Information Message
Please enter your email address.
Information Message
Please enter a correct email address.
Success
Keep an eye on your inbox for the latest stories from Hanwha.
Information Message
Your subscription request has already been processed. Thank you.