Hanwha Joins World Leaders to Explore a Shared Future at 2018 World Economic Forum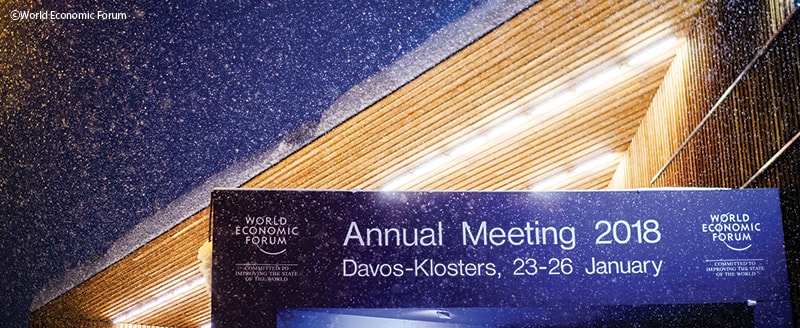 Hanwha Group's leadership participated in the annual World Economic Forum (WEF) in Davos, Switzerland from January 23rd to January 26th. The theme of this year's WEF was "Creating a Shared Future in a Fractured World" and featured dozens of meeting and lectures with global leaders in politics, academics, and industry.
In attendance were Hanwha Total Petrochemical CEO Charles Kim, Hanwha Corporation/Machinery CEO Youn-Chul Kim, Hanwha Asset Management CEO Yong-Hyun Kim, and Hanwha Q CELLS CCO Dong Kwan Kim. Together, the executives took part in more than 60 business meetings and met with more than 200 key global decision makers.
Topics explored during the 2018 WEF included the importance of maintaining a technological edge in the Fourth Industrial Revolution, changes in the oil industry due to a recent rebound in oil prices, and how technology is transforming the finance industry.
On January 25th, the Hanwha Group also attended the Korea PyeongChang Night event hosted at the Davos Intercontinental Hotel by the Korean Ministry of Foreign Affairs. At the event, hundreds of global and political leaders, including the leaders of Hanwha Group, expressed hope and support of Korea's hosting of the 2018 PyeongChang Winter Olympics and Paralympic Games.
Hanwha Q CELLS: A Technological Edge is the Key to Success

Hanwha Q CELLS CCO Dong Kwan Kim has always been enthusiastic about exploring new technological frontiers and passionate about developments in renewable energy, telecommunications, aerospace, and defense. Upon arriving at Davos for his ninth consecutive WEF, CCO Kim wasted no time in meeting with a long list of companies including:
Bain & Company, Viettel Group, Greentech Capital Advisors, and Capricorn Investment Group.
During a January 23rd meeting between himself, Youn-Chul Kim, CEO of Hanwha Corporation/Machinery,
and Bain & Company's Torsten Lichtenau, CCO Kim stated: "Developments in aviation technology, triggered by the Fourth Industrial Revolution, will affect the transportation and logistics industries and dramatically change our lives."
"Innovative technologies have a bigger impact, so keeping up with the latest technological developments should be the focus of a successful business," CCO Kim added.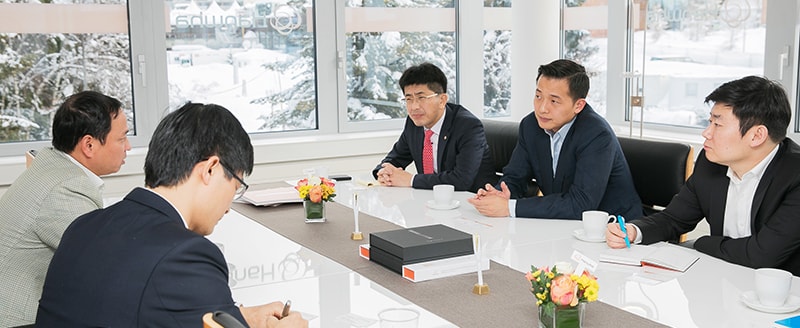 CCO Kim then met with Nguyen Manh Hung of Viettel Group, Vietnam's largest communications and defense company to discuss how Hanwha and Viettel could strengthen and expand their cooperation in the defense industry.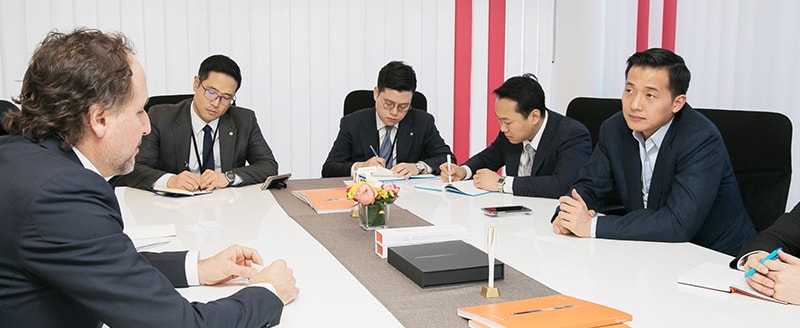 On January 24th, CCO Kim met with Jeffrey McDermott of Greentech Capital Advisors about photovoltaic (PV) industry trends and the latest technological developments within the PV value chain. CCO Kim also met with Dr. Ion Yadigaroglu, Co-Founder of Capricorn Investment Group, and the two had a wide-ranging discussion about new high-efficiency photovoltaic modules and how the Fourth Industrial Revolution could affect diverse fields including aviation, transportation, logistics, and defense.
Hanwha Total Petrochemical: Re-examining its Global Impact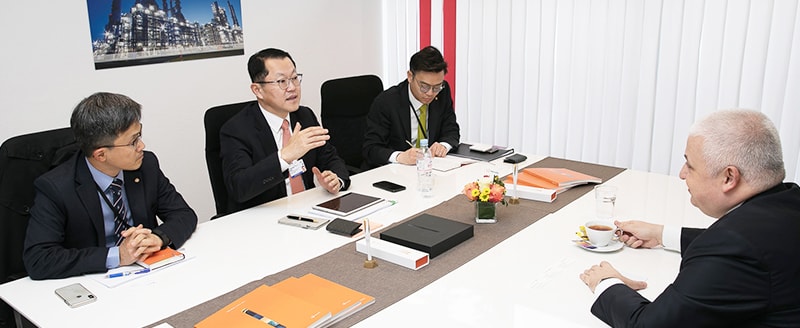 Hanwha Total Petrochemical CEO Charles Kim used his visit to Davos as an opportunity to gain insight into how a recent rebound in oil prices affects the global energy and petrochemical industry.
On January 23rd, CEO Kim and Aloke Lohia, CEO of Indorama Ventures, met to discuss the prospects of the Asian synthetic fiber market and the possibility of Hanwha and Indorama collaborating in an aromatics venture. Shortly afterwards, CEO Kim met with Dimitri de Vreeze of Royal DSM. During the meeting, CEO Kim was able to gain insights into the high-value polymer market and related technological trends.
The next day, on January 24th, CEO Kim met with Total S.A. Chairman Patrick Pouyanné where the two discussed Hanwha and Total's investment strategies and how the two companies could strengthen their relationship and collaborate in the future.
Also on January 24th, CEO Kim met with Jeremy Weir of commodity trading firm Trafigura to discuss ways of streamlining the purchasing of petrochemicals and increasing cooperation between global economic leaders.
Hanwha Corporation/Machinery: Seeking Business Opportunities in the Fourth Industrial Revolution

This was Hanwha Corporation/Machinery CEO Youn-Chul Kim's first visit to Davos and he immediately made up for lost time by hosting the largest number of business meetings and sessions amongst Hanwha's leaders in attendance. Throughout the course of his busy itinerary, CEO Kim spoke with other global CEOs, as well as world-renowned scholars, and learned much about many different subjects, particularly Artificial Intelligence and 3D Printing.
CEO Kim met with Truong Gia Binh, Chairman of Vietnam's FPT Corporation on January 23rd. The two men exchanged their opinions on the future of robots, artificial intelligence and security, among other topics. The next morning, on January 24th, CEO Kim met with Richard Ambrose of Lockheed Martin to talk about the outlook on global aviation and how Hanwha and Lockheed Martin could collaborate on aerospace opportunities. Later that day, CEO Kim met with Volkswagen Group's Thomas Sedran to discuss how Hanwha could partner with the world's largest automaker.
On the afternoon of January 25th, CEO Kim met with Chunyuan Gu, President of ABB Ltd. for Asia, Middle East, and Africa. The two leaders talked about Chinese and Asian robot market trends as well as partnership opportunities regarding collaborative robots.
Hanwha Asset Management: Searching for Future Strategies

This year at Davos, Hanwha Asset Management CEO Yong-Hyun Kim and Managing Director William Hahn sought ideas for new asset management strategies for the Fourth Industrial Revolution, such as AI Funds and FinTech.
CEO Kim met with Roger Crandall of Massachusetts Mutual Life Insurance Company to discuss the American insurance market forecast and this year's investment strategies. CEO Kim also had a discussion with Christopher Willcox, Global Head of Equities at JP Morgan Asset Management.
Hanwha Group
Founded in 1952, Hanwha has grown quickly by anticipating and responding to changing business environments with a balanced business portfolio that includes energy & materials, aerospace, finance and retail & services. Our expertise and synergy in key areas have catapulted us into the seventh-largest business in South Korea and a Fortune Global 500 company. Hanwha continues to grow rapidly as we strive to pursue global leadership in all of our businesses. We are building a robust foundation for sustainable development and a brighter future for everyone.

For more information, visit: www.hanwha.com
Contact Us
Thank you for your interest in Hanwha.
Please contact us for your inquiries.
Email Us
Information Message
Please enter your email address.
Information Message
Please enter a correct email address.
Success
Keep an eye on your inbox for the latest stories from Hanwha.
Information Message
Your subscription request has already been processed. Thank you.