Hanwha Life Vietnam Holds 10th Anniversary Celebration and End of Fiscal Year Awards Ceremony
It's been 10 years since Hanwha Life has entered the Vietnamese life insurance market and became the first Korean insurance provider to do so
Among all the companies that have been in operations for less than 10 years, Hanwha Vietnam is the fastest growing insurance provider in Vietnam
The 10th anniversary celebration and awards ceremony, marking the end of the fiscal year, took place in Da Nang, Vietnam on April 11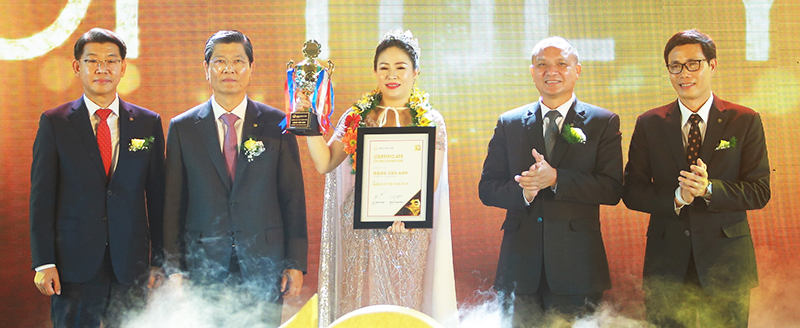 On April 11, Hanwha Life Vietnam celebrated its 10th year of operations in Vietnam with a special commemorative event. During this special occasion, an awards ceremony was held to also mark the end of fiscal year 2018. The Chairman and General Director of Hanwha Life Vietnam, Back Jong Kook, was at hand to celebrate with 300 employees and insurance planners in the grand ballroom of the Vinpearl Luxury Da Nang resort in Da Nang, Vietnam.
The CEO of Hanwha Life, Nam-gyu Cha, and other members of senior management from Hanwha Life headquarters in Korea flew in for this special event. Phung Ngoc Khanh, Director of the Vietnamese Finance Ministry's Department of the Insurance Supervisory Authority and Ngo Viet Trung, Deputy Director of the same department, graced the event on behalf of the Vietnamese government to congratulate Hanwha Life Vietnam for the last decade of achievements and great performance for the fiscal year 2018. The CEO of VinVentures (a member of Vingroup), Linh Thai, was also in attendance, having previously accepted a USD 400 million investment from Hanwha Asset Management in August of 2018.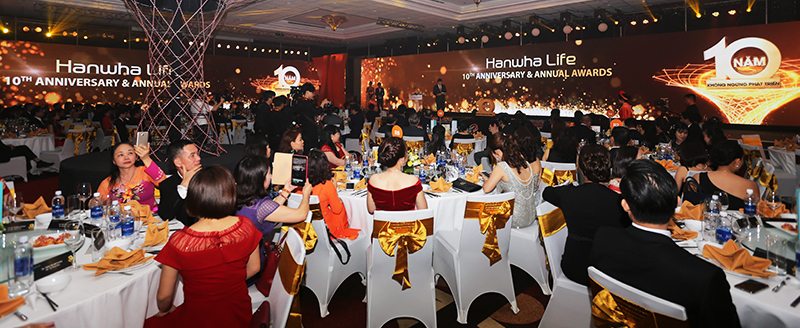 During the ceremony, employee Dang Van Anh was crowned as "Queen of the Year 2018" in honor of her service to the company.
"I am so honored to be Queen of the Year in the same year we're celebrating Hanwha Life's 10th anniversary in Vietnam," Ms. Dang said. "I want to keep working at Hanwha Life, helping the Vietnamese people secure their dreams and future, until we are Vietnam's top insurance provider!"
In addition to honoring Ms. Dang, 22 other employees and 11 insurance planners were recognized for their 10 years of service with Hanwha Life Vietnam. 32 Hanwha Life Vietnam insurance planners also received prizes for their top sales performances.
"For the last 10 years, Hanwha Life Vietnam has been the fastest growing insurance provider in Vietnam thanks to the hard work and efforts of our Vietnamese employees and subsidiary companies," said CEO Cha. "I look forward to Hanwha Life Vietnam becoming Southeast Asia's premier insurance company over the next 10 years under Hanwha's belief in 'going further together'."
Forging new frontiers in the Vietnamese insurance industry
When Hanwha Life Insurance entered the Vietnamese insurance market in April of 2009, it was the first Korean life insurance company to set up a wholly owned subsidiary without a local partner in the country. Now, after 10 years of growth and success, the company is regarded as a prime example of how a company should be set up and operate in the Vietnamese financial market.
Hanwha Life Vietnam has quickly become Vietnam's fastest growing insurance provider in operation for less than 10 years. Since its founding, Hanwha Life Vietnam has grown nearly 15 times larger, surging from VND 41 billion (USD 1.77 million) in new contracts in 2009 to VND 871.5 billion (USD 37.59 million) by the end of 2018. At the same time, its overall incoming premium payments grew from VND 32.2 billion (USD 1.39 million) to VND 2.13 trillion (USD 92 million). The company now has 106 offices in major cities, including Ho Chi Minh City, Hanoi, Da Nang, and Can Tho. And from a humble beginning with only 450 planners in 2009, Hanwha Life Vietnam now boasts more than 14,319 financial planners across Vietnam.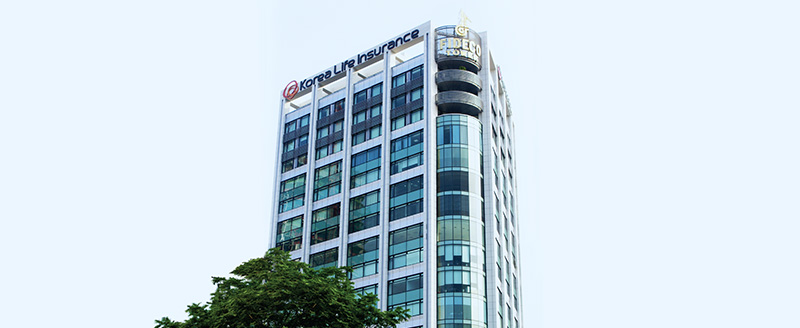 [Achieving rapid success with localized products and customer service]
Hanwha Life Vietnam's success is due to its strong localization strategy. Over 300 of its original employees were local hires while only three were Korean expatriates. By leveraging their intimate knowledge of the local market and the needs of Vietnamese consumers, Hanwha Life Vietnam's local employees have built an extensive and effective sales network that gives the company a significant competitive advantage.
Vietnam is still very much an emerging insurance market with a rapid increase in demand for insurance coverage, due to the improving economy that is creating higher wages, increasing size of the middle class, and expanding awareness among younger people on the importance of getting insurance coverage.
Hanwha Life Vietnam is targeting this younger generation of Vietnam with retirement plans and interest-linked products that can grow their savings. Vietnamese who buy insurance are also increasingly health-conscious, leading to an uptick in the sale of health insurance plans as incomes rise.
Building on the knowledge and experience gained by Hanwha Life in the Korean insurance market, Hanwha Life Vietnam has also implemented a continuing education program and activity management system to shape its local work culture and improve the financial performance of its insurance planners and their quality of life.
Hanwha Life Vietnam has some of the best customer retention rates in the Vietnamese insurance market, due in part to constant updates to its product portfolio with respect to the ever-changing needs of local customers. For seven consecutive years, from 2010 to 2016, Hanwha Life Vietnam received the Golden Dragon Award for Best Products and Services from the Vietnam Economic Times, Vietnam Chamber of Commerce and Industry, and the Vietnamese Ministry of Planning and Investment.
[Hanwha Life Vietnam leads social change through CSR]
Hanwha Life Vietnam's active CSR outreach, based on the philosophy of "Going Further Together", has also helped the company build its good reputation among the local communities. As a life insurance company, it was only natural for Hanwha Life to take an active role in improving people's lives.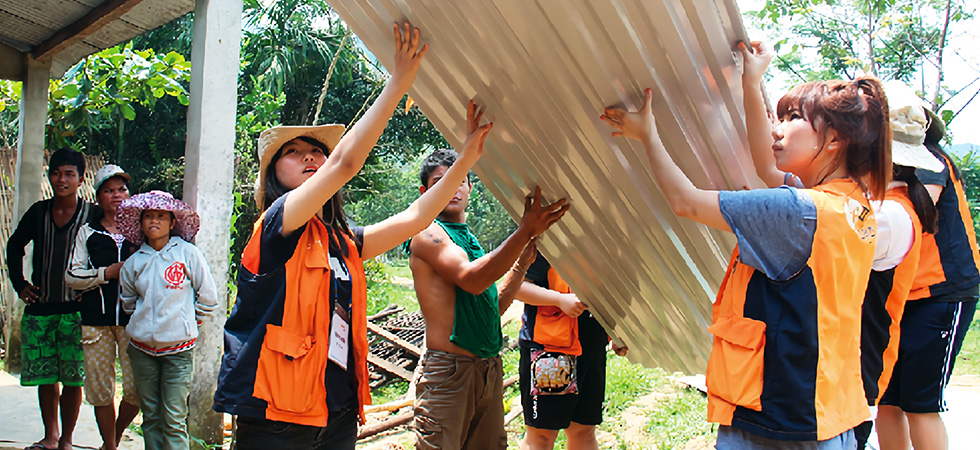 In Vietnam, individuals must purchase new health insurance cards every year. Although there is some government assistance for the underprivileged, there are still many children and elderly who cannot afford to buy a new health insurance card every year. Since 2014, Hanwha Life Vietnam has donated health insurance cards to nearly 45,000 people in 26 regions.
Hanwha Life Vietnam is also looking to further improve the lives of local underdeveloped communities and marginalized citizens. The company has constructed community health centers in Bac Phong, Hoa Binh Kim Truy, and Bac Kan. In Tra Vinh, the fourth region where Hanwha Life Vietnam constructed a health center, local residents now have access to a comprehensive facility that offers safe and hygienic health services in its nine exam rooms, including one with OB/GYN capabilities that will greatly reduce infant and maternal mortality rates in the province.
In addition, Hanwha Life Vietnam has built 160 new homes on land donated by the Vietnamese government. The homes were provided free of charge to disadvantaged people to help them become more self-sufficient. It has also donated bicycles to school children.
"We will always be a company that fulfills its corporate social responsibilities," said General Director Back. "Through our CSR activities, we will be a global insurance company that grows with local communities."


In conversation with Back Jong Kook, Chairman and General Director of Hanwha Life Vietnam
When did Hanwha Life Insurance start business in Vietnam? And, what has been accomplished so far?
We were established as a wholly owned subsidiary of Hanwha Life in September of 2008 and began operations in April of 2009 by opening one branch in Hanoi and two in Ho Chi Minh City. This was the first time a Korean insurance company opened a wholly-owned foreign subsidiary in Vietnam.
Since then, we've grown into a medium-sized life insurance company in the country with a network of 106 branches nationwide by the end of 2018. We have nearly 310 local employees as well as over 14,000 agents.
With more than 100,000 customers, we have the fastest growth among life insurance companies that have entered the Vietnamese market less than a decade ago.
What are the characteristics of financial service customers in Vietnam? And, how much are they interested in insurance?
Thanks to the nearly 7% annual economic growth, Vietnam is developing at breakneck speed. However, its financial market is underdeveloped, with most of the public not having bank accounts.
The Vietnamese people are hard-working and diligent with a strong desire to improve their quality of life. They care about their families, particularly their children's education, so they actively save and invest their money.
Their interest in insurance is aligned with this tendency, as we saw in the early stage of the Korean life insurance industry. The focus is on savings insurance plans, where premiums are refunded at maturity, as well as conventional endowment insurance plans to prepare better futures for their families.
Although Vietnamese consumers are generally not looking to purchase insurance at the moment, the benefits of life insurance and other insurance-based investment plans will undoubtedly lead to rising demand that will be faster than expected. We are focusing on endowment policies and savings insurance, but we are seeing a gradually increasing demand for coverage among younger people and middle-class families.
Nearly 70% of population in Vietnam live in rural areas. What obstacles have there been to your sales campaigns and marketing strategies? And, how have you addressed these obstacles?
Vietnam has enjoyed fast economic growth since it instituted economic reforms in 1986. But rural residents, as well as the urban poor, still make up a large portion of the population. Fortunately, the rapid growth of the middle class is changing the landscape of both urban and rural areas. We've found that sales are growing faster in small to mid-sized cities and in rural areas than in metropolitan areas.
In Korea, Hanwha Life's growth flourished through face-to-face meetings between customers and salespeople. We leveraged this knowledge and experience to create a localized approach and empowered every local employee with complete responsibility over their sales in the field. After all, they were the ones who knew the local market and cultural practices better than anyone.
And to address Hanwha Life's lack of brand recognition among local consumers, we consistently engaged in various CSR activities, such as donations for the building of new homes, charity projects to support the construction of health centers, kindergartens and schools, and a health insurance card issuance program. These activities were in addition to conventional PR activities using media. While these efforts were intended to improve the reputation of our brand and to expand our client base, the underlying fact was, they really did help the people of Vietnam.
We also focused on hiring our salespeople locally from a very strong pool of individuals with professional backgrounds in public service, education, and finance. In so doing, the quality of our services improved and our salespeople who were already connected to the public, were able to effectively educate and positively change the general perception of life insurance.
What is the current state of the Vietnamese insurance market? Please share with us the gap between Vietnamese and Korean insurance markets.
The life insurance industry in Vietnam dates back only to 1996, when a state-owned insurance company was founded. The industry was invigorated in 1999, when foreign life insurance companies set up local operations and began doing business. Thus, the Vietnamese life insurance industry is less than twenty years old.
In a relatively short span of time 18 global insurance companies have already established themselves in the market today. Of these, the top five companies, including Hanwha Life, have made inroads into local market earlier than others between the late 1990s and the early 2000s. These top five now account for 80% of the local market share. The other 13 companies are considered latecomers and are now competing for the remaining 20% of the market share.
By the end of 2018, the Vietnamese industry stood at KRW 15 trillion under management, which is just 1.8% of Korea's KRW 857 trillion assets under management (AUM). Its annual premium income reached KRW 4.4 trillion, nearly 4% of Korea's premium income of KRW 114 trillion. It is still in the early stages, but Vietnam is one of the fastest growing insurance markets globally with an annual growth rate of more than 30%.
How much potential do you think Vietnam's financial and insurance markets have? And, why do you think so?
As I said before, the life insurance market in Vietnam is in its infancy stage but with its AUM and premium income showing just 1% to 2% of the Korean market, large global life insurance companies are trying to set up their business here in this market.
In fact, the local market is seeing more than one new player every year. The first reason is that Vietnam's population is quickly growing towards 100 million people while its economy is growing at a healthy pace of 6% annually. The country also has limitless potential as half of the nation is currently under the age of 30, a lucrative segment typically with the highest demand.
Another reason is the easy access to a pool of qualified human resources. The credit goes to a nation of people who are well-educated and can therefore supply any company seeking expansions into neighboring countries, with the human capital to do so.
What are Hanwha Life Vietnam's goals for the future?
First, I'm confident we'll become an industry-leading player in the local life insurance industry as fast as possible by achieving the mid- and long-term objectives we set for the expansion of our business. As the leader of this organization, I encourage all employees of Hanwha Life Insurance Vietnam to achieve our common goals by 2020.
Second, we'll be able to leverage the knowledge and experience we've gained from our pioneering years in the life insurance industry in Korea to provide superior products and customer service in Vietnam. We'll also be able to implement education programs and activity management systems to develop the optimal work culture and sales teams that are best for the Vietnamese local markets.
Lastly, we will keep spreading a positive image of Korea and the good that Hanwha does throughout Vietnam as part of our PR efforts to strengthen our relationship with and educate the general public on the importance and value of insurance.
Finally, do you have any advice for financial services companies planning to expand into the Vietnamese market?
Since the Vietnamese financial services industry does not have clearly defined rules and regulations, the arbitrary interpretation of the laws by the local authorities makes up a large part of market regulation. Therefore, a careful and detailed approach to legal affairs is required for any company interested in investing or setting up operations in the local market.
Also, one should have a good understanding of the Vietnamese culture, living habits, the geography and the cultural aspects of the local market. It's important to identify what your strengths are and be able to correctly determine whether your strengths can lead to success in this market.
Hanwha Life
Established in 1946, Hanwha Life is not only a leading South Korean life insurance company but also the first and oldest in the nation. For the past 75 years, Hanwha Life has played a critical role in developing the industry and expanding the country's economic growth. In 2021, Hanwha Life reported total assets of USD 112.76 billion, demonstrating its sound structure and firm commitment to adding innovative products and services that meet a wide range of customer needs.

For more information, visit: www.hanwhalife.com/en

Contact Us
Thank you for your interest in Hanwha.
Please contact us for your inquiries.
Email Us
Information Message
Please enter your email address.
Information Message
Please enter a correct email address.
Success
Keep an eye on your inbox for the latest stories from Hanwha.
Information Message
Your subscription request has already been processed. Thank you.