Hanwha Precision Machinery Targets the Chip-Mounter Market in North America
at IPC APEX EXPO 2022, America's Largest SMT Exhibition
Highlighted the HM520 series to promote its brand image as a high-speed chip-mounter manufacturer
Showcased the smart-factory T-solution software targeting the U.S. market
Hanwha Precision Machinery, Hanwha Group's high-end electronic machinery manufacturer, showcased award-winning machinery for printed circuit board (PCB) assembly applications in Booth #611 at the IPC APEX EXPO 2022, from January 25th to 27th, 2022, at the San Diego Convention Center in California.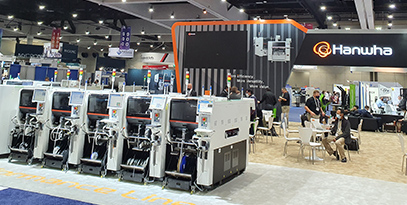 IPC APEX EXPO is an annual event for electronic manufacturers. The largest SMT¹ exhibition in the industry, IPC APEX EXPO 2022 was held in San Diego, Southern California, after a year hiatus. The event resumed this year following the 2021 cancellation due to the COVID-19 pandemic. Over 400 manufacturers worldwide joined the event, along with roughly 26,000 visitors.
At the EXPO, Hanwha Precision Machinery further cemented its brand position in the U. S. market as a world-class, high-speed chip-mounter manufacturer with exceptional smart solutions offering cost efficiency and quality improvement.
The company presented a variety of solutions, including ⁠its flagship offering ⁠— the HM520 SMT series — a high-speed chip mounter,² and smart-factory solutions designed to manage Industry 4.0 demands. Targeting the American mid-speed machine market, where factories mainly focus on high-mix, low-volume production, Hanwha emphasized its versatility by presenting a mid-speed chip mounter, DECAN S1, and a wide-ranged component placer, SM485.
Additionally, Hanwha Precision Machinery promoted its integrated software, T-Solution, to meet the local demand for smart, automated machinery. Highlighted at the event were the T-M2M (machine-to-machine) function, which adjusts installation quality based on information in real-time with interlocked inspecting equipment, and the T-Production Planner, which calculates optimal production plans based on available materials and resources. The company received praise for its various new services, including its mobile applications. Hanwha Precision Machinery's optimized planning function also stood out with its ability to improve the productivity and simplicity of small-batch production.
Hanwha Precision Machinery also exhibited the T-SMART solution, which manages production lines remotely through wearable devices such as smartwatches, attracting visitors' attention. The smart solution cohesively connects the production process and makes intelligent automation.
For customers who were unable to attend the exhibition, the company uploaded a video—shot with a 360-degree camera—onto its YouTube channel so they could view these new products.
Jong-Seong Ra, Executive Vice President of Hanwha Precision Machinery's Industrial Equipment Division, stated, "Hanwha's high-speed chip mounter business successfully landed in the spotlight with our chip mounter products and smart solutions receiving praise at the exhibition." He added, "Having been contacted by one of the largest clients in North America, we will do our best to increase market share in the U.S. by leveraging our strong local sales network and strategically developing new machinery products and solutions suitable for the American market."
Hanwha Precision Machinery, a division of Hanwha Group, is a manufacturing company providing electronics, semiconductor packaging, and machine solutions. Based on independent design, production, and product service, Hanwha Precision Machinery is the only Korean company with compatible chip mounter technology on par with well-established precision machinery firms in Germany and Japan.
The company focuses on pick-and-place machine series, which are indispensable to producing various electronics, including premium home appliances such as Mini LED TVs, memory semiconductors, 5G smartphones, infotainment systems, and circuit boards for electric vehicles.
Since 2021, Hanwha Precision Machinery has actively participated in exhibitions worldwide, ranging from NEPCON CHINA SHANGHAI 2021, NEPCON ASIA 2021, productronica 2021, to the world's biggest biannual fair on manufacturing machinery for electronic products in Germany. This year, the company aims to continue showcasing its leading products to local customers at overseas exhibitions, expanding its global footprint.
¹ Surface Mount Technology (SMT) is the mounting and soldering of surface mount components onto printed circuit boards (PCB).
² Equipment that automatically assembles built-in boards at high speeds. Built-in boards control electronic products (cellphones, LED TV, and components in automotive electronics) that require high-density and highly integrated production technology.
Hanwha Precision Machinery
After developing the first chip mounter in 1989, Hanwha Precision Machinery has become a leading worldwide Smart Factory solutions provider, offering Surface Mount Technology (SMT) mounters, semiconductor equipment, insertion and assembly automation equipment, industrial automation equipment, and integrated software solutions.

For more information, visit: www.hanwha-pm.com/en/index.asp
Contact Us
Thank you for your interest in Hanwha.
Please contact us for your inquiries.
Email Us
Information Message
Please enter your email address.
Information Message
Please enter a correct email address.
Success
Keep an eye on your inbox for the latest stories from Hanwha.
Information Message
Your subscription request has already been processed. Thank you.