Hanwha Pursues Limitless Possibilities for the Future at World Economic Forum Annual Meeting 2019
Hanwha executives held meetings with global leaders on a range of topics including sustainable energy, technological innovation in the financial services sector, and the future of the aerospace business
This is the tenth consecutive year Hanwha has participated in this conference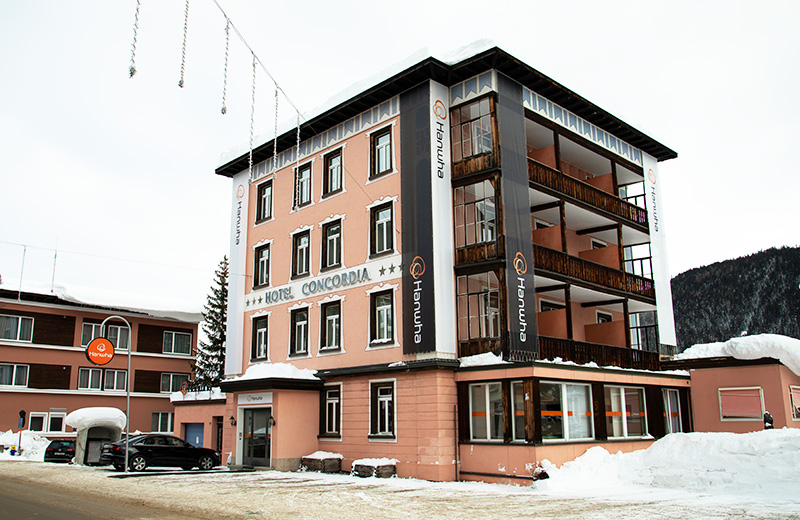 Hanwha's leadership participated in the World Economic Forum Annual Meeting 2019 (WEF) in Davos, Switzerland from January 22 through January 25, 2019. With the Fourth Industrial Revolution as the backdrop, participants at this year's WEF discussed how tectonic shifts in business and technology will shape the future global economy.
This is the tenth year in a row that Hanwha has participated in the WEF since it first attended conference back in 2010. For Hanwha, the WEF is an opportunity to meet with business and political leaders from around the world and a chance to promote its capabilities as a global corporation with unlimited potential for growth and innovation.
Hanwha's delegation to this year's WEF included Hyun-woo Shin, CEO of Hanwha Aerospace, Yong-Hyun Kim, CEO of Hanwha Asset Management, Dong Kwan Kim, CCO of Hanwha Q CELLS, and Dong Won Kim, Chief Digital Officer and Head of Global Business of Hanwha Life. Altogether, they held more than 50 meetings at the WEF, speaking in depth about a broad range of issues affecting both Hanwha and the world.
As in previous years, Hanwha set up its base of operations at the Hotel Concordia, near the Davos Congress Centre.
In addition to promoting its position on major issues affecting the world today, Hanwha leveraged the WEF as an opportunity to promote the Korean culture. Visitors who came to the Hotel Concordia for meetings with Hanwha were presented with gift boxes wrapped in bojagi, traditional Korean cloth. They also dined on an array of Korea dishes prepared by chefs from THE PLAZA, Hanwha's flagship hotel in Seoul, Korea.
To increase global awareness of its brand, Hanwha rented out a digital billboard prominently located on the road into Davos. Hanwha also placed an ad in the Financial Times on January 22 to publicize its commitment to environmental sustainability.
Hanwha Q CELLS: Adopting sustainable energy is of global interest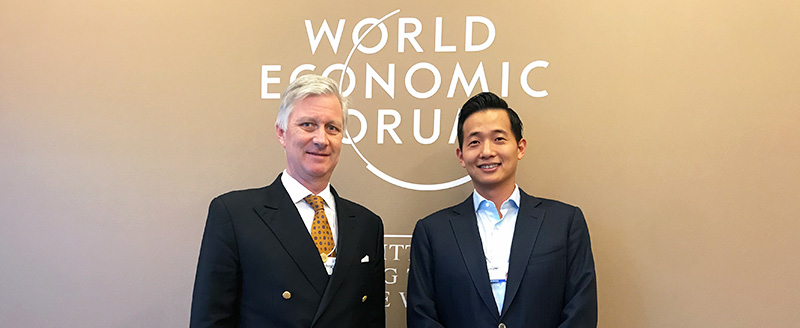 To address the negative impact of traditional power generating technologies on the environment, Hanwha Q CELLS CCO Dong Kwan Kim met with world leaders and advocated for the necessity of adopting and developing sustainable energy technologies, including photovoltaics.
During the meeting with King Philippe of Belgium, CCO Kim discussed the prospect of renewable energy in Europe and efforts needed to adequately address the pressing issue of climate change. CCO Kim and King Philippe also talked about Belgium's plan to shut down its nuclear power stations by 2025 and achieve 20% of its power generation through renewable energy by 2030.
In separate meetings with Darell Leiking, Malaysia's Minister of International Trade and Industry and Tran Tuan Ahn, Vietnam's Minister of Industry and Trade, CCO Kim spoke at length on how international cooperation was vital to the expansion of photovoltaic power generation in South East Asia.
CCO Kim also sat down with Ana Trobovich, COO of Grid Singularity, a German tech company that is creating a decentralized data exchange platform built on blockchain technology. The two exchanged ideas on the type of technologies needed to anticipate future changes in the energy and electricity markets and how blockchain might play a role in them. They talked about the possible contributions Hanwha Q CELLS, as a leading renewable energy company, could make towards the future of power generation.
Hanwha Life: Innovation is key to global growth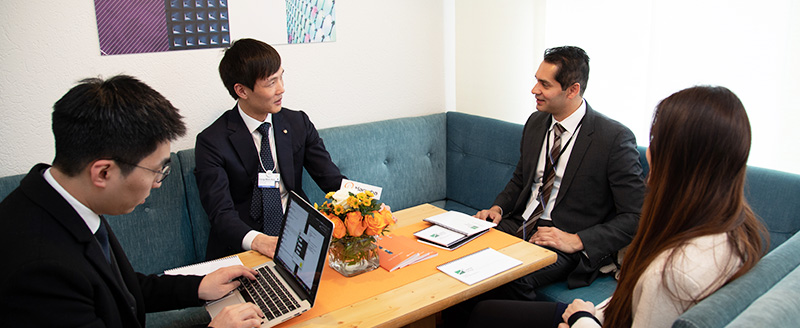 Hanwha Life Chief Digital Officer and Head of Global Business Dong Won Kim has always been passionate about digital innovation's transformative effect on global business. He shared this interest through his talks on the new technologies of today and the world's expanding digital capabilities of tomorrow with other business leaders from around the world.
One of CDO Kim's first meetings at this year's WEF was with Laurence D. Fink, CEO of BlackRock – one of the world's largest asset management companies. During the meeting, the two exchanged thoughts on the future of the global economy and how governmental economic policies would affect asset management globally.
His next meeting was with Raj Ganguly, co-founder of B Capital, a venture capital group that invests in pioneering start-ups around the world. The two leaders discussed the South East Asian start-up landscape.
CDO Kim also met with Dr. Swan Gin Beh, Chairman of the Singapore Economic Development Board. Joined by CCO Dong Kwan Kim of Hanwha Q CELLS, they found that they shared a common goal to stimulate and sustain economic growth in Asia and around the world. They agreed that there were opportunities to invest in Singaporean companies that have the potential to create great innovations with the proper funding and mentorship.
Hanwha Aerospace and Hanwha Asset Management: Reading global market trends
With Hanwha seeking to expand its presence in the global aerospace industry, Hanwha Aerospace CEO Hyun-woo Shin's time at WEF was dedicated towards identifying market trends and strengthening relations with leading aircraft manufacturers. In pursuit of this goal, CEO Shin attended a session with leadership representatives from Boeing, Airbus, and Lockheed Martin.
To gauge the strategies and the future of the global financial industry, Hanwha Asset Management CEO Yong-Hyun Kim held a series of meetings with global asset managers from major companies such as Bearing Asset Management and BlackRock. CEO Kim also attended a session where a panel of executives from the world's leading financial service providers, such as the Blackstone Group and Zurich Insurance Group, discussed the role the financial industry will play in the new era of globalization.
Hanwha at Davos: Taking the stage as a leading player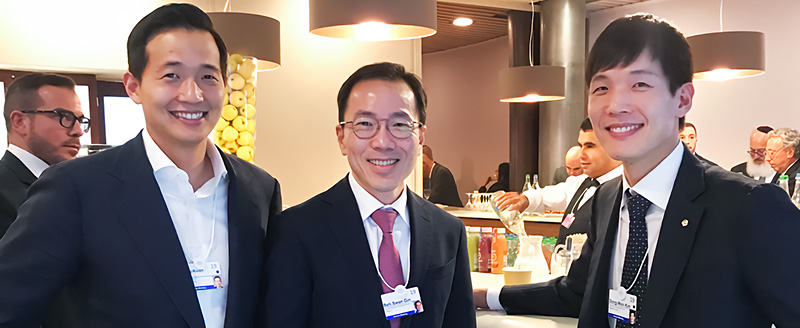 For Hanwha Q CELLS CCO Dong Kwan Kim, this was his tenth consecutive year attending Davos. His first attendance was in 2010 with Hanwha Group Chairman Seung Youn Kim for Hanwha's first participation in the World Economic Forum. From the beginning, CCO Kim has taken an active interest in promoting Hanwha and environmental sustainability at the WEF. He was instrumental in expanding Hanwha's presence at the WEF and using the event to lay the groundwork to present Hanwha Q CELLS as a leader in the global solar energy industry.
It was at CCO Kim's urging that Hanwha Q CELLS donated Q.PEAK 275 Wp solar modules to the Davos Congress Centre in December of 2013. It drew awareness among WEF participants to the importance of environmental sustainability and solar power's potential to combat global warming.
In 2013, the WEF recognized CCO Kim's work by naming him a member of the Forum of Young Global Leaders, an elite peer network of leaders and influencers under the age of 40 from the worlds of business, politics, and academia.
Hanwha Q CELLS CCO Kim has been a regular panelist for energy-related sessions at the WEF since 2014 when he shared Hanwha's vision of renewable energy to world leaders. Since 2017, he's hosted meetings at Davos with the Global Green Growth Institute and discussed global energy policies.
Hanwha Life CDO Dong Won Kim has also been a panelist. In 2016, having been recognized for his work in driving innovations in the financial services industry, CDO Kim was chosen as a panelist to be on the Young Leaders Roundtable at the Boao Forum for Asia, the Chinese equivalent to the WEF.
This year was Hanwha Life CDO Kim's third time attending the WEF. He first came to Davos in 2017 and focused on the potential impact of FinTech on the financial services industry and its shifting landscape. During meetings with young entrepreneurs at Davos, CDO Kim spoke about future Asian growth engines and supporting Korean start-up expansions into overseas markets.
Hanwha participated in the 2019 World Economic Forum, held at the Davos Congress Centre in Davos, Switzerland

2019 is the tenth consecutive year Hanwha participated in the WEF, where political, business, and academic leaders gather to discuss how to improve the world

Hanwha Q CELLS CCO Dong Kwan Kim (left) met with Grid Singularity COO Ana Tribovich (right) and discussed how blockchain will change the future of smart energy management

Hanwha Life CDO Dong Won Kim (second from right) held a meeting with Zymergen, a company that combines machine learning and genetic research to develop products and materials

Hanwha Asset Management CEO Yong-Hyun Kim (second from right) and The Carlyle Group Co-Founder and Co-Executive Chairman David Rubenstein (center) spoke at length during the WEF

Hanwha Q CELLS CCO Dong Kwan Kim (left) shakes hands with Lanxess CEO and Chairman of the Board of Management Matthias Zachert (right), after a meeting at Hotel Concordia, Hanwha's base of operations during WEF

Hanwha branding was prominently displayed on Hotel Concordia, near the Davos Congress Centre, during the WEF

Hanwha placed an ad in the Financial Times on January 22, 2019, to spread awareness of its commitment to environmental sustainability

Visitors who met with Hanwha at Hotel Concordia were presented with a gift set wrapped in bojagi, traditional Korean cloth
Hanwha Group
Founded in 1952, Hanwha has grown quickly by anticipating and responding to changing business environments with a balanced business portfolio that includes energy & materials, aerospace, finance and retail & services. Our expertise and synergy in key areas have catapulted us into the seventh-largest business in South Korea and a Fortune Global 500 company. Hanwha continues to grow rapidly as we strive to pursue global leadership in all of our businesses. We are building a robust foundation for sustainable development and a brighter future for everyone.

For more information, visit: www.hanwha.com
Contact Us
Thank you for your interest in Hanwha.
Please contact us for your inquiries.
Email Us
Information Message
Please enter your email address.
Information Message
Please enter a correct email address.
Success
Keep an eye on your inbox for the latest stories from Hanwha.
Information Message
Your subscription request has already been processed. Thank you.