Hanwha Qcells Retains Top Market Share in the US Residential and Commercial Solar Module Segments for 2022
The latest U.S. PV Leaderboard Report issued by Wood Mackenzie Power & Renewables solidifies Hanwha Qcells as a sustained market leader.
Hanwha Qcells has now held the No.1 market share position in the residential and commercial solar segments for five and four consecutive years, respectively.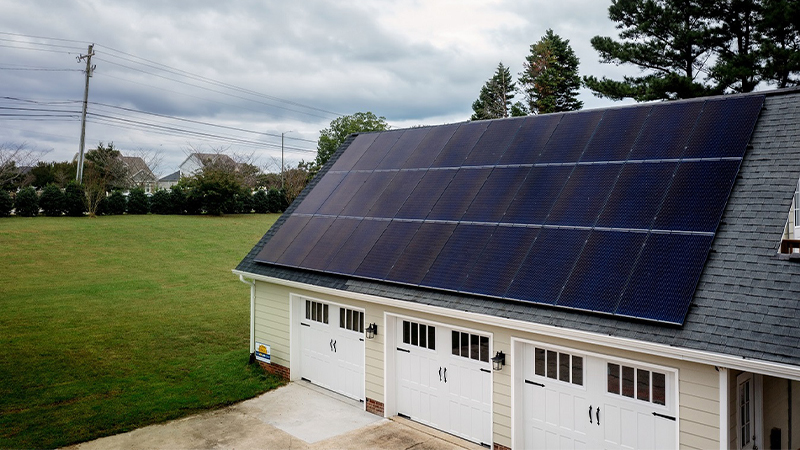 Hanwha Qcells, a leading provider in complete energy solutions, once again leads the solar industry in both U.S. residential and commercial markets , according to a recent report issued by Wood Mackenzie, a leading energy research and consultancy firm.
According to Wood Mackenzie's U.S. PV Leaderboard Report for Q1 2023 (the "Leaderboard Report"), Hanwha Qcells obtained 33.7 percent market share in the U.S. residential solar module market for 2022, marking 18 consecutive quarters occupying No.1. Hanwha Qcells' panels are installed in more than one third of U.S. solar households, meaning the company has set a new record for the highest market share by an individual residential module supplier over the past ten years. Further, Hanwha Qcells logged a remarkable 38.9 percent market share in Q4 alone.
The Leaderboard Report also ranks Hanwha Qcells as the U.S. commercial market leader with 17.7 percent market share for 2022. Hanwha Qcells has held this No.1 position in the commercial segment for the last four years.
"Hanwha Qcells is proud to be a leader in clean energy solutions in the U.S. PV module sector. Our consistent market leadership serves as proof that our customers value what Hanwha Qcells as a brand has to offer," said Hanwha Qcells CEO Justin Lee. "Establishing a complete, domestic solar manufacturing value chain in the U.S. will only help Hanwha Qcells continue reaching greater heights and maintain its position as the dependable choice for the U.S. market." 
Hanwha Qcells is well positioned to continue its leading market performance in the U.S., driven by its longstanding commitment to bolstering the domestic market. Hanwha Qcells' announced plans to invest more than $2.5 billion - the largest investment in the history of American solar - to build a complete solar supply chain in the U.S. With this, Hanwha Qcells aims to accelerate the U.S.' renewable energy transition and domestic manufacturing expansion amid the country's push for made-in-America clean energy solutions.
Alongside its capacity expansion plans, Hanwha Qcells' milestones extend to its growing integrated energy solutions for the residential, commercial, and utility sectors.
Most recently, Hanwha Qcells and Summit Ridge Energy, the nation's largest commercial solar company, announced a partnership where Hanwha Qcells will provide 1.2 gigawatts of solar panels to support the development of more than 350 community solar projects during the next four years. Hanwha Qcells will also deliver more than 2.5 gigawatts of solar panels, as well as provide engineering, procurement, and construction (EPC) services to selected solar projects contracted by Microsoft through power purchase agreements (PPAs).
Hanwha Solutions Qcells division
Hanwha Qcells (Hanwha Solutions Qcells division) is one of the world's leading clean energy companies, recognized for its established reputation as a manufacturer of high-performance, high-quality solar cells, and modules, a portfolio of intelligent storage systems, and a growing international pipeline of large-scale renewable energy projects. Hanwha Qcells also provides renewable electricity retail services and packages to end customers the world over. The company is headquartered in Seoul, South Korea (Global Executive HQ) and Thalheim, Germany (Technology & Innovation HQ) with its diverse international manufacturing facilities in the U.S., Malaysia, China, and South Korea. Hanwha Qcells strives to offer Completely Clean Energy through the full spectrum of photovoltaic products, storage solutions, renewable electricity contracting, and large-scale solar power plants. Through its growing global business network spanning Europe, North America, Asia, South America, Africa, and the Middle East, Hanwha Qcells provides excellent services and long-term partnerships to its customers in the utility, commercial, governmental, and residential markets.

For more information, visit: www.qcells.com/us/
Hanwha Solutions
Hanwha Solutions aims to deliver sustainable solutions for the planet through smart energy solutions and customer-focused materials. The Company operates its business through three divisions: Qcells, Chemical, and Insight. The Qcells Division offers total energy solutions from photovoltaic module manufacturing, power plant operation to electricity retailing service. Long recognized as a prominent leader in the chemicals industry, the Chemical Division is growing into a global green energy materials company with its cutting-edge solutions for eco-friendly materials. The Insight Division is providing differentiated solutions through comprehensive development and financing for projects such as cities, smart green industrial complexes, renewable energy, premium real estate and premium content. With its innovative technologies for sustainable growth, Hanwha Solutions strives to become a global leader in bringing a better future for humanity.

For more information, visit: www.hanwhasolutions.com/en/
Safe-Harbor Statement
This press release contains forward-looking statements. These forward-looking statements can be identified by terminology such as "will," "expects," "anticipates," "future," "intends," "plans," "believes," "estimates" and similar statements. Among other things, the quotations from management in this press release and Qcells' operations and business outlook, contain forward-looking statements. Such statements involve certain risks and uncertainties that could cause actual results to differ materially from those expressed in or suggested by the forward-looking statements. Except as required by law, Qcells does not undertake any obligation to update or revise any forward-looking statements, whether as a result of new information, future events or otherwise.

Contact Us
Thank you for your interest in Hanwha.
Please contact us for your inquiries.
Email Us
Information Message
Please enter your email address.
Information Message
Please enter a correct email address.
Success
Keep an eye on your inbox for the latest stories from Hanwha.
Information Message
Your subscription request has already been processed. Thank you.