Hanwha Techwin Inks Deal to Provide Security Solutions to Egyptian Government
Hanwha Techwin has signed a memorandum of understanding to partner with Benha Electronics, an Egyptian government-run company
As part of the deal, Hanwha Techwin will supply video surveillance to establish security systems in a dozen major Egyptian cities
The deal is expected to serve as a springboard for more partnerships with the government on local projects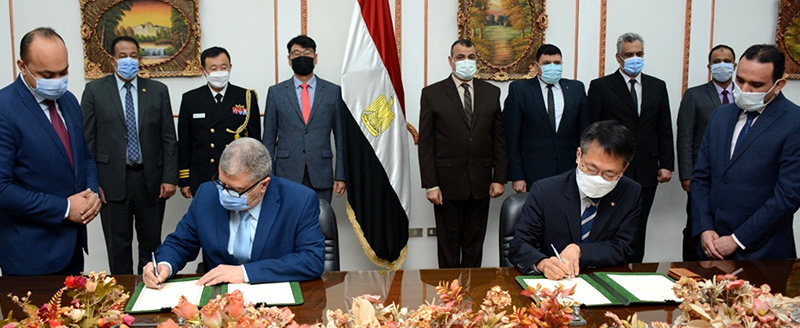 Hanwha Techwin, a global security solutions provider, has announced that it has signed a memorandum of understanding (MoU) with Egypt's Ministry of Military Production to supply security solutions, including video surveillance, to Egyptian government entities and projects.
This marks the first time that a Korean security solutions provider has signed an MoU with the Government of Egypt. Under the terms of the deal, Hanwha Techwin will supply video surveillance to a dozen Egyptian cities to establish security systems that will help safeguard major facilities, deter crimes, and prevent accidents. In a mutually beneficial partnership, the Egyptian government-run Benha Electronics, the country's leading electronics company, will be able to leverage Hanwha Techwin's technology and parts to assemble the products locally, laying the foundation for a long-term partnership with the Egyptian government.
The Egyptian government decides on partnerships for the majority of its local projects after a thorough evaluation of not only price but also functionality and quality. Being selected to partner with the Egyptian government is regarded as recognition for developing high-quality products that offer exceptional functionality.
Hanwha Techwin cited its brand recognition in nearly 100 countries across the globe, as well as the industry-leading quality of its video monitoring and cybersecurity solutions, as key to its success in securing the MoU. The company's solutions ensure clear images by utilizing various image-enhancing features, including a digital image stabilizer and a backlight correction function that uses Hanwha's proprietary image processing system-on-chip technology.
Last year, the company released the world's first 8K surveillance camera, and also acquired the UL CAP (Cybersecurity Assurance Program) certification – an international cybersecurity standard that evaluates network-connectable products for potential cybersecurity issues. The UL CAP certification speaks to Hanwha Techwin's ability to safeguard surveillance cameras and image data from potential threats, including hackers.
"This deal represents a meaningful step toward developing a long-term relationship with the Egyptian government," said a Hanwha Techwin representative. "It will serve as a springboard for more opportunities to engage in government-led projects in the future."
Hanwha Techwin officially established operations in the Middle East and Africa with the opening of a local branch office in Dubai in 2012. In 2016, after recognizing the region's potential for growth, the company established a local subsidiary to accelerate its business.
Its decision to focus on the region has paid off. Last year, Hanwha Techwin Middle East posted nearly $35 million in revenue. In the UAE, where Hanwha Techwin Middle East is based, the branch ranked first overall in market share. It also received multiple accolades from the Dubai Chamber of Commerce and Industry and the Abu Dhabi Monitoring and Control Center, in a testament to its products' exceptional quality and reliability.
Hanwha Techwin is Hanwha Aerospace's global surveillance solutions arm. For more than three decades, the company has dedicated itself to developing video surveillance technologies that demonstrate its world-class capabilities in the fields of optical design, manufacturing, and image processing technology.
Hanwha Techwin has a particular edge in next-generation technologies such as deep learning and AI. Drawing from its expertise in developing industry-leading cybersecurity solutions, the company designs video surveillance solutions for many industries, including housing, transportation, smart cities, smart factories, and retail.
Hanwha Vision
Hanwha Vision (formerly Hanwha Techwin) has been leading the global video surveillance industry with world-class optical design, image processing and cybersecurity technologies for more than 30 years. As it broadens its business to become a global vision solution provider, Hanwha Vision will deliver more valuable and meaningful insights to customers by collecting key information and providing big data analytics utilizing AI and cloud technologies.

For more information, visit: HanwhaVision.com/
Contact Us
Thank you for your interest in Hanwha.
Please contact us for your inquiries.
Email Us
Information Message
Please enter your email address.
Information Message
Please enter a correct email address.
Success
Keep an eye on your inbox for the latest stories from Hanwha.
Information Message
Your subscription request has already been processed. Thank you.