Hanwha Techwin Launches Eco-friendly Electric Bus Business
Hanwha to form a development and marketing partnership for environmentally-friendly electric buses with Zyle Daewoo Bus
New move expected to provide foothold for entering the global electric bus market
Hanwha Techwin (Security & Machinery Solution Business Group President & CEO Kim Cheol-kyo) announced on July 15th that the company has signed an agreement for the joint development and marketing of environmentally-friendly electric buses with Zyle Daewoo Bus.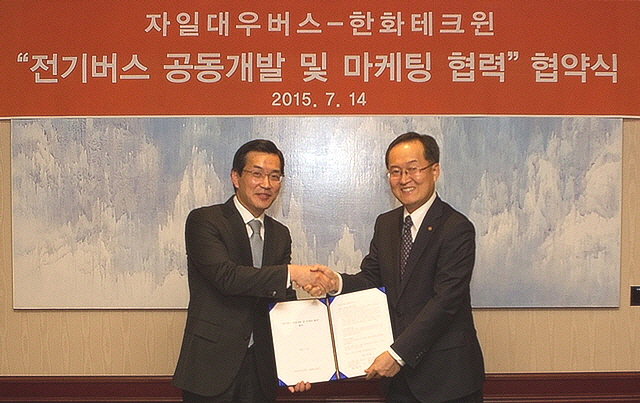 Hanwha Techwin will develop the electric powertrain and battery pack for the electric vehicles (EVs), while Zyle Daewoo Bus will oversee the bus design and testing.
With the new agreement, Hanwha Techwin will begin supplying battery packs for electric buses manufactured in Zyle Daewoo Bus' overseas production facilities, providing the company with a new foothold for entering the global eco-friendly EV market.
An electric powertrain refers to the main components of an EV that produces and delivers power to drive the vehicle, including the motor, inverter, battery pack, and an integrated control system for the efficient management of these subsystems.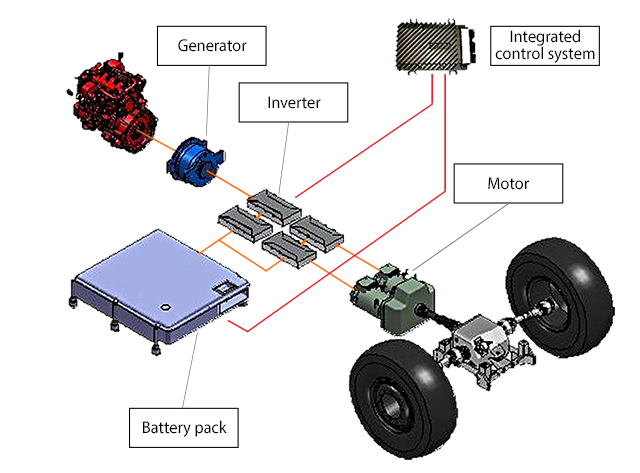 Hanwha Techwin has accumulated over ten years of experience in electric powertrain and battery pack technologies by developing hybrid vehicles for the defense industry, and has been expanding its presence in the environmentally-friendly EV sector recently by signing a comprehensive technology partnership agreement with MIRA, an automotive engineering and research company based in the United Kingdom, and working with Begins Jeju¹ to operate an EV battery leasing business in Jeju².
Zyle Daewoo Bus, Hanwha Techwin's partner in this new venture, is one of the top players in the passenger bus industry manufacturing and supplying over 10,000 vehicles per year around the world, and is widely regarded as Korea's leading company in eco-friendly buses such as hybrid and electric buses.
A spokesperson for Hanwha Techwin stated that "the new agreement is a prime opportunity for expanding Hanwha Techwin's defense business into the civilian sector," adding that "Based on the company's core technologies and production capabilities in defense vehicles, the company will actively develop new future industries including not only battery packs and electric powertrains but unmanned defense robots, micro auxiliary power units, and more.
¹ Begins Jeju is a company that supplies and operates electric buses, taxies, and battery swapping system.
² Jeju (officially the Jeju Special Self-Governing Province) is the largest island in Republic of Korea.
Hanwha Group
Founded in 1952, Hanwha has grown quickly by anticipating and responding to changing business environments with a balanced business portfolio that includes energy & materials, aerospace, finance and retail & services. Our expertise and synergy in key areas have catapulted us into the seventh-largest business in South Korea and a Fortune Global 500 company. Hanwha continues to grow rapidly as we strive to pursue global leadership in all of our businesses. We are building a robust foundation for sustainable development and a brighter future for everyone.

For more information, visit: www.hanwha.com
Contact Us
Thank you for your interest in Hanwha.
Please contact us for your inquiries.
Email Us
Information Message
Please enter your email address.
Information Message
Please enter a correct email address.
Success
Keep an eye on your inbox for the latest stories from Hanwha.
Information Message
Your subscription request has already been processed. Thank you.