Hanwha Techwin Opens Aviation Engine Parts Plant
New facility to manufacture components for next-generation aviation engines

On November 1st, Hanwha Techwin's CEO of Aerospace & Defense Business Group, Shin Hyun-Woo, attended the ceremony to dedicate the new aviation engine component production facility built on the grounds of the existing Changwon production facilities. The aviation component facility represents a major part of the company's initiative to take the lead in the global aircraft engine parts and components market.
The day's event was also attended by General Electric's (GE) General Manager of Global Sourcing Brian Yoder as well as over 180 aviation industry community members from Rolls Royce, Pratt & Whitney (P&W), the Defense Agency of Technology & Quality, Korea Aerospace Industries, South Korea's military, Hanwha and its partner companies.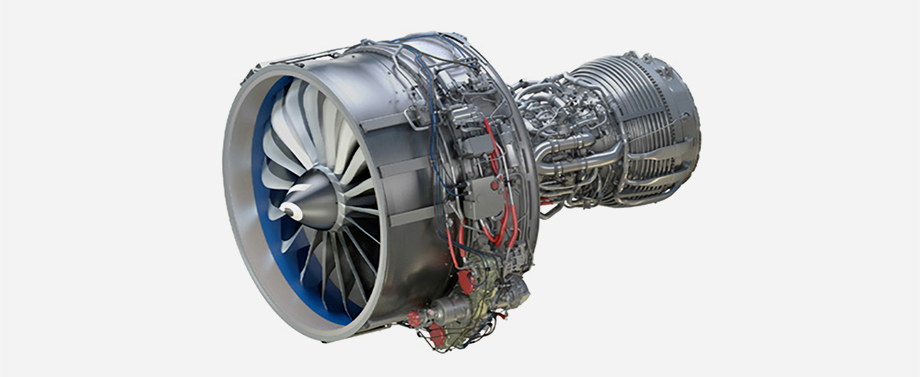 The new 13,752㎡ engine component plant was built to manufacture components for GE's next-generation Leading Edge Aviation Propulsion (LEAP) aviation engine. The new aviation engine parts plant can also handle additional orders of components for P&W's GTF engine and Rolls Royce's Blisks (bladed disks).
Hanwha Techwin plans to manufacture 18 components for the LEAP engine at the new facility and supply $440 million dollars' worth of parts over the next ten years from 2016 to 2025.
The new plant is a state-of-the-art facility that has been meticulously designed. The plant accurately maintains a constant level of temperature and humidity, environmental factors that can affect the quality of sensitive aviation components. The layout optimization ensures the most effective line facility placement and robots replace manual processes to reduce production time while also improving quality.
The LEAP engine is designed for use in aircrafts such as the Airbus A320neo and the Boeing B 737 Max. It is the next-generation engine being developed by CFM International, a partnership between GE and France's Snecma. The Leap engine will replace the best-selling CFM561 engine for single-aisle (medium) airliners, the segment that is expected to dominate the future passenger aircraft market.
¹ CFM56 is the best-selling aviation engine developed by GE and Snecma in 1982 and used for the A320 family
  and the B737 aircrafts. Over 22,000 units have been sold.
A separate ceremony was held to celebrate the production of the 8,000th gas turbine engine. Hanwha Techwin entered the aviation engine market in 1979 and in 1980, developed its first overhauled gas turbine engine. It has since manufactured engines for jet fighters, helicopters and marine crafts for all three branches of the South Korean military.
Hanwha Techwin maintains a technological superiority and dominant market position in South Korea's aviation engine industry. As the main engine developer of Korea's fighter and rotary wing aircraft projects, it produces engines for the F-15K fighter and T-50 advanced trainer. It also plays a leading role, manufacturing the engines for the South Korean Helicopter – the Surion – the multi-role helicopter.
Hanwha Techwin takes part in numerous engine RSPs (Risk & Revenue Sharing Programs) with global engine manufacturers including GE and P&W – a testament to Hanwha Techwin's renowned engine technology and reputation world-wide. The company was also recently responsible for the manufacture and shipment of the first stage motor for the KSLV-II launch system.
CEO Shin Hyun-Woo of Hanwha Techwin said, "Our 8,000th engine represents a successful past – 37 years of aviation engine technology expertise and our promising future in the global market with the construction of our dedicated engine component plant." He added, "Hanwha Techwin will continue to develop as a global engine manufacturer by building our clients the highest quality product with our world-leading technology."
The new aviation engine plant will undoubtedly help to maintain the relationship between Hanwha and GE. Hanwha Techwin has been supplying engine parts to GE for more than 2 years since November of 2014. The plant will also serve Hanwha Techwin to deliver on its $10 billion order as one of the key contractors of P&W's next-generation engine development project. Combined with the acquisition of a significant number of shares of PWMS (P&W's Singapore subsidiary), Hanwha Techwin is further solidifying its position as a global engine parts and components leader.
GE Company Overview
The General Electric Company was founded in 1892; the company has approximately 333,000 employees and posted revenues of $117.4 billion at the end of 2015.

GE's major businesses include digital, energy, aviation and healthcare. GE is regarded as one of the world's top three aviation engine companies alongside the United States' Pratt & Whitney and Britain's Rolls Royce. These aviation engine companies manufacture civilian aircraft engines, military and industrial gas turbines, and marine turbine engines.

Hanwha Techwin Aircraft Engine Business Overview
Hanwha Techwin is a key partner of a number of fighter aircraft and helicopter engine development projects in Korea, having manufactured jet engines for the F-5 fighter through a technology partnership with GE in 1980 and being selected for the final assembly of the KF-16 fighter in 1986.

In addition to playing key roles in engine development for Korea's frontline military aircraft including the
F-15K fighter and T-50 multirole trainer, Hanwha Techwin has been an active participant in the Korean Helicopter Program (KHP) as the Korean engine manufacturer of the Surion helicopter and currently maintains a commanding lead in market presence and technology in the aircraft engine industry in Korea.

Hanwha Techwin has been honing its technological capabilities in aerospace in recent years, participating in the Naro project, Korea's first space launch vehicle, as well as the "KSLV-II" project for Korea's satellite launch system slated to take off in 2021.

Hanwha Group
Founded in 1952, Hanwha has grown quickly by anticipating and responding to changing business environments with a balanced business portfolio that includes energy & materials, aerospace, finance and retail & services. Our expertise and synergy in key areas have catapulted us into the seventh-largest business in South Korea and a Fortune Global 500 company. Hanwha continues to grow rapidly as we strive to pursue global leadership in all of our businesses. We are building a robust foundation for sustainable development and a brighter future for everyone.

For more information, visit: www.hanwha.com
Contact Us
Thank you for your interest in Hanwha.
Please contact us for your inquiries.
Email Us
Information Message
Please enter your email address.
Information Message
Please enter a correct email address.
Success
Keep an eye on your inbox for the latest stories from Hanwha.
Information Message
Your subscription request has already been processed. Thank you.