Hanwha Techwin (Currently Hanwha Vision)
Showcases AI Solutions at ISC West 2022
Featured new industry-specific AI cameras and video analytics
Demonstrated advanced deep learning technology in the latest surveillance camera series able to detect specific characteristics of both people and vehicles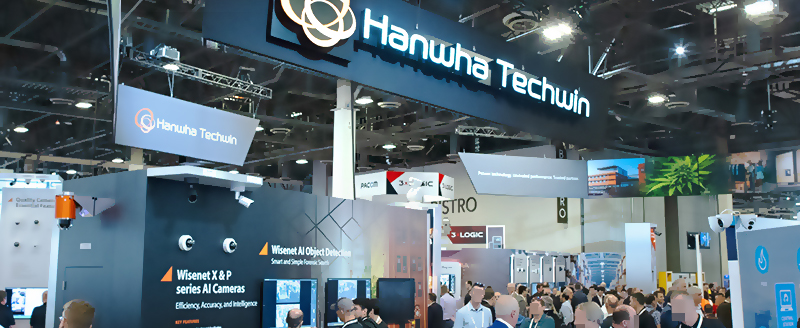 Hanwha Techwin (Currently Hanwha Vision), a global supplier of innovative network and analog video surveillance solutions, has successfully completed its exhibition at the International Security Conference & Exposition (ISC West 2022) held from March 23 to March 25 in Las Vegas, NV, USA.
At ISC West 2022, Hanwha Techwin (Currently Hanwha Vision) showcased new AI cameras and industry-specific solutions enabled by AI video analytics under the theme, "Proven Technology, Unrivaled Performance, Trusted Partner."
The company's latest surveillance camera series provides cutting-edge AI analytics based on deep learning technology. This advanced technology, which detects both people and vehicles, can even classify an individual's gender, age range and clothing color as well as a vehicle's color, type and license plate number providing the user with a range of important information.
A variety of industry solutions composed of AI cameras also drew positive responses from visitors. Wisenet Road AI, a traffic solution which swiftly analyzes not only vehicle type, color and license plate number but also its brand and model, sparked particular interest from event attendees. This new technology allows users to easily search for video footage using vehicle attributes in the event of a car accident.
For example, when users type in keywords such as, "Gray, Van, XX Maker and XX Model," Wisenet Road AI will provide video footage of that certain vehicle. When multiple cameras are integrated into the network, it is also possible to further track the vehicle over long distances.
In addition, AI cameras convert images of license plates into machine-readable text through optical character recognition (OCR) processing allowing users to easily and quickly search for and find vehicles by typing in partial number or character sequences found on license plates.
At ISC West 2022, the company also revealed its first multi-sensor AI camera. This camera boasts two lenses attached to a single camera body, each capturing a different angle and field of view while running the latest version of WAVE, a convenient and intuitive video management system (VMS).
With the introduction of its first cloud-based VMS, Wisenet Sky, Hanwha Techwin (Currently Hanwha Vision) showed both its willingness to expand its product portfolio as well as a dedication to providing affordable systems to customers by reducing their initial investment in on-premise infrastructures. In alignment with this approach to the US market, introducing the newly released A-series cameras and NDAA compliant NVRs further enriched Hanwha Techwin (Currently Hanwha Vision)'s cost-effective product lineup.
The AI cameras and cloud-based VMS showcased at ISC West 2022 exemplify Hanwha Techwin (Currently Hanwha Vision)'s goal to transition from a network device provider to an Artificial Intelligence of Things (AIoT) platform service and cloud-based solutions provider. ISC West 2022 marked the beginning of Hanwha Techwin (Currently Hanwha Vision)'s trailblazing endeavor into next-generation technologies.
"Products with distinctive features and reproduction of the data collected from those products to provide users with meaningful and useful information is Hanwha Techwin (Currently Hanwha Vision)'s ultimate goal as a solution provider," stated an official from Hanwha Techwin (Currently Hanwha Vision). "We will continue to penetrate into the global market by developing a variety of solutions that can meet industry needs."
Hanwha Vision
Hanwha Vision (formerly Hanwha Techwin) has been leading the global video surveillance industry with world-class optical design, image processing and cybersecurity technologies for more than 30 years. As it broadens its business to become a global vision solution provider, Hanwha Vision will deliver more valuable and meaningful insights to customers by collecting key information and providing big data analytics utilizing AI and cloud technologies.

For more information, visit: HanwhaVision.com/
Contact Us
Thank you for your interest in Hanwha.
Please contact us for your inquiries.
Email Us
Information Message
Please enter your email address.
Information Message
Please enter a correct email address.
Success
Keep an eye on your inbox for the latest stories from Hanwha.
Information Message
Your subscription request has already been processed. Thank you.