Hanwha Techwin Signs $3.8 Billion Aircraft Engine Parts Supply Contract with Pratt & Whitney(P&W), One of the World's Top Aircraft Engine Makers
Hanwha Techwin joins P&W's next generation aircraft engine RSP (Risk and Revenue Sharing Partnership)
Secures supply contract of engine parts estimated to total $3.8 billion from 2015 until approximately 2060
Aircraft engine parts contracts totaling $7 billion signed during the past year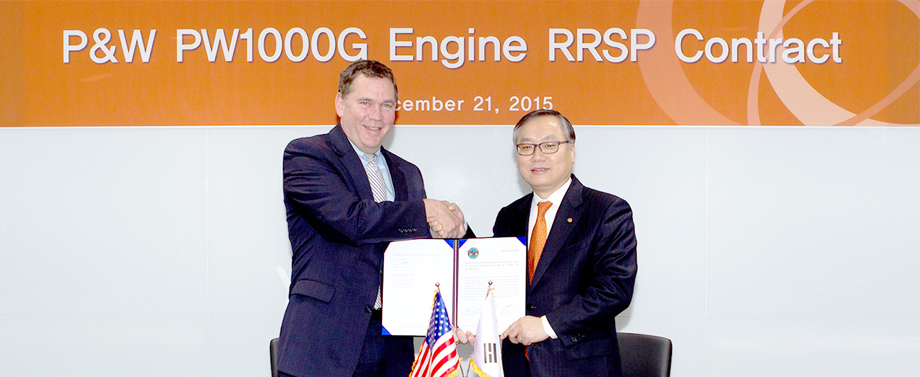 Hanwha Techwin (Aerospace & Defense Business Group CEO Shin Hyun-woo) announced on December 21 at the headquarters of Hanwha Techwin in Jangyo-dong, Seoul, that the company has signed a risk and revenue sharing partnership (RSP)¹ with Pratt & Whitney of the United States, one of the world's top aircraft engine makers, and will supply aircraft engine components as part of a $3.8 billion deal from 2016 until approximately 2060.
¹ Risk and Revenue Sharing Partnership (RSP)
- Contract structure that assigns the risk and revenue of the entire process of development, production and
  after-market management of an aircraft engine based on the share of a project participant
- Commonly applied to a forefront nation from the beginning in development of aircraft engine
Hanwha Techwin's participation in the risk and revenue sharing partnership began in November 2014 with a $900 million deal with P&W, and continued in January with a $430 million deal with GE, and in June with a $1.7 billion deal with P&W supplying aircraft engine parts, as part of a remarkable achievement of signing aircraft supply contracts totalling $7 billion over the past year.
Hanwha Techwin's newest RSP involves mid-sized (130~240 seat capacity) aircraft engines, which have higher thrust compared to the engines in the contract signed in June for geared turbofan engines (GTFs) for P&W's regional jets and aircrafts with seat capacities from 70 to 130 seats.
Currently the engine is the highest-performing engine of all time in terms of fuel consumption, noise and emissions in global aviation history, and will be installed in the Airbus A320 Neo. Hanwha Techwin strengthened its position as an engine part manufacturer by agreeing to be part of the latest engine development partnership.
For the first time in the 40 years of Hanwha Techwin's history, the company has agreed to supply three different Integrally Bladed Rotors(IBRs) to P&W; IBRs are high value-added rotary parts which are usually manufactured only by OEM engine manufacturers or RSP participants. With this, Hanwha Techwin demonstrated its manufacturing know-how as well as its quality assurance and control in the global market.
IBRs are made of nickel alloys to withstand the extreme high temperatures and pressure during engine operation, requiring high degree of manufacturing technique such as difficult-to-cut material. As a consumable part, the component is expected to be supplied over the 45-year lifespan of an engine, ensuring profits as a high value-added component, according to Hanwha Techwin.
Hanwha Techwin commented, "According to the increase in passenger demand and quantity of goods transported, the global aviation market has grown continuously," and also emphasized that "by strengthening the partnership with P&W and other global top aircraft engine makers, Hanwha Techwin will continuously expand the scale of aircraft engine part business."
Hanwha Group
Founded in 1952, Hanwha has grown quickly by anticipating and responding to changing business environments with a balanced business portfolio that includes energy & materials, aerospace, finance and retail & services. Our expertise and synergy in key areas have catapulted us into the seventh-largest business in South Korea and a Fortune Global 500 company. Hanwha continues to grow rapidly as we strive to pursue global leadership in all of our businesses. We are building a robust foundation for sustainable development and a brighter future for everyone.

For more information, visit: www.hanwha.com
P&W Company Profile
Pratt & Whitney (P&W), a subsidiary of United Technologies Corporation (UTC), is a U.S.-based aircraft engine manufacturer founded in 1925. Together with GE and Rolls Royce, P&W is considered to be one of the world's top aircraft engine manufacturers, producing a wide range of engines for civilian aircraft, military and industry gas turbines, and marine turbines. Revenues totaled $14.5 billion in 2014, with net profits of $1.9 billion. The company is headquartered in Hartford, Connecticut, and employs 33,591 people around the world.

Hanwha Techwin Aircraft Engine Business Overview
Hanwha Techwin is a key partner of a number of fighter aircraft and helicopter engine development projects in Korea, having manufactured jet engines for the F-5 fighter through a technology partnership with GE in 1980 and being selected for the final assembly of the KF-16 fighter in 1986.

In addition to playing key roles in engine development for Korea's frontline military aircraft including the F-15K fighter and T-50 multirole trainer, Hanwha Techwin has been an active participant in the Korean Helicopter Program (KHP) as the Korean engine manufacturer of the Surion helicopter and currently maintains a commanding lead in market presence and technology in the aircraft engine industry in Korea.

Hanwha Techwin has been honing its technological capabilities in aerospace in recent years, participating in the Naro project, Korea's first space launch vehicle, as well as the "KSLV-II" project for Korea's satellite launch system slated to take off in 2021.

Contact Us
Thank you for your interest in Hanwha.
Please contact us for your inquiries.
Email Us
Information Message
Please enter your email address.
Information Message
Please enter a correct email address.
Success
Keep an eye on your inbox for the latest stories from Hanwha.
Information Message
Your subscription request has already been processed. Thank you.