Hanwha Techwin Signs Agreement with GE to Locally Manufacture F414 Engines for KF-X Aircrafts
Hanwha Techwin to lead KF-X engine integration, installation and localization development through technological cooperation with GE Aviation
Engine production for local KF-X demand alone is expected to exceed $1.58 billion, coupled with another $1.76 billion for export and maintenance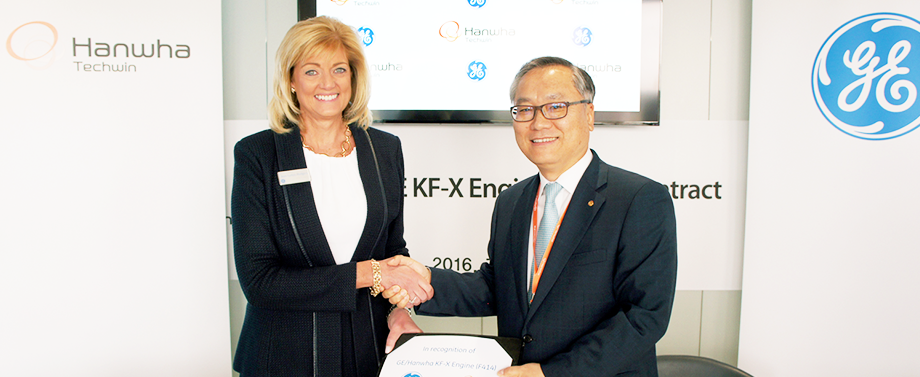 On July 12, the Hanwha Techwin CEO of Aerospace and Defense Business Group Shin Hyun-Woo signed a technical collaboration agreement with the GE Aviation's Military Systems Operation CEO Jean M. Lydon-Rodgers at the Farnborough International Airshow, UK, to domestically manufacture the engine parts that will power the Korean Fighter Experimental (KF-X) aircraft.
Under the agreement, Hanwha Techwin will lead the integration and installation of the engine on the KF-X as well as the local assembly of the engines and manufacture of key parts. Hanwha Techwin will also support the flight testing during the engine system development and build a comprehensive military support system for the fighter jet operations.
The KF-X project led by Hanwha Techwin is the biggest defense project since the founding of the nation's Republic of Korea Air Force (ROKAF).

The KF-X system development program is scheduled to be completed in 2026. The first milestone is to complete the Preliminary Design Review (PDR) in 2018 followed by the Critical Design Review (CDR) in 2019. Then after launching the first prototype in 2021, the final milestone will be the initial flight in 2022.
Earlier in May, GE was selected to supply the KF-X with their F414-GE-400 engines. Equipped with these state-of-the-art 21,500-pound-thrust-class engine, the twin engine KF-X fighter, will serve as the flagship fighter jet of the ROKAF.
"Manufacturing the KF-X engines will stabilize the local production systems and the supply of frequently replaced parts, and this will pave the way to reducing operating costs while enhancing the combat readiness of the ROKAF," said a representative for Hanwha Techwin. He further added, "the local manufacturing facilities and infrastructure enhanced through the KF-X project will continuously help to increase the strengthening and even the exporting of the ROKAF's aircraft lineup."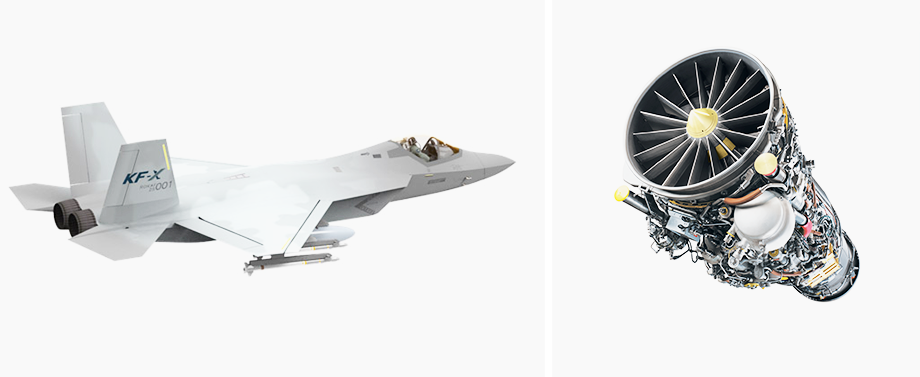 Hanwha Techwin is the leading engine manufacturer for Korea's main fighter jets and helicopters. After manufacturing the engine for the F-5 jet through technical collaboration with GE in 1980, Hanwha Techwin was selected for the final engine assembly for the KF-16 in 1986. The company has consistently maintained an unrivaled presence with leading-edge technologies in the aerospace engine industry. Hanwha Techwin has developed the engines for the ROKAF's renowned fighter jets such as the F-15K and the T-50. And it has also actively worked on the KHP (Korean Helicopter Program) to produce the engine for 'Surion', a utility helicopter domestically designed and manufactured in South Korea.
Hanwha Techwin's technological capabilities are recognized globally. As a testament to this recognition, the company is gaining attention for winning a series of orders to supply engine parts and actively participating in RSP (Risk and Revenue Sharing Partnership) with global aircraft engine manufacturers.
The company has won aircraft engine parts contracts totaling $7 billion in the last two years. It received a $900 million order to produce engine parts for Pratt & Whitney's (P&W) Geared Turbofan (GTF) in 2014, and a $430 million order for GE's Leading Edge Aviation Propulsion (LEAP) engine in January of 2015. And in June of 2015, it signed a $1.7 billion deal with P&W to supply engine parts. Later that year in December, Hanwha Techwin joined P&W's next-generation engine RSP totaling $3.8 billion.
Since becoming the affiliate of Hanwha Group last June, Hanwha Techwin has amplified its efforts to improve its business competitiveness. Hanwha Techwin has also announced its new vision to become a global leader with aerospace, defense systems, and cutting-edge technology equipment solutions.
The technical collaboration agreement with GE is not only a recognition of Hanwha Techwin as a technical expert in the building of aircraft engines and parts but also as a reliable global partner. This further solidifies the company's position as a key business unit of the Hanwha Group.
GE Aviation Overview
GE Aviation is a world-leading provider of commercial, military and business and general aviation jet and turboprop engines and components as well as avionics, electrical power and mechanical systems for aircraft. GE has a global service network to support these offerings. GE and its customers are also working together to unlock new opportunities to grow and deliver more productivity beyond traditional services. GE Aviation is becoming a digital industrial business with its ability to harness large streams of data that are providing incredible insights and in turn, real operational value for customers¹.
¹ Source: GE Aviation website (www.geaviation.com)

Hanwha Group
Founded in 1952, Hanwha has grown quickly by anticipating and responding to changing business environments with a balanced business portfolio that includes energy & materials, aerospace, finance and retail & services. Our expertise and synergy in key areas have catapulted us into the seventh-largest business in South Korea and a Fortune Global 500 company. Hanwha continues to grow rapidly as we strive to pursue global leadership in all of our businesses. We are building a robust foundation for sustainable development and a brighter future for everyone.

For more information, visit: www.hanwha.com
Contact Us
Thank you for your interest in Hanwha.
Please contact us for your inquiries.
Email Us
Information Message
Please enter your email address.
Information Message
Please enter a correct email address.
Success
Keep an eye on your inbox for the latest stories from Hanwha.
Information Message
Your subscription request has already been processed. Thank you.